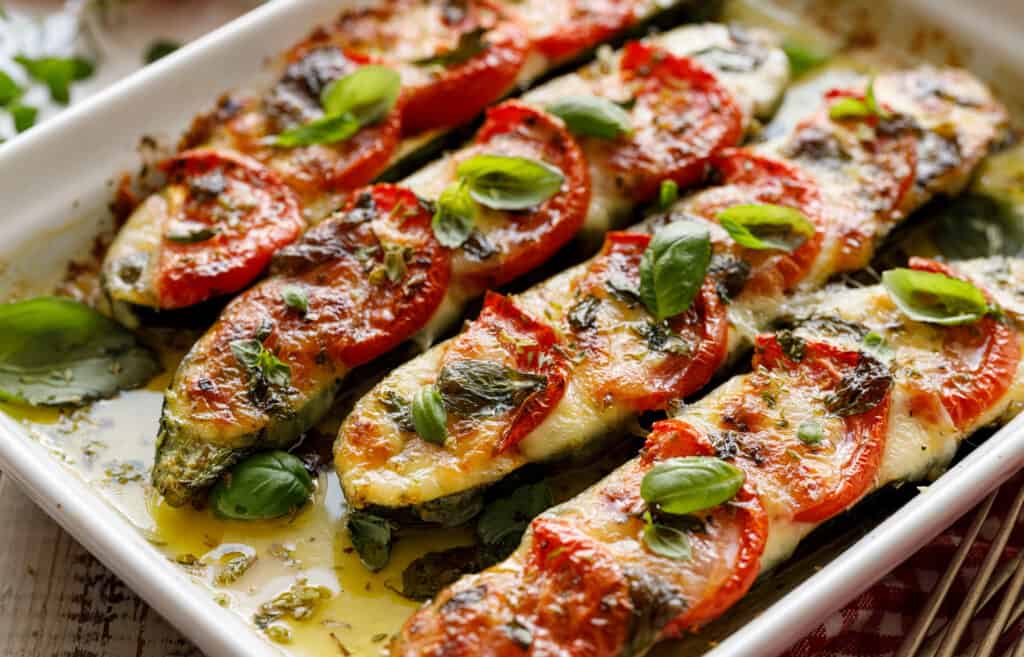 Summer or tender squash can be sautéed, steamed, boiled, baked, grilled, microwaved, or eaten raw. Use raw tender squash as an addition to crudités trays and salads
The tender summer squashes–zucchini, Costata Romanesca, round and globe, scallop or pattypan, yellow crookneck, and yellow straightneck, and Zephyr–mature during the summer and can be claimed as baby or mini-squashes in late spring.
Tender summer squashes are ready for picking as early as 7 days after flowering and are best eaten raw or cooked before they reach maturity while their skins and seeds remain soft and edible.
Tender squashes are soft-skinned and slice easily. They are mild-flavored–even buttery, nutty, or cucumbery tasting. They are high in water content which means that they are perfect for eating raw or cooking quickly–but won't store long.
(By contrast, winter or hard-skinned squashes–which get their start in the spring and summer along with summer squashes–can not be eaten before they mature. Their skins must grow hard and their flesh starchy before they are ready for cooking. (This, in turn, allows them to be stored and used into the winter–thus the name "winter squash.")
Types of Summer Squashes
Zucchini is a smooth-skinned, cylindrical squash measuring 2½ to 8 inches (6.4-20 cm) long. The skin color is yellow but a concentration of green pigments gives it an appearance of pale and dark green stripes. Sometimes called the "classic zucchini", this vegetable resembles a large cucumber. It has a cream-colored watery flesh that can be bland tasting. The name "zucchini" came into general use in California in the 1920s and 1930s. Before that the Italians referred to the same vegetable as "cocozelle" and the French and British called this vegetable "courgette." A more flavorful variety of zucchini is the golden zucchini which is the same size and shape as the classic green zucchini but with a glossy bright yellow skin. Golden zucchini has a light, buttery flavor.

Squash Costata Romanesca

Costata Romanesca–sometimes called ribbed Roman zucchini and also called cocozelle–is an elongated slightly bell-shaped, pale green squash with raised ribs that measures 10 to 15 inches (25-38 cm) long and about 5 inches (13 cm) thick in diameter. The green skin is marked by light greenish-yellow stripes that run the length of the vegetable. Costata Romanesca is juicy and sweet flavored but does not keep long. Costata Romanesca is sometimes called marrow squash or vegetable marrow.

Yellow crookneck and yellow straightneck squashes are bright yellow-skinned squashes that measure from 8 to 10 inches (20-25 cm) long with slightly swollen or bulbous bases that taper to slender necks. Their skins are slightly pebbly or warty and their flesh is off white. The crookneck variety has a swan-like neck. Both varieties have mild sweet to bland zucchini-like flavor and crunchy texture.
Zephyr is a cross between the Delicata and yellow Acorn squashes with a slightly crooked neck about 5 to 8 inches (13-20 cm) long. This squash is bi-colored–pale green at the stem end and bright yellow most of the length. Zephyr has a somewhat sweet flavor.
Scallop or pattypan–also called custard squash or cymling–is a saucer- or mushroom cap-shaped squash with a pale green skin bordering on white. It can also be golden yellow and white. This squash is best eaten when 3 to 4 inches (7.5-10 cm) in diameter. The flesh of the pattypan has less moisture than zucchini and becomes hard as it ripens, much like winter squash. This squash is smooth fleshed but rather bland flavored. Cymling is an American Indian word for a white scalloped squash.
Scallopini is similar in shape to pattypan with speckled green skin similar to a zucchini.
Sunburst is a hybrid small- to medium-sized scalloped squash that looks something like a plump pattypan. It has bright yellow skin and off-white meat with a delicate, mildly sweet flavor.

Round zucchini

Round zucchini or globe squash is about 5 inches (13 cm) in diameter with a skin of varying shades of green. This is a seedless and smooth textured squash that is nearly seedless. It is a juicy and flavorful squash with green-tinted flesh.

Tatume is an oval, egg-shaped, pale green squash about 5 inches (13 cm). This seedless, smooth-fleshed squash weighs about 1 pound (.45 kg) and has a slightly sweet flavor.
Middle Eastern-type zucchini–also called Lebanese, Egyptian, Cousa, Kuta, and Magda–is a usually stocky, pale-green tapering squash about 5 inches (13 cm) long. It has a smooth, thick, dark green skin with solid, crisp, moist and flavorful flesh.
Baby squash or mini-squash is any squash harvested when very young.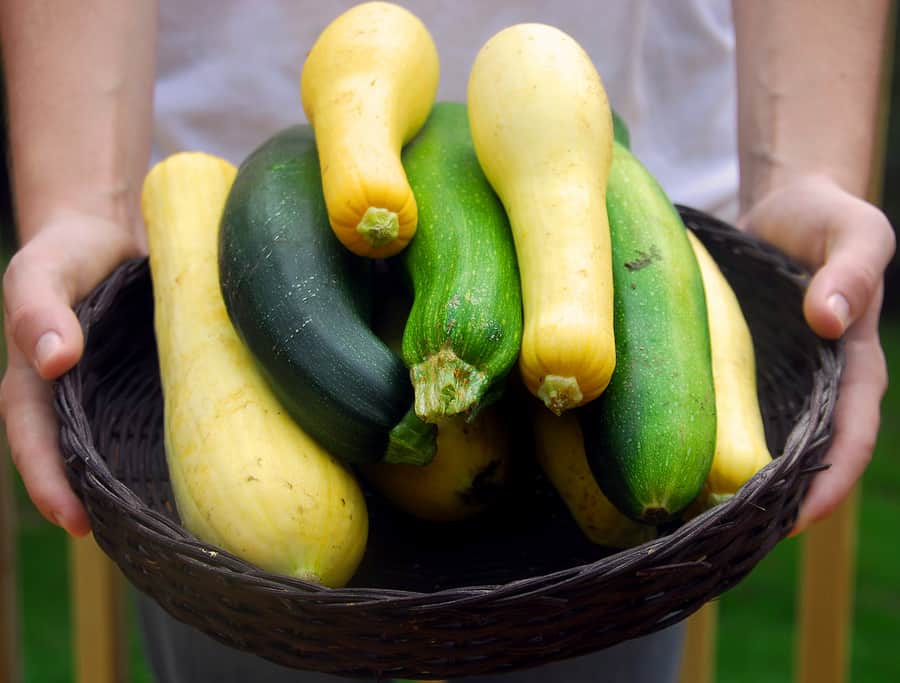 How to Choose Summer Squash
Select summer squashes that are still tender. Summer squashes that reach maturity will be drier with thicker skins. Choose firm, undamaged squashes with glossy skins free of cracks and blemishes. Select smaller to medium-sized specimens. Overly large squashes tend to be fibrous and bitter, and very small squashes can lack flavor.
Zucchini and crooknecks that are 5 to 10 inches (13-25 cm) long are good for slicing into rounds; those 3 to 5 inches (7.5-13 cm) long are best for use whole. Yellow varieties are best when 4 to 7 inches (10-18 cm) long.
Scallop or pattypan varieties are best when 3 to 5 inches (7.5-13 cm) in diameter.
How to Store Summer Squash
Tender squashes placed in a perforated plastic bag in the refrigerator will keep for about 1 week. Handle summer squash with care because it is easily damaged.
Summer squash can be frozen but the flesh will be softer when served. Cut the squash into slices and blanch for 2 minutes before freezing. Frozen squash will keep for 3 to 4 months.
How to Prep Summer Squash
Before eating or cooking, wash and cut off both ends of the squash. Unless the skin is bitter, you do not have to peel tender squash.
Squash can be used whole, grated, halved, or cut into cubes, strips or slices. Trim the ends and cut into chunks or slice before cooking.
You can "drain" squash with high water content by cutting it into slices and arranging it in a shallow dish. Then sprinkle the slices uniformly with coarse salt and let drain for 20 to 30 minutes. Use a strainer and rinse the slices under cold running water, pat them dry, and proceed with your recipe.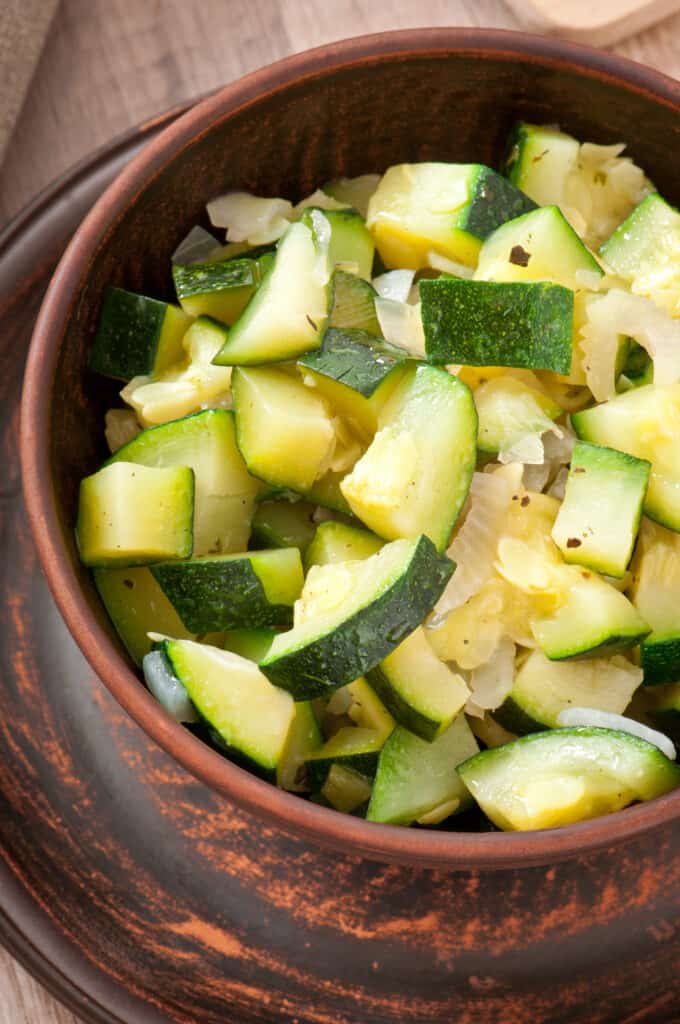 How to Steam Summer Squash
Prepare halves, slices, or pieces of summer squash.
Place the squash in a steamer basket in a large saucepan, cover and let steam over gently boiling water until fork-tender, about 10 to 40 minutes depending on the size of the squash.
Squash can be steamed with other summer vegetables.
Sauté or Stir-Fry Summer Squash
Cut zucchini or straightneck squash into slices or pieces; the squash can be cooked unpeeled.
Mix your choice of chopped fresh marjoram, snipped fresh dill, or cumin seed with the zucchini or squash.
Heat olive oil or a few dabs of butter in a large skillet.
Add finely chopped yellow onion and brown lightly over high heat.
Add the squash and stir-fry for 1 minute.
Cover and reduce the heat and simmer for 5 minutes.
Add a touch of salt just before serving.
Squash can also be coated in a wet batter, dipped batter, or seasoned dry coating and fried until the crust is golden brown.
How to Boil Summer Squash
Cut squash into ½ to ¾ inch cubes.
Place the squash in a large pot and just cover with water.
Cook over medium heat until tender, about 10 to 15 minutes.
Chicken base, garlic, and pepper can be added to the water when the water starts to simmer. Butter can be added just as the squash becomes tender.
Whole squash can be boiled; first, poke holes in the squash with a fork.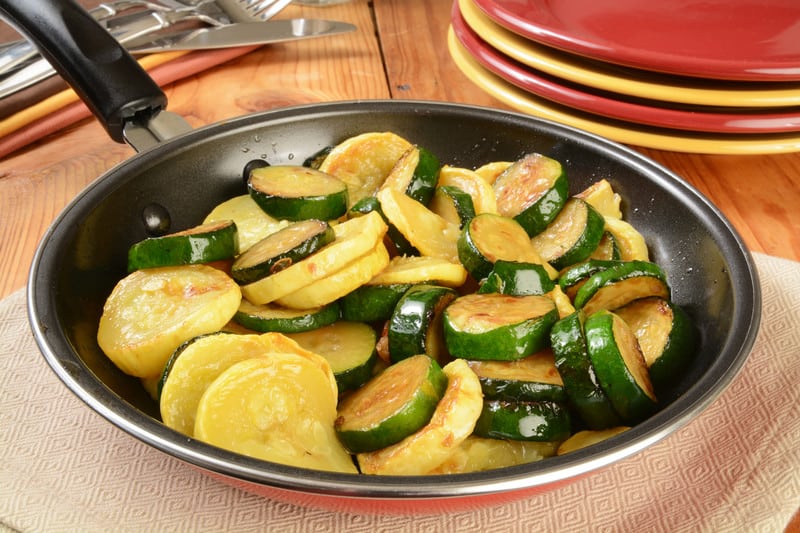 How to Pan-Sear Summer Squash
Cut the squash into slices or ½ to ¾ inch cubes.
Heat olive oil in a deep skillet (preferably cast iron) over high heat until shimmering hot.
Arrange the squash in the skillet in a single layer.
Season with salt and a freshly ground black pepper. Sprinkle the rosemary over the squash.
Sear the squash until deep golden brown, 3 to 5 minutes.
Use tongs to turn the squash, sprinkle again with salt and pepper to taste.
Cook until tender and nicely browned on the second side, about 2 minutes more.
Serve hot.
How to Bake Summer Squash
Preheat the oven to 350 degrees F.
Cut unpeeled squash in half or quarters or cut into 1/2 inch round slices; remove the seeds if you like.
Put a little oil or butter in the cavity of halved squash; add salt and pepper or seasoning; pour a little water, orange juice, or lemon juice in the cavity.
Halves will cook faster if placed flesh side down and baked for about half the time, then turned and basted with butter or margarine.
Place the squash in a baking dish with ¾ to 2 inches of water.
Bake until tender, about 30 to 60 minutes depending on the size.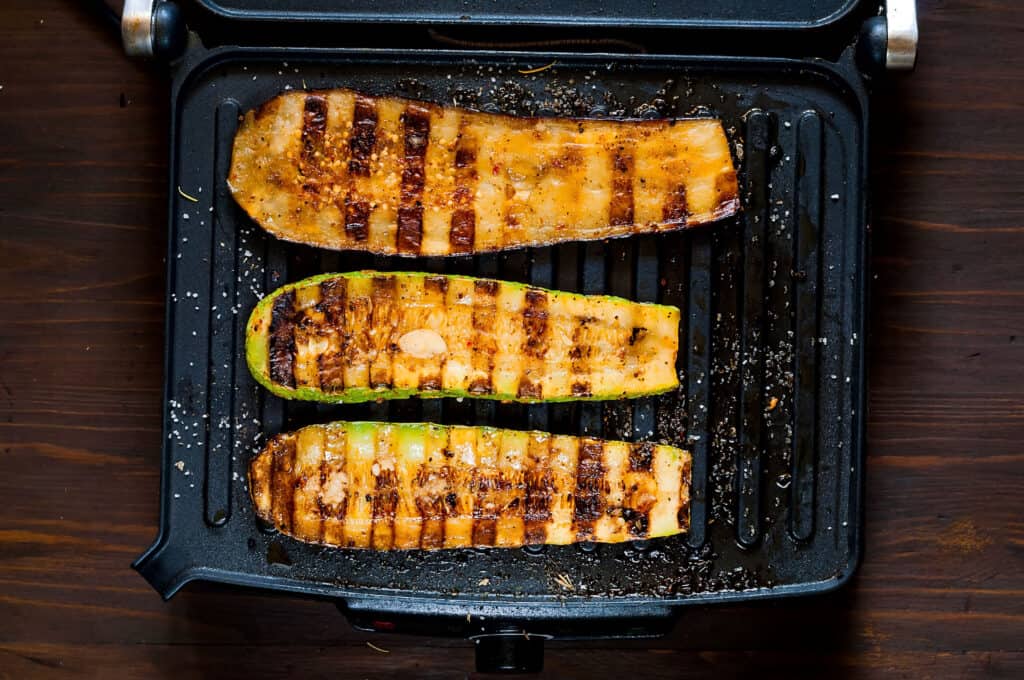 How to Grill Summer Squash
Preheat grill for medium-high heat.
Halve zucchini or squash, but do not peel.
Brush squash with olive oil (or other basting sauce) and season with salt, pepper, and garlic powder or other seasonings.
Place squash on the grill and cook about 5 minutes on each side, basting frequently with olive oil or a basting sauce.
You can also place the zucchini or squash on a large sheet of aluminum foil, and dot with butter then fold the foil over and seal the squash in the foil and cook until tender, about 20 minutes.
How to Microwave Summer Squash
Halve the squash and remove the seeds.
Cover the halved squash with plastic wrap; leave one corner open.
Cook on high until tender 10 to 15 minutes.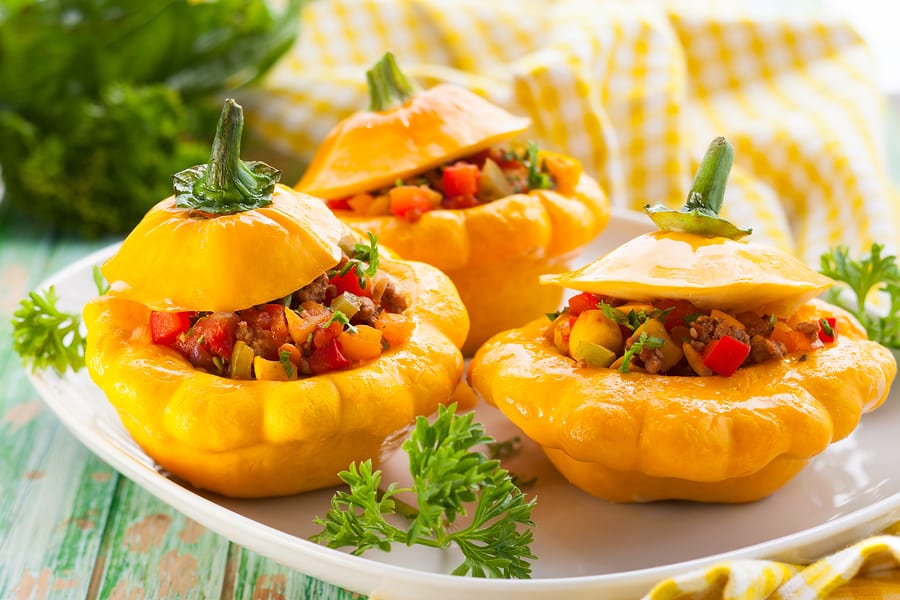 How to Stuff Summer Squash
Prepare the stuffing: warm 1 tablespoon oil in a large skillet over medium-high heat. Add onions and cook, stirring often, until softened, about 3 minutes. Add ground beef, chicken, or turkey and cook, stirring, about 2 to 3 minutes. Mix in diced tomatoes, 1/2 cup chicken broth, and seasoning. Increase heat to high and cook, stirring often, until meat is thoroughly cooked and some of the liquid has evaporated, 5 to 7 minutes. Season with salt and pepper.
Bring a pot of salted water to a boil.
Cut squash or zucchini in half lengthwise; place in boiling water. Bring back to a boil and cook until just tender, about 5 minutes.
Transfer squash to a bowl of ice water. Cool for 2 minutes. Remove and pat dry.
Preheat oven to 425 degrees F.
Scrape the seeds and pulp from each squash half, leaving a large cavity for stuffing.
Brush olive oil on the inside of the squash cavity.
Arrange the squash halves in a lightly oiled ovenproof baking dish.
Place equal amounts of filling in each squash half.
Mix bread crumbs with Parmesan, then sprinkle this over the squash and drizzle lightly with olive oil.
Bake until golden brown on top, about 20 minutes.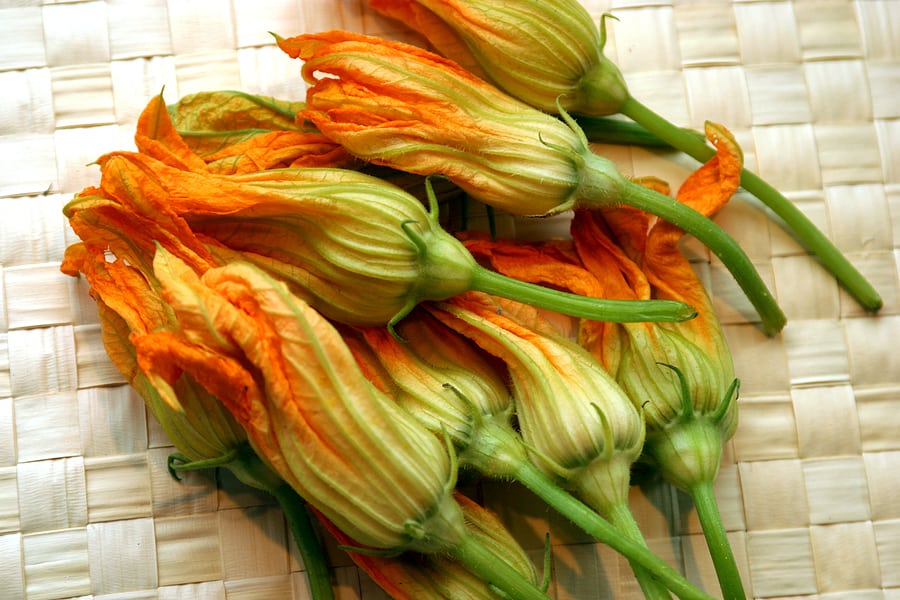 How to Cook Squash Blossoms
Instruction to saute or deep fry squash blooms is here:
Squash Blossoms Sauteed or Deep Fried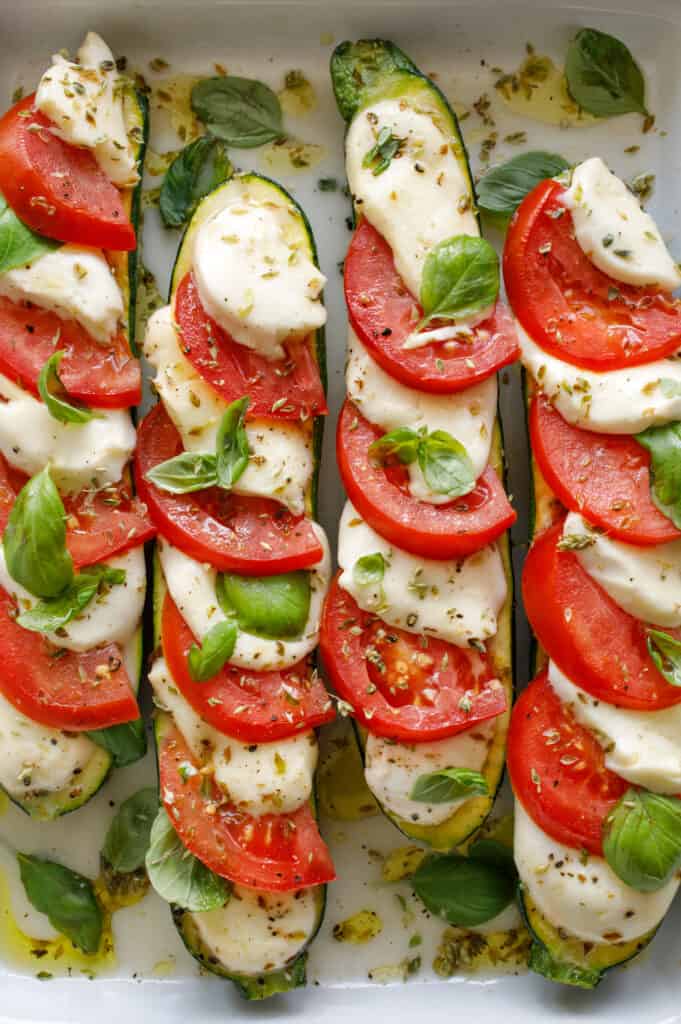 Summer Squash Serving Suggestions
Tender, summer squash can be eaten raw or cooked.
Serve sliced raw tender squash with a dip. Slice thinly and add to appetizers, salads, or sandwiches.
Grate raw squash and mix with eggs, flour, and seasonings to make crêpes.
Use in entirety or slice then steam, boil, broil, bake, or grill.
Coat with butter, wrap in foil, then barbeque or bake.
Halve then stuff with a meat or rice mixture, or bake with butter and Parmesan cheese.
Pan-fry slices.
Sauté half-moons in olive oil with garlic, onions, or tomatoes.
Add sliced zucchini and mushrooms to a thick tomato sauce for spaghetti.
Stuff and bake.
Serve gratinéed (with butter and bread crumbs), braised, fried in batter or bread crumbs or roasted.
Add to soups, stews, quiches, or omelets.
Brush with olive oil and grill.
Summer squashes can replace cucumber in most recipes but are less flavorful.
Squash flowers are edible with a delicate flavor and aroma. Quickly sauté blossoms over high heat or stuff and bake.
Summer Squash Flavor partners
Tender squash has a flavor affinity for basil, chives, corn, dill, eggplant, feta, fish, garlic, marjoram, mint, mozzarella, olive oil, goat cheese, onion, oregano, pasta, rice, thyme, and tomatoes.
Season tender squash with salt, pepper, onion, garlic, basil, dill, mustard, oregano, thyme, parsley, marjoram, cardamom, ginger, cinnamon, allspice, nutmeg, mace, cloves, coriander, cumin, curry powder, anise, rosemary, or fennel.
Serve with tender squash alone or topped with plain or flavored butter or margarine or with white sauce.
Summer Squash Nutrition
Summer squash is a good source of vitamin A and C and niacin.
A cooked half-cup of tender squash contains 14 calories.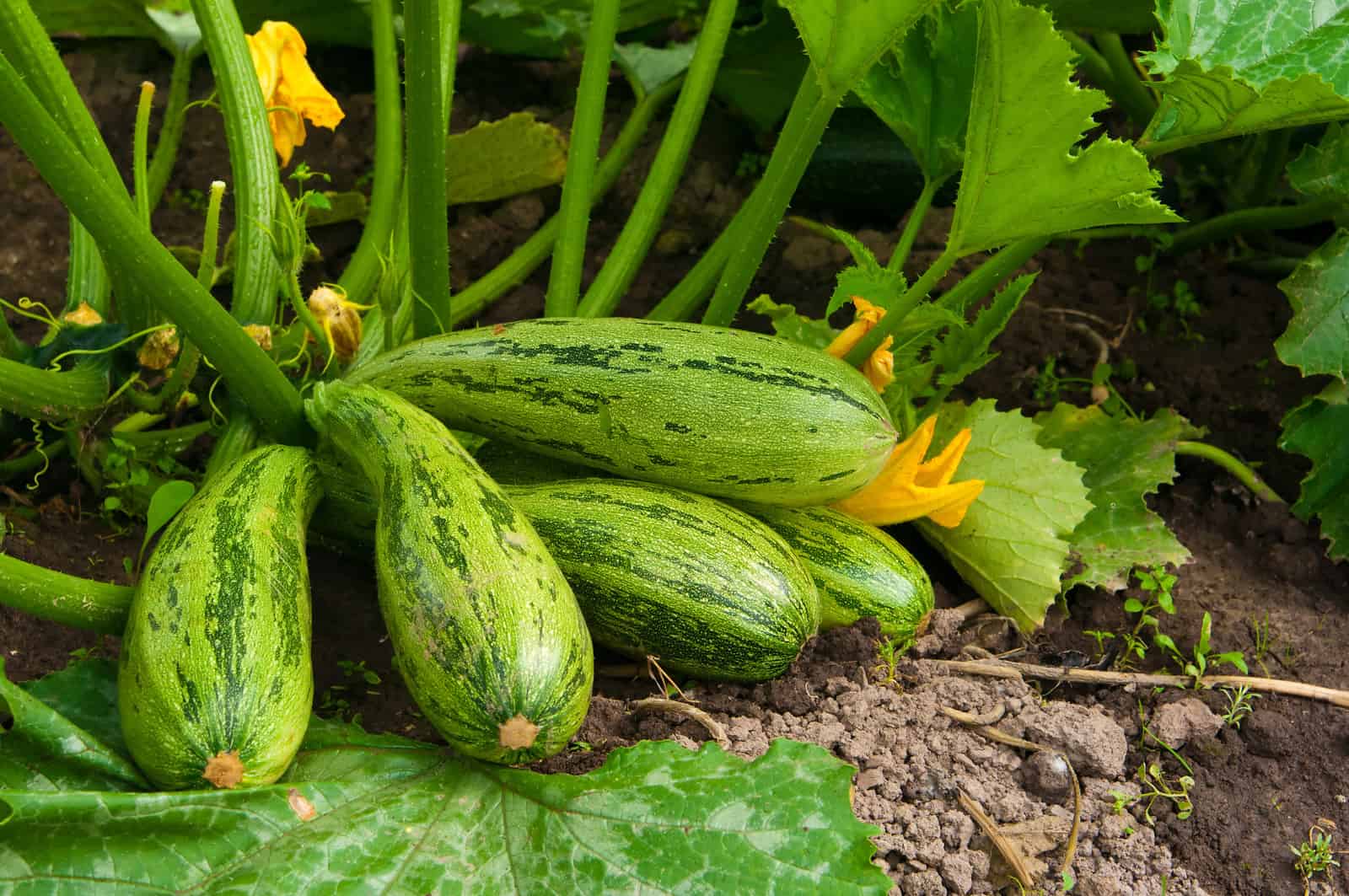 Get to Know Summer Squash
Tender squashes are warm-season annuals. They are weak stemmed plants that usually grow as a bush. Tender squash has large, lobed cucumber-like leaves that are covered in small prickles.
The fruits of tender squashes are almost always eaten in the immature state before the skin hardens. Summer squashes are for warm weather harvest and are eaten when immature.
Squashes are in the same family as the melon and cucumber. Cultivated squashes are descended from wild squashes which originated in the American tropics–between Mexico and Guatemala.
Squash has been cultivated for more than 10,000 years. The ancient Aztec, Incan, and Mayan peoples considered squash one of the "three sisters" that should be grown together–corn for its stalk, beans that climb the corn, and squash to creep along the surrounding ground to keep the weeds away.
The name squash is an abbreviation of the Native American word askutasquash meaning eaten raw or uncooked.
The botanical name for tender squash is Cucurbita pepo.
Tips on growing summer squash at How to Grow Zucchini and Summer Squash.