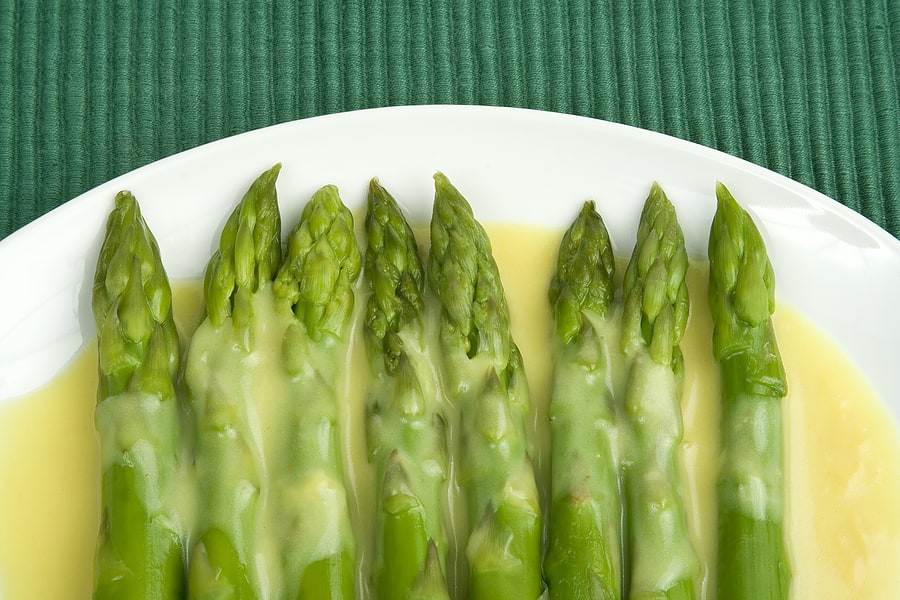 Cooked asparagus has a subtle sweet grassy flavor. It is a perfect match to salty dairy ingredients such as butter, Parmesan cheese, and hollandaise sauce. Asparagus also is well matched to slightly sulfurous-tasting foods: eggs, shellfish, and garlic.
There are three types of asparagus: green asparagus which can be both sweet and slightly tart flavored, purple asparagus which is sweeter than green asparagus, and white asparagus which is mild flavored.
The tastiest asparagus is harvested young and tender. The stalks should be straight and firm and the tips should be firm and tightly closed.
Asparagus can be boiled, steamed, sautéed, grilled, roasted, and baked.
Key cooking tip: The key to cooking asparagus right is to simply remember that size determines the cooking time no matter what the cooking method. For best flavor and texture, always cook asparagus until it is crisp-tender, poke the thickest part of the stalk with a knife and you should feel just a bit of resistance.
Asparagus cooked to perfection will not be so crisp that it crunches nor so tender that it is mushy or soggy. Green and purple asparagus will be bright green when cooked right.
Ratio: A half pound of asparagus will serve one person modestly. There are 15 to 20 medium-size asparagus stalks in a pound. You will need 6 to 10 medium-size stalks to serve one person, 4 to 6 large stalks to serve one person.
One pound of asparagus, trimmed and cut into 1- to 2-inch lengths will measure about 3 cups.
Size makes little difference in the flavor of asparagus, but thinner spears are likely to be most tender. Green and white asparagus is commonly harvested when spears are 6 to 8 inches long; purple asparagus is harvested when just 3 to 4 inches long.
Preparing asparagus for cooking:
To assure uniform cooking, choose stalks about the same thickness and length.
Soak asparagus stalks in cold water to loosen any soil or sand. Snap off the woody end of each stalk by gently bending the stalk until it breaks or use a sharp knife to trim ½ inch off tough ends. Pencil thin stalks do not need to be peeled before cooking but thicker stalks will cook more evenly when peeled. Peel spears with a sharp knife or vegetable peeler from butt end to just below the flower tip. The peel should be paper thin. If you are pressed for time, peel just two strips from the opposite side of each spear to ensure spears cook evenly.
Ways to Cook Asparagus:
Steaming asparagus: Steaming is perhaps the easiest and most basic method for cooking asparagus. Bundle stalks of equal size together and tie them with a kitchen string. Stand the bundle in a steamer or a tall nonaluminum pot over or in an inch or two of salted water. Bring the water to a boil, cover the pot, and cook until the spears are just tender; the thickest part of the stalk can be pierced with a knife with just a bit of resistance, cooking about 3 to 8 minutes depending on the length and thickness of the stalks. The delicate flower tips high above the water will be steamed the same as the more fibrous stalks below. If you don't have a steamer or tall saucepan you can invert a second saucepan of the same diameter over the first.
When the stalks are just tender, drain the saucepan and plunge the stalks into cold water for a moment–just a moment– to stop the cooking process and set then lay them to dry on a kitchen towel. Do not let the stalks soak in cold water or they will lose flavor. Serve hot or at room temperature after cooling on the towel.
Simmering or boiling asparagus: Add an inch of salted water to a shallow, wide pot. Lay asparagus lengthwise so that all the spears face the same direction; do not stack the spears more than three deep. Place the pan so that the stem ends are directly over the heat and the tips are off the burner. Bring the water to a simmer or gentle boil and cook uncovered until just tender, about 1 to 2 minutes for tiny spears, 3 to 5 minutes for small spears, 5 to 8 minutes for medium spears, and 10 to 12 minutes for large spears. Drain the water and quickly rinse the spears under gently running cold water for just a few moments to stop the cooking. Place the spears on a kitchen towel to dry.
Use this method to blanch or parboil asparagus for a vegetable platter. Let the spears sit in boiling water for only 15 to 30 seconds—transfer to paper towel, pat dry, and let cool.
Sautéing asparagus : Add just enough olive oil to lightly coat the bottom of a sauté pan and turn to medium heat. Add asparagus to the pan, laying the thick part of the stems over the heat and the tips off the heat. Add just a bit of minced garlic if you like. Cook until the asparagus is slightly wilted but still crisp. Stir in salt and pepper and transfer to serving dish; if you like, sprinkle shredded basil or another fresh herb over top and serve.
Stir-frying asparagus: Slice spears diagonally to uniform length—1 or 2 inches long—and thickness, or cook whole. Place 1 or 2 tablespoons of sesame oil, peanut oil, or cooking oil in a wok or wide pan and heat until fragrant. Add a slice or two of garlic or fresh gingerroot before adding asparagus. Add asparagus and lightly stir for a minute or so. Add a dash of soy sauce or vegetable or chicken stock, lower the heat, cover, and cook until the asparagus is just tender, just 3 or 4 minutes. Add shitake mushrooms in the final 2 minutes, if you like, and garnish with bread crumbs before serving.
Baking asparagus: Steam the spears for 3 to 5 minutes before baking. Preheat the oven to 400°F. Smear a baking pan or sheet lightly with olive oil. Lay the spears evenly in the pan. Roll the spears to coat them with oil then salt. Bake the spears about 3 to 5 minutes then turn and dot the spears with butter, margarine, freshly grated cheese, or cheese sauce and bake another 3 to 5 minutes until just tender when pierced with the tip of a knife or taste for doneness.
Roasting asparagus: Preheat the oven to 400°F. Place uncooked spears in a baking pan or on a baking sheet, drizzle with olive oil, and sprinkle with salt. Roll the spears back and forth to coat lightly with oil and salt. Roast until just tender when pierced with the tip of a knife, 5 to 10 minutes depending on the size of the spears. (Small spears are not good candidates for roasting; they will shrivel and dry quickly.) Turn the spears while they are cooking so that they are slightly browned or taste for doneness.
Grilling asparagus: Preheat the oven broiler or gas grill to 450°F or grill over medium-hot coals on a charcoal or wood fired grill. Place the spears in a roasting pan and brush or toss them lightly in olive oil then sprinkle with salt. Place the spears perpendicular to the grate so that they don't fall through. Grill until they are warmed through and just browned by the grill, about 20 to 40 seconds or slightly longer. Transfer the spears to plate and allow them to finish cooking on their own, about 20 seconds more. They will turn bright green.
Seasoning asparagus:
Season asparagus with salt, pepper, onion, garlic, dill, basil, chervil, lemon balm, paprika, marjoram, nutmeg, allspice, mace, sesame seed, tarragon, mustard, coriander, savory, sage, mint, parsley, sage, rosemary, or thyme. Fresh herbs can be chopped or minced or use dried herbs.
Serving asparagus:
Serve asparagus hot, at room temperature, or cold.
Serve asparagus topped with melted butter, hollandaise sauce, lemon butter, freshly squeezed lemon or lime juice, balsamic or sherry vinegar, extra-virgin olive oil, vinaigrette, plain or flavored mayonnaise, white sauce, cheese sauce, or grated or melted cheese—Parmesan or Jack.
Garnish asparagus with slice or crumbled boiled egg, sautéed morel mushrooms, toasted bread crumbs, minced roasted red bell pepper, or thinly slice prosciutto or other good ham, and lobster, shrimp, or crab meat. Serve fresh bread alongside asparagus and its topping; use the bread to soak up the juice.
Key serving tip: Be careful not to smother the flavor of asparagus with the dressing, topping, or garnish.
Quick serving ideas for asparagus:
Serve hot topped with melted butter or hollandaise sauce.
Serve with a drizzle of lemon or lime or orange juice and freshly ground black pepper.
Dip in a sauce made from a hard-boiled egg crushed with a fork and mixed with mustard and olive oil.
Sprinkle with freshly grated Parmesan cheese.
Top with steamed spinach and hollandaise sauce.
Top with a thin cut slice of sautéed or broiled ham cut dressed with grated cheese or melted butter.
Atop a thin slice of hot or cold thinly sliced beef topped with vinaigrette sauce.
Wrapped in bacon, topped with cheese and baked.
Serve with risotto and shards of Parmesan cheese.
Serve with baked salmon and steamed new potatoes.
Serve with smoked salmon and pasta.
Vinaigrette for asparagus:
• Basic vinaigrette: vinaigrette is three parts oil to one part vinegar seasoned with herbs, spices, salt and pepper. For example, to 1 tablespoon red wine vinegar (white wine vinegar, sherry vinegar or lemon juice can replace red wine vinegar), add a pinch of salt and pepper and stir to dissolve, taste for balance. Whisk in a little at a time 3 to 4 tablespoons extra-virgin olive oil (you can olive oil with walnut or hazelnut oil). Slowly whisk until the dressing becomes thick and emulsified. A quarter of a cup of vinaigrette is enough for four servings.
• Herb flavored vinaigrette: to the above vinaigrette mix add 1 tablespoon of chopped fresh herb or 1 teaspoon dried crushed herb just before you whisk in the oil.
• Mustard vinaigrette: to the above vinaigrette mix add 2 teaspoons of Dijon mustard just before whisk in the oil.