A leaf blower is a handy tool to have around the house and garden. They are used to clear leaves and other debris from driveways, sidewalks, lawns, planting beds, and other areas. A leaf blower can make a yard and garden clean-up quick and simple.
There are many different leaf blowers on the market, so it can be difficult to decide which one is right for you. Among the many factors to consider when purchasing a leaf blower is the size of your yard and the type of leaves or debris you want to clear.
Leaf blowers available to you include powerful gas-powered blowers for large jobs and lightweight corded blowers for small jobs as well as cordless blowers that can tackle most jobs. Add to the mix blowers that can convert to leaf vacuums which can collect leaves and small twigs into attached bags.
Let's consider the options:
Electric corded and cordless leaf blowers
Electric corded and cordless leaf blowers. The lightest handheld leaf blowers are power cord, electric models. They are easy to start and operate with little vibration. They don't require fuel and don't emit fumes. They require almost no maintenance. Corded models require an outdoor extension cord and an outlet within 100 feet. Cordless electric leaf blowers are battery-powered. Some are handheld, but some can be large and heavy and are carried in a backpack. Battery-powered models can go anywhere but they are limited by their battery charge. They require recharging after 30 to 40 minutes and they need an extra battery for prolonged running. Most cordless leaf blowers are powered by a lithium battery.
Gas leaf blowers
Gas leaf blowers. These machines offer maximum mobility and runtime. Many are more powerful than battery-powered models; all are more powerful than corded models. They are suited for large areas–a quarter acre or more. Most are started with a manual pull-start. They need the right fuel; a mix of gas and oil for two-stroke engines and gasoline for four-stroke engines. Some models are handheld and walk behind, some are housed on a pack back, and some–the largest–are wheeled blowers. Most professional, commercial leaf blowers are gas models. The noise level of a gas-powered leaf blower will be greater than a corded electric or cordless battery blower.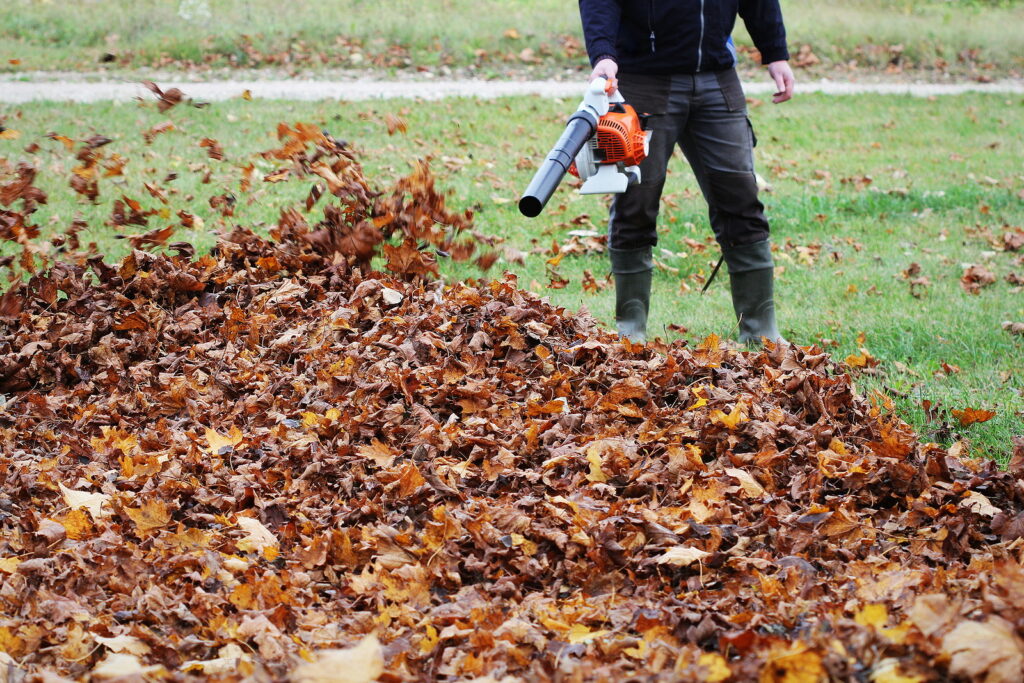 What leaf blowers are used for
Leaf blowers are used for blowing away leaves and debris in yards, patios, decks, drives, and walkways.
Leaf blowers can be used for blowing away water and even light snow.
Blower vacs can pick up light debris like leaves; some models shred leaves for mulch.
Leaf blower basics to know
A leaf blower has a motor with a large tube or accordion hose attached, similar to a canister vacuum cleaner with the hose attached to the outflow vent.
Leaf blower motors can be electric-powered, battery-powered, or gasoline-powered. Five to ten-horsepower motors are common on leaf blowers.
Smaller leaf blowers are designed to be handheld; larger blowers may have shoulder straps similar to a backpack, and some may be wheeled.
Cordless models are sometimes called electric brooms.
Larger (usually gas-powered) blowers designed to fit on the back with straps are known as backpack blowers.
The largest leaf blowers are wheeled and resemble lawnmowers.
Some leaf blowers come with attachments that resemble large vacuum cleaner heads that fit onto the hose. Attachments can include misters or sprayers and power wands that can be used for gutter cleanout.
Some blowers can be used as both blowers and vacuums, called blower/vacs. They come with leaf bags for collecting vacuumed leaves and debris.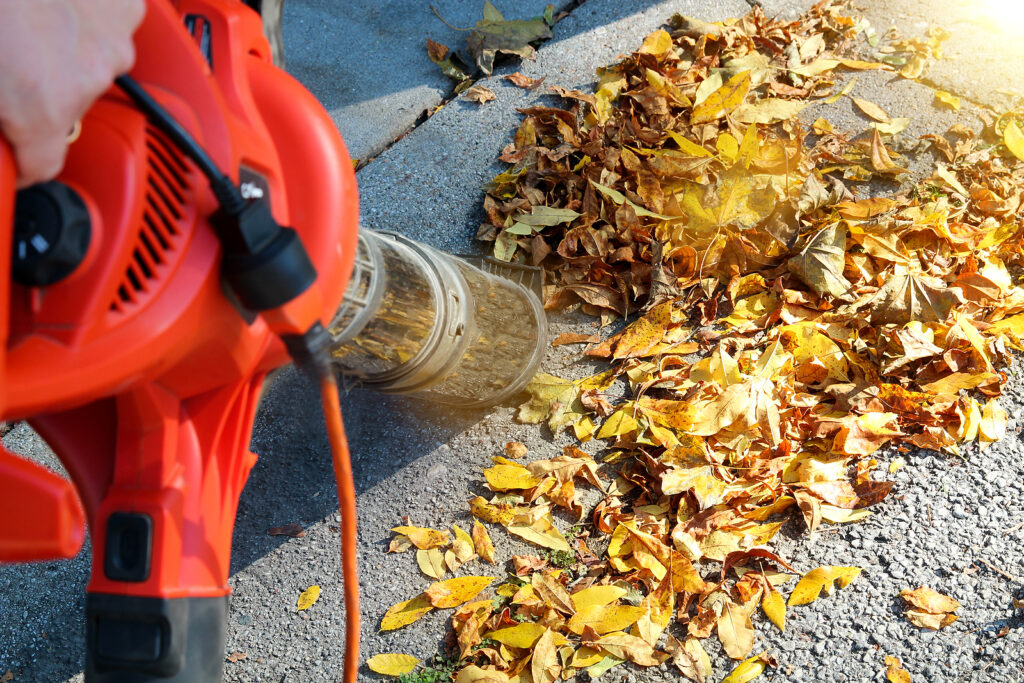 Frequently asked leaf blower questions
Q: What leaf blower is the least noisy?
A. Corded electric and battery-powered leaf blowers are powered by electric motors that are quieter than gas-powered blowers with gas engines.
Q: Which leaf blower is the most environmentally friendly?
A. Corded and battery-powered leaf blower use electrical energy. They do not burn gasoline or oil or emit fumes or require the disposal of gasoline or oil.
Q. Which leaf blower is the most powerful?
A. The power of a leaf blower is measured by airspeed. Check the manufacturer's specifications when comparing models. Generally, gas-powered blowers are the most powerful although some battery-powered models are quite powerful.
Q. How long do blower batteries last?
A. Battery-powered blowers will go for about 30 to 40 minutes on a single charge. Re-charing a battery will take 60 minutes or more.
Q: Which leaf blowers are the least expensive?
A: Corded electric leaf blowers are the least expensive. Battery and gasoline-powered machines are more expensive but also more powerful.
Q: Why would I need a backpack leaf blower?
A. Packback leaf blowers are designed for extended use. The weight of the machine is borne on your back, not on one arm and hand. Packback leaf blowers are more powerful than handheld blowers so they weigh more.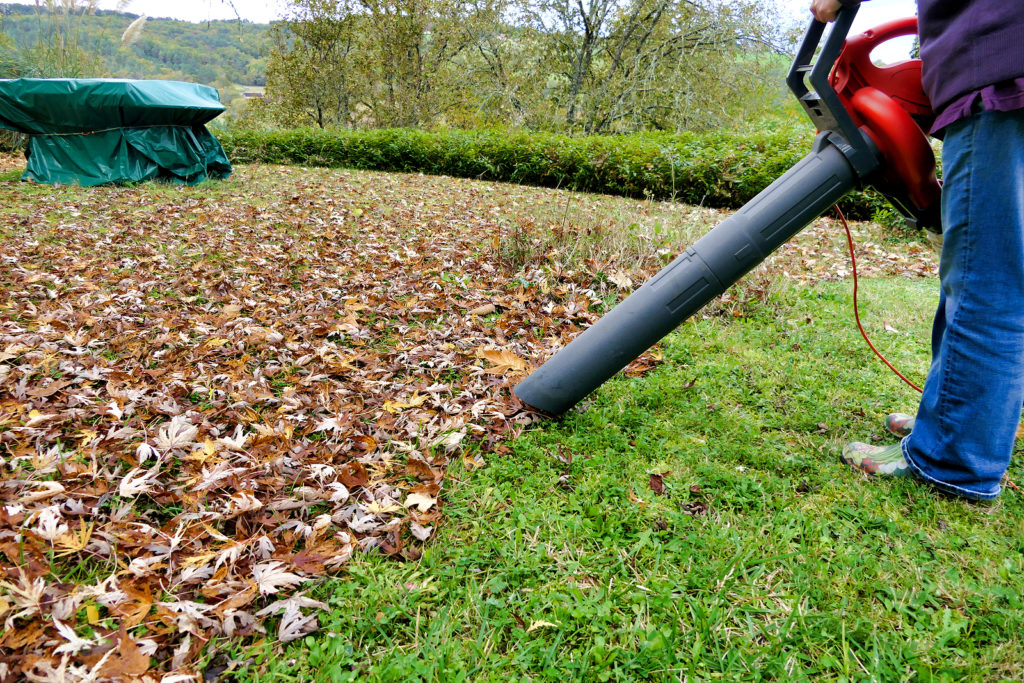 Leaf blower buying tips
Before you buy a leaf blower, check your town's regulations; some towns ban leaf blowers because of the noise they make.
There are many types of blowers. Battery-operated leaf blowers are the most widely sold; they offer more mobility than corded blowers. Some are nearly as powerful as gas-powered blowers and most are quieter than gas blowers.
If you want to blow debris and leaves from beds but leave the mulch in place, choose a less powerful blower, probably a corded electric or battery-powered model.
If you have heavy leaf work to do, consider the more powerful gasoline-powered blowers.
If you have a very small space, consider an electric corded blower or use a rake or broom.
Airspeed is one feature by which to measure blowers if you need to compare. The greater the airspeed the faster the job will get done.
Make sure the blower's throttle fits your hand; some models are adapted for left-handed users.
If you choose a corded electric blower, get one with a 16-gauge cord and adjustable speed.
Leaf blower features to consider when buying
Some leaf blowers can vacuum and mulch leaves. A mulcher blower vac can blow or vacuum or mulch leaves. If your yard has a lot of leaves consider a blower/vac/mulcher model.
Some vacuum-capable modes include larger-diameter chutes or tubes for collecting leaves.
The air speed of a leaf blower is measured in miles per hour (MPH); the greater the power the greater the MPH.
Most blowers will have a variable speed lever so that you can regulate the amount of air the blower is pushing.
The volume of air a blower moves is measured in cubic feet per minute (CFM); a blower with higher CFM moves more material.
A brushless motor on a cordless battery blower is more efficient than a brushed motor; a brushless motor has more power and longer runtime.
Power ratings on electric corded models are measured in amps; power ratings on cordless battery models are measured in volts; power ratings on gasoline-powered models are measured in cubic centimeters (cc). The higher the numbers, the greater the power. Small engines move less air.
Two-cycle engines offer a balance of power and weight. They run on a blend of oil and gasoline. You can mix the fuel yourself or purchase pre-mixed fuel.
Four-cycle engines run on gasoline alone. The oil is separate. These models are heavier than two-cycle engine models.
Look for a simplified choke operation on gasoline-powered blowers; startup will be easier.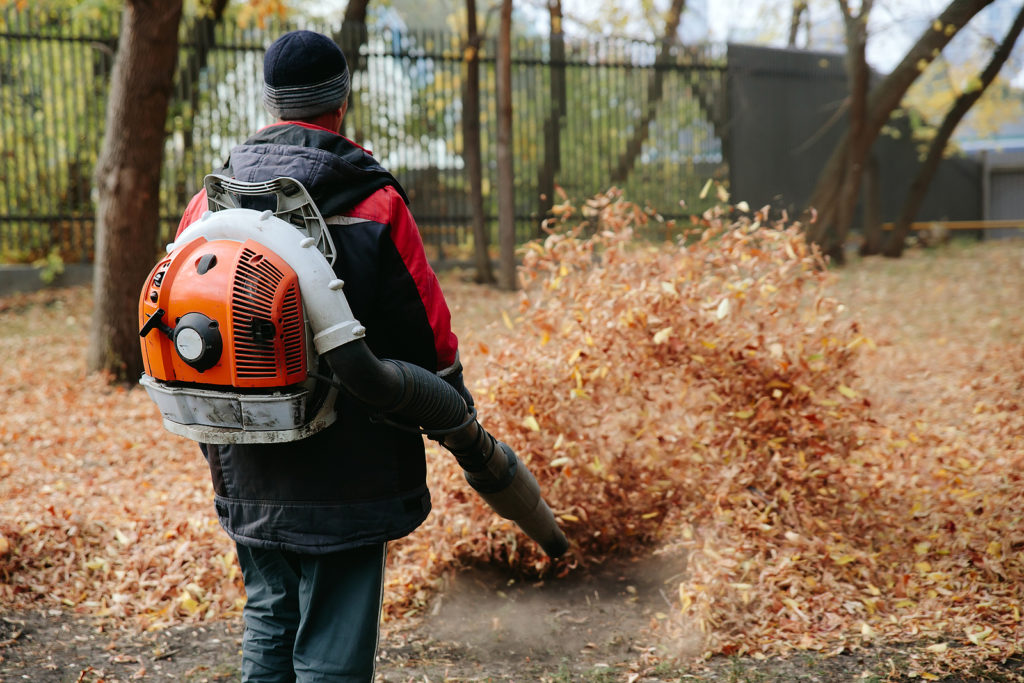 Types of leaf blowers
There are six basic types of leaf blowers to choose from: (1) handheld corded electric leaf blowers (usually the lightest); (2) handheld battery-powered leaf blowers; (3) battery-powered backpack leaf blowers; (4) handheld gas-powered leaf blowers; (5) gas-powered backpack leaf blowers; (6) gas-powered wheeled leaf blowers. These are discussed below.
Corded electric leaf blowers, commonly handheld
Electric corded leaf blowers run on electricity. They require an extension cord –usually 50 to 100 feet long–and must be plugged into an electrical outlet. Electric blowers usually have enough power for small to medium-size yards–about 1/4 to 1/2 acre–that are within 100 feet of an outlet. Use is limited by the length of the cord.
Pros: usually the least expensive, lightest weight (typically about 8 pounds), push button starts instantly, runs indefinitely, no fuel, no need to re-charge batteries, quieter, no fumes, less maintenance.
Cons: slower blowing speed, requires outlet and extension cord, range limited by the length of extension cord, cord can become tangled around trees or other objects, potential electric shock.
Tip: follow the device manufacturer's instructions for selecting a compatible outdoor-rated extension cord (usually a 14-gauge or heavier 12-gauge extension). Extension cords usually max out around 100 feet.
Cost: average $40 to $100.
Cordless battery-powered leaf blowers including handheld and backpack models
Cordless battery-powered leaf blowers are powered by rechargeable batteries. The batteries require a charging station that is plugged into an electrical outlet. Lithium-ion batteries provide the power and runtime for the average residential yard to about 1/2 acre. You will likely need a second battery so if the machine runs out of power while working you can finish the job.
Backpack battery-powered and more powerful than handheld battery-powered leaf blower; they also provide longer run times. Many battery backpack blowers come with 5.0 to 7.5-amp-hour batteries, compared to 2.5-amp-hour batteries on most handheld models.
Pros: Start instantly–no choke or pull-cord, good mobility, lighter than gas-powered models (typically less than 10 pounds), less vibration than gas models, less maintenance than gas models, the motor does not produce emissions, brushless motors and high-voltage batteries give long-lasting power, and batteries may be interchangeable with power equipment from the same manufacturer.
Cons: Cost can be about the same as gas blowers, run time is determined by the voltage and amp-hour rating of the battery (about 30 to 40 minutes of semi-continuous blowing on a single charge), battery re-charge time of about 60 minutes can slow your work, a second battery means additional cost.
Handheld battery-powered leaf blower costs: $110 to $380; spare batteries can range from $40 to $125.
Backpack battery-powered leaf blower costs: $225 to $350; spare batteries can range from $40 to $125.
Gas-powered leaf blowers, including handheld, backpack, and wheeled models
These are commonly the best choice for large yards, orchards, and fields. long drives or streets where a long runtime is needed. Gas-powered blowers are also powerful enough for blowing or vacuuming large amounts of leaves or debris. Gas blowers are available with either 2-cycle or 4-cycle engines. Two-cycle engines require a gas-oil mixture to run. Four-cycle engines run on regular gas (the oil is separate) and are the most powerful. Four-cycle engines run cleaner than two-cycle engines.
Pros: best for heavier work, faster blowing, big range of sizes and blowing capacities to choose from, work anywhere.
Cons: usually more expensive, needs fuel/oil mixtures, stepped starting procedure, heavier than battery-powered models–handheld gas blowers weigh about 10 pounds, backpack models weight about 17 pounds, wheeled models weigh 100 pounds or more and require about 8 square feet of storage space, noisier than battery or electric models (use earplugs or ear-muff style headsets), create fumes, require more maintenance.
Handheld gas leaf blowers costs: $90 to $270.
Backpack gas leaf blowers costs: $230 to $480.
Wheeled gas-powered blowers costs $330 to $700.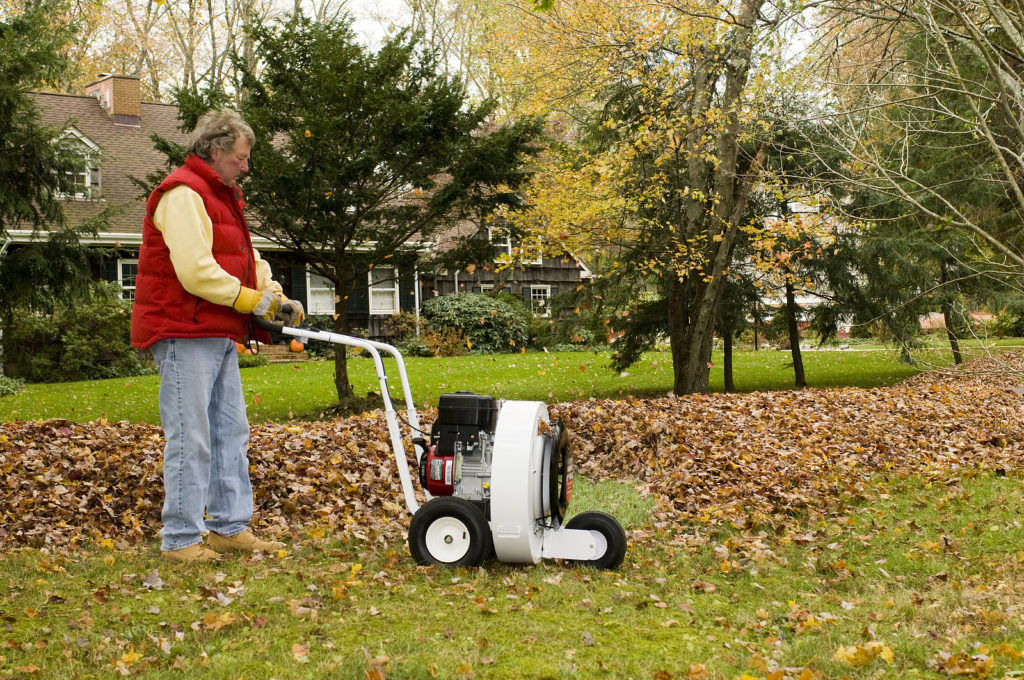 Leaf blower safety tips
Inspect the blower for damage before using it.
Wear goggles and ear protectors when operating a blower. Gas-powered blowers can be quite noisy (and are banned in some areas).
Make sure bystanders are at least 50 feet away and stop the blower if someone approaches.
Never point the nozzle of a blower toward people or animals.
Use nozzle attachments to reduce noise; operate the blower at a low speed to minimize noise.
Avoid using a leaf blower early or late in the day.
Leaf blower maintenance
Electric and battery-powered blower maintenance
Unplug the machine or remove the battery before maintenance.
Clean the battery and its vents. Set the battery in its charger. Store batteries at full capacity. Periodically charge batteries during the off-season.
Use a clean cloth to wipe down the blower after each use.
Inspect the blower for loose, damaged, or missing parts. Tighten all loose parts and replace missing parts.
Check the air intake. Remove dirt and debris that might block airflow.
Gas-powered blower maintenance
In addition to the general care listed above:
Replace the fuel filter at least once a year.
Clean the outside of the carburetor and fan blades.
Examine the fuel line, fuel filter, cables, and connections.
Check the spark plug and replace it if needed.
If storing a gas-powered blower, drain the fuel system or run it dry before storing. If you leave fuel in the machine, add a fuel stabilizer.
Leaf blowers we like
About our list: We spend nearly every day in the garden. We also spend a lot of time with other gardeners. Many of the tools on our favorites list are tools we use or tools we see being used by our gardening friends. We also chat with sales associates at the garden center, box store, and hardware about tools they are selling and recommend. Our list is comprised of tools we know first-hand are right for the job and reasonably priced.
Electric corded leaf blowers
Sun Joe SBJ597E 6-Amp 155 Mph Electric Leaf Blower. About $24.
WORX WG520 12 Amp TURBINE 600 Electric Leaf Blower. About $59.
Toro 51621 UltraPlus Leaf Blower Vacuum, Variable-Speed (up to 250 mph) with Metal Impeller, 12 amp. About $109.
MILWAUKEE'S Electric Tools 2724-20 M18 Fuel Blower (Bare). About $143.
Battery-powered cordless leaf blowers
EGO Power+ LB6504 650 CFM Variable-Speed 56-Volt Lithium-ion Cordless Leaf Blower 5.0Ah Battery and Charger Included. About $259.
SnapFresh Leaf Blower – 20V Leaf Blower Cordless with Battery & Charger, Electric Leaf Blower for Lawn Care, Battery Powered Leaf Blower Lightweight for Leaf/Snow/Dust Blowing. About $60.
RYOBI ONE+ 100 MPH 280 CFM Variable-Speed 18-Volt Lithium-Ion Cordless Jet Fan Leaf Blower 4Ah Battery and Charger Included. About $185.
Worx WG584 40-Volt Power Share Turbine Cordless Leaf Blower. About $176.
EGO Power+ LB6000 600 CFM Backpack Blower Battery & Charger Not Included, Grey/Black. About $230.
Greenworks Pro 80V (180 MPH / 610 CFM) Cordless Backpack Leaf Blower, 2.5Ah Battery and Charger Included BPB80L2510. About $320.
Gas-powered leaf blowers
Husqvarna 965877502 350BT 2-Cycle Gas Backpack Blower. About $303.
Schröder Backpack Blower – Gas Leaf Blower – SR-6400L – 3.7 HP Engine. About $329.
Poulan Pro PR48BT, 48cc 2-Cycle Gas 475 CFM 200 MPH Backpack Leaf Blower. About $253.
SuperHandy Walk Behind Leaf Blower, Wheeled Manual-Propelled, 7HP 212cc, 4 Stroke, Wind Force of 200 MPH / 2000 CFM at 3600RPM. About $412.
More Buyer's Guides