When it comes to finding the best-rated wheelbarrow, there are a few things you need to take into account. The first thing you need to consider is what you will be using the wheelbarrow for. If you will be primarily using it for gardening purposes, then you will want to find one that is made specifically for gardening. If you will be using it for construction or other heavy-duty purposes, then you will want to find a heavy-duty wheelbarrow that is specifically designed for those types of tasks.
Another thing you will want to take into account is the size of the wheelbarrow. If you are looking for one that is specifically designed for light yard work such as moving mulch, you will want to find one that has a smaller wheel and good maneuverability. If you are a professional landscaper moving full loads or heavy material over uneven terrain then you will want a heavy-duty wheelbarrow with a large wheel, good shock absorption, and a large load bin.
The last thing you will want to take into account is the price. You will want to find wheelbarrow that is affordable but still meets your needs.
A lightweight traditional wheelbarrow–a poly wheelbarrow–with a plastic bed is an excellent choice for the weekend gardener. But if you do heavy lifting and move full loads at full capacity over rough terrain then a much more expensive electric wheelbarrow will likely be an excellent choice and your top pick.
So, what is a good wheelbarrow, the best rated wheelbarrow for you?
There is no one-size-fits-all answer to this question, as the best-rated wheelbarrow will vary depending on your specific needs. However, some of the best-rated wheelbarrows on the market include the True Temper Wheelbarrow, the Bahco Wheelbarrow, and the Ames Wheelbarrow.
Types of wheelbarrows
Traditional: A traditional design has a single wheel in the front and two steel legs in the rear for balance. A single-wheel wheelbarrow is easy to maneuver and dump–especially for light loads. A single-wheel wheelbarrow is prone to tipping over under heavy loads.
Two-wheel: A two-wheel wheelbarrow has two wheels, one on either side of the front of the tray. Two-wheel models have greater tip resistance but they are more difficult to pivot when changing direction.
Motorized or electric: Motorized wheelbarrows are gas or electric powered. They often have multiple wheels and speed functions.
Collapsible: Collapsible wheelbarrows have fabric rather than plastic or steel tubs. They are lightweight and easy to push, but they can not designed to carry heavy loads.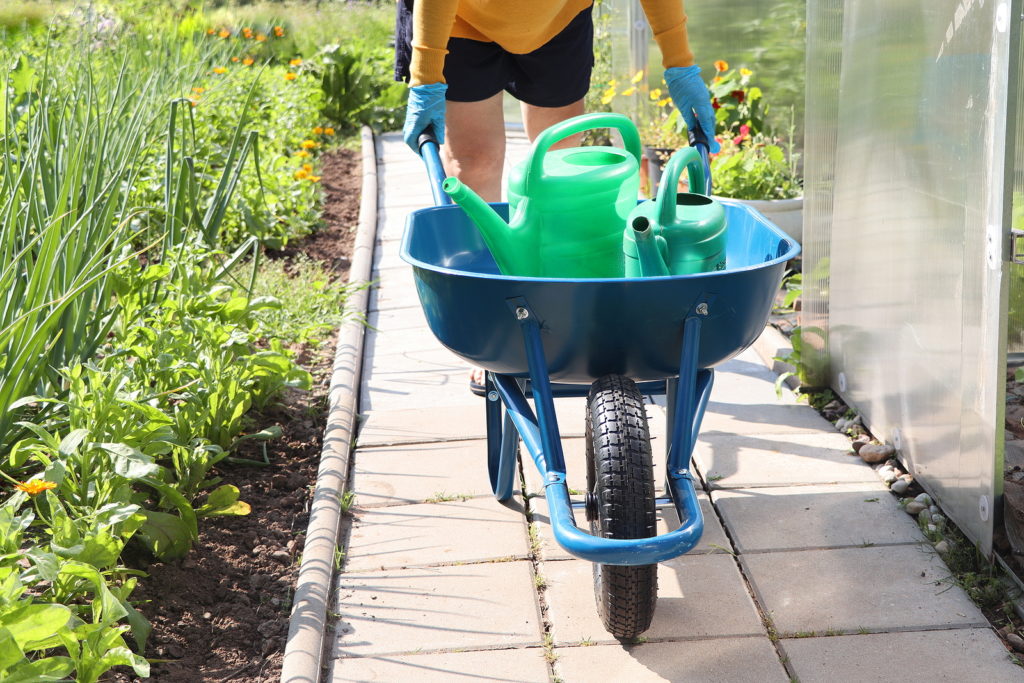 What to look for in a wheelbarrow
Tub capacity: Wheelbarrows can have a tub (also called tray) capacity of 2.5 to 10 cubic feet of space. The larger the tub capacity the more likely you are to fill it; choose a size that fits your needs and is easy to push and maneuver when filled. Trays commonly have an angled or slanted "nose" which means not all solid objects–such as a bale of hay–can lay flat in the tray.
Weight and weight capacity: Be sure to check the weight of the wheelbarrow. A wheelbarrow with a plastic tub and steel frame can weigh as little as 15 pounds empty. A steel tub wheelbarrow can weigh 20 to 40 pounds empty with a load carrying capacity of 90 to 150 pounds. Light weight wheelbarrows can haul about 60 pounds; a heavy-duty steel wheelbarrow can carry as much as 300 pounds. Consider the weight of the wheelbarrow and the weight of loads you plan to carry.
Tub material–steel vs. plastic: Wheelbarrow tubs are made of steel or thick molded plastic (polyethylene). Steel tub wheelbarrows can carry heavy loads including rocks and bricks; plastic tubs can crack under heavy weight. Steel tubs left outside in wet weather can rust. Plastic trays are lightweight but can buckle under heavy loads. The better wheelbarrows are made of one piece of heavy steel with extra braces on the legs, which are set wide apart for stability. Choose the tub best suited for your purposes.
Handles: Wheelbarrow handles are commonly made of either wood or metal. Wood handles are often lighter than steel handles but if they are left out in the elements the varnish or finish may blister and peel requiring re-finishing. Steel handles are susceptible to rust if left outdoors. Wheelbarrows can have straight handles or loop handles. Loop-handled or shopping cart-style handles allow the user to pull rather than push the wheelbarrow. Some wheelbarrows have cushioned grips.
Wheels and Tires: Wheelbarrows can be single-wheeled or two-wheeled. (Four-wheeled versions with flat beds are called carts.) Choose the wheels and tires for the type of terrain where you will be working. Single-wheeled versions are easier to pivot around corners and move through tight spaces but may be difficult to balance with heavy loads. Wheelbarrow tires can be solid rubber or plastic or inflatable. Inflatable tires are also called pneumatic tires. Air-filled inflatable tires provide an air cushion for moving over uneven surfaces and obstacles. Air-filled tires will require pumping and can require patching if punctured. Wide, inflatable tires give the smoothest ride but can flatten out or puncture under heavy use. Solid tires–often called "flat-free" tires–will not go flat but they tend to bounce over obstacles and may require more pushing effort. Solid tires are usually the most maintenance-free.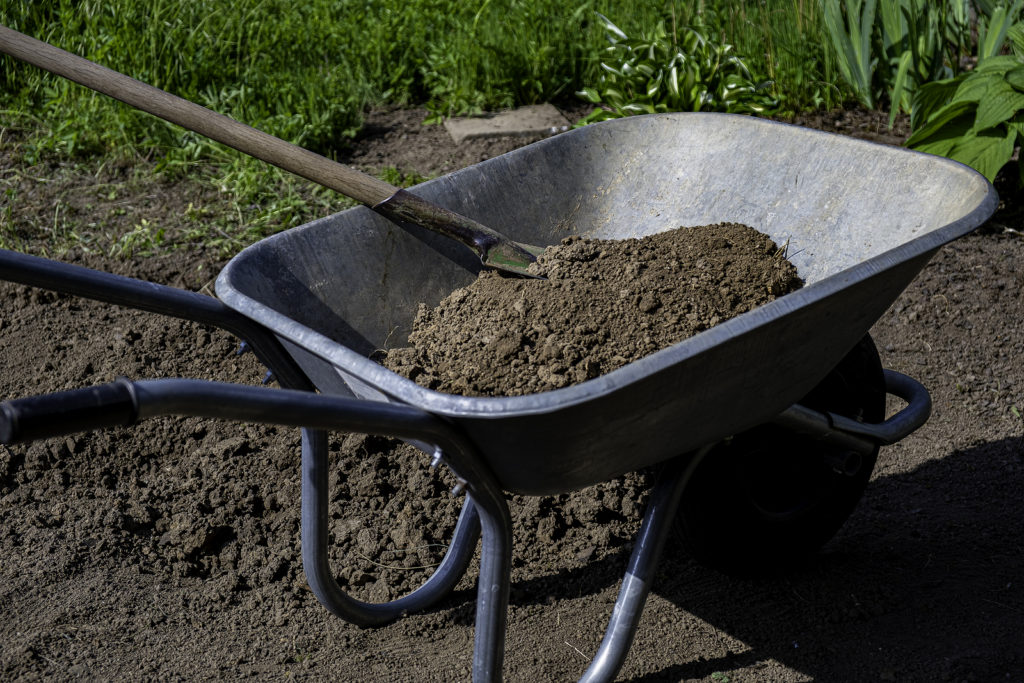 Two questions frequently asked when buying a wheelbarrow
Q: How long should a wheelbarrow last?
A: A wheelbarrow should last a long time if it is taken care of properly. Some things you can do to help prolong the life of your wheelbarrow are to keep it out of the sun, to keep it from getting too wet, and to make sure that the bolts are tight. You should also check the tires for wear and tear regularly.
Q: Which is better a plastic or metal wheelbarrow?
A: There are a few factors to consider when deciding between a plastic or metal wheelbarrow. Plastic wheelbarrows are generally lighter and less expensive than metal wheelbarrows. They are also less likely to rust, making them a good choice for wet or exposed environments. However, they are not as strong as metal wheelbarrows and may not be suitable for heavier loads. Metal wheelbarrows are more durable and can handle heavier loads, but they are also heavier and more expensive. They are also more likely to rust in wet or exposed environments.
Q: How do I decide which wheelbarrow to buy?
A. Buy a garden wheelbarrow that fits your needs. If you do occasional garden cleanup and light yardwork then a lightweight wheelbarrow with a plastic tub and solid rubber tire is probably good enough. If you want to move gravel or rocks or paving stones or if you are a landscaper then the best wheelbarrow will be one with a steel tub and pneumatic tires.
Tips for using a wheelbarrow
Keep wheelbarrows clean when not in use.
Do not allow water to stand in a metal wheelbarrow, as it might cause rust.
Oil wheels for easier movement.
Semi-rounded front makes for easier dumping.
The front brace that connects the two handles immediately in front of the wheel can catch on the ground as you move the barrow along, especially if you hold the handles high and are moving over irregular ground. Be careful.
Wheelbarrows we like
About our list: We spend nearly every day in the garden. We also spend a lot of time with other gardeners. Many of the tools on our favorites list are tools we use or tools we see being used by our gardening friends. We also chat with sales associates at the garden center, box store, and hardware about tools they are selling and recommend. Our list is comprised of tools we know first-hand are right for the job and reasonably priced.
Steel Tray Wheelbarrows
Jackson M6T22 M6T22KB Wheelbarrow, 6-Cubic Foot Capacity, Blue. Heavy-duty steel tray. Leg stabilizers make wheelbarrow 40% more tip-resistant. 16-inch tubed tire. 60-inch heavy duty wood handles. About $292.
True Temper R6STSP25 Steel Tray Wheelbarrow. 6 Cubic Foot. Never Flat Tire. Steel handles. Comfort grips. About $115.
True Temper R6STFFEC 6 Cu. Ft Steel Tray Wheelbarrow with Never Flat Tire & Steel Handles, Black. About $210.
WORX WG050 Aerocart 8-in-1 Yard Cart / Wheelbarrow / Dolly. 200 lbs. capacity. Metal tray. Flat-free tires. About $229.
Plastic Tray Wheelbarrows
Marathon Yard Rover – 2 Tire Garden Cart. Lightweight poly construction. 5 cubic feet; 300-pound capacity. About $79.
Seymour S300 DuraLite Wheelbarrow with Hardwood Handle. Poly tray. Black standard tire. Wooden handles. About $208.
Two-Wheel Wheelbarrows
Gopulus Two Wheelbarrow. 330 lbs Capacity Utility Cart with Two 13 inches Pneumatic Tires for Outdoor Lawn Yard Farm Ranch. Polypropylene tray. Alloy steel frame. Loop handle. About $129.
Rubbermaid 5642 Bla Big Wheel Agriculture Cart. 300-Lb. Pneumatic tires. Loop handles. About $458.
Best Choice Products Dual-Wheel Home Utility Yard Wheelbarrow Garden Cart w/Built-in Stand for Lawn, Gardening, Grass, Soil, Bricks, and Construction. Holds up to 5 cubic feet. Polypropylene tray. Steel frame. Loop handle. About $99.
Four-Wheel Carts
Gorilla Carts GOR4PS Poly Garden Dump Cart with Steel Frame and 10-in. Pneumatic Tires, 600-Pound Capacity. About $135.
Sunnydaze Utility Steel Garden Cart, Outdoor Lawn Wagon with Removable Sides, Heavy-Duty 400 Pound Capacity. Pneumatic wheels. About $119.
Collapsible Carts
Mac Sports Heavy Duty Steel Frame Collapsible Folding Utility Cart. 150 Pound Capacity. Polyester tray; steel frame. About $195.
Hikenture Folding Wagon Cart. All-Terrain Wheels. 175-pound capacity. Oxford cloth. About $119.
Electric Powered Wheelbarrows
Makita XUC01X1 36V (18V X2) LXT® Brushless Power-Assisted Wheelbarrow, 290 lbs. maximum load capacity, steel bucket with 3 cubic feet capacity. About $1199.
SuperHandy Wheelbarrow Electric Powered Utility Cart 48V DC 500W Li-Ion Driven Ultra Duty 330 lbs. maximum load capacity and 4 cubic feet. Alloy steel construction. Pneumatic tires. About $595.
Gas Powered Wheelbarrow
XtremepowerUS 61034 Track Wheel Barrow Gas 7hp 212cc 850lbs Max Load Utility Cart Utility Cart Motorized Wagon. 850 pound capacity. Steel hopper and frame. About $2,000.
More Buyer's Guides