String trimmers are an important tool for the homeowner, and there are a variety of different types of string trimmers available.
The most important factor to consider when purchasing a string trimmer is the type of power that the trimmer uses. There are three types of power sources for string trimmers: electric, battery-powered, and gas-powered.
Electric string trimmers are well suited for weekend gardeners because they are light weight and easy to use. They are powered by a cord that plugs into an outlet. Battery-powered string trimmers are also a good choice for homeowners and weekend gardeners, as they are cordless and can be used anywhere. Gas string trimmers are the most powerful and can go anywhere, but they are also heavier and require the most maintenance.
Battery-powered cordless string trimmers have become the most popular trimmers for homeowners. They produce no emissions, run quietly, and start instantly. With a battery-powered trimmer, you can cut for about 30 minutes on a single charge.
Here's our guide to help you learn about and buy a string trimmer: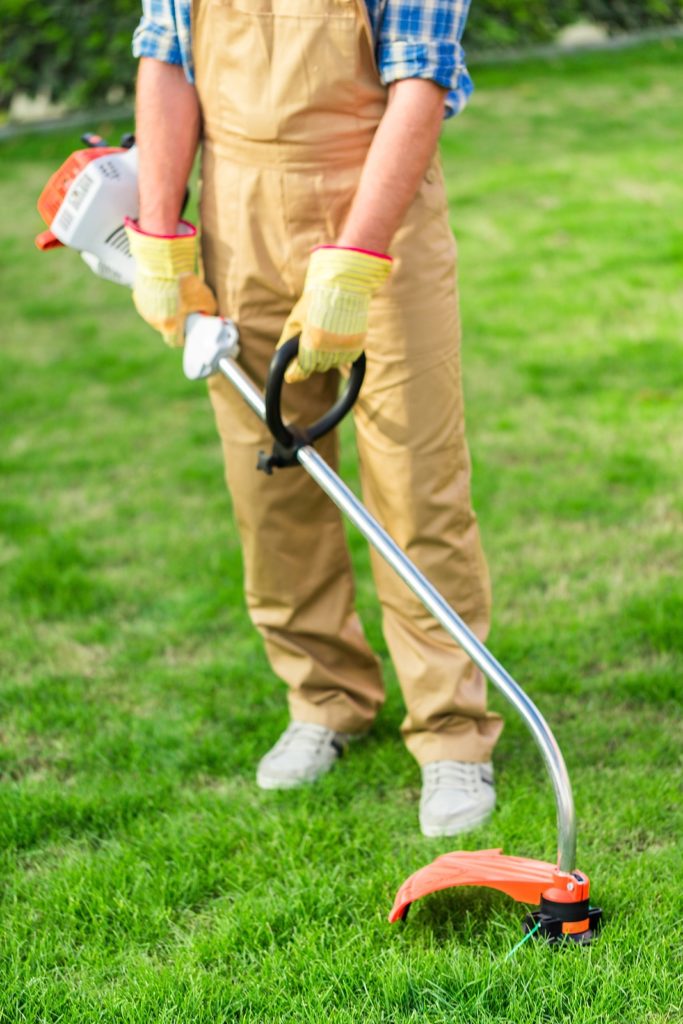 What string trimmers are used for
String trimmers are used for cutting weeds and long grass but not woody material.
String trimmers can cut down tall grass and weeds that may clog a lawn mower.
String trimmers are particularly good for trimming around trees and flower beds, near buildings, along fences, and around other solid structures such as swing sets.
Some models double as grass edgers when turned on their sides. They can keep the edges along sidewalks and driveways neat.
String trimmers can cut a path from 7 to 20 inches wide, depending on the model.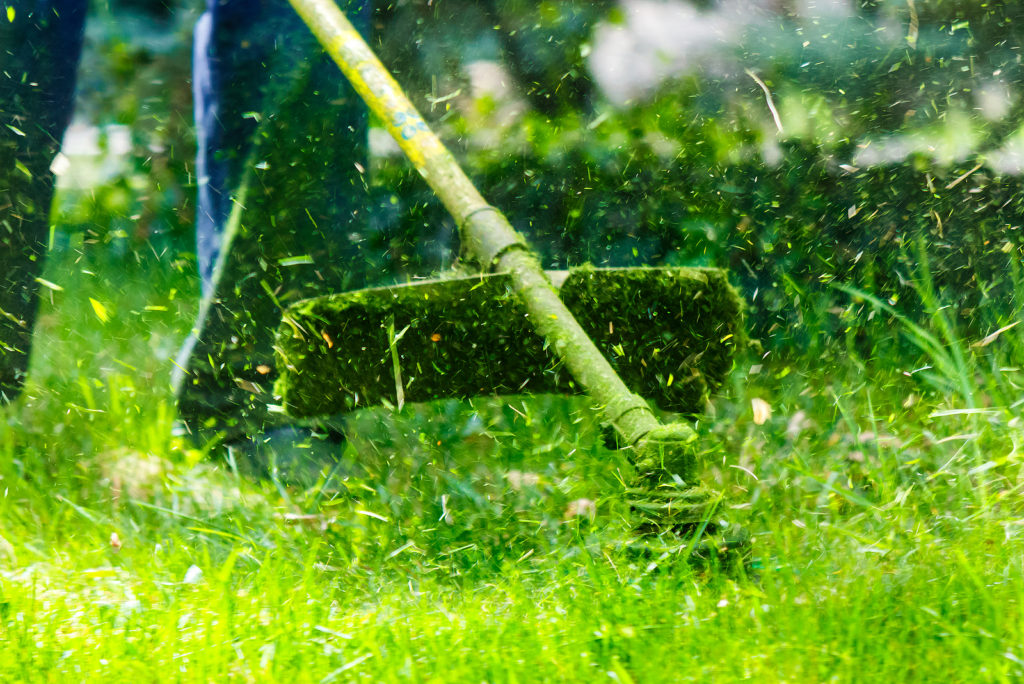 String trimmer basics to know
A string trimmer is also known as line trimmer, weed-eater, weed whacker, weed trimmer, grass trimmer, flexible line grass trimmer, nylon cord trimmer, nylon string trimmer, and rotary trimmer.
A string trimmer is a long-handled tool with either a straight or slightly curved shaft. The cutting head has one, two, or three heavy nylon monofilament strings on a spool that are spun at high speed by an electric (regular or battery-operated) or two-cycle gas engine. The string acts as a blade to cuts grass and weeds.
Heavy-duty string trimmers are usually gas-powered and have straight shafts. Curved shafts are found on most light-duty models.
The cutting nylon cord is reeled out as it becomes frayed or broken, either by a button on the handle (push button auto feed) or by bumping the trimmer head on the ground (bump feed); automatic feed models are also available. Some heavy-duty models have heavy fixed strings that are replaced in fixed lengths.
Some gas-powered models can also be adapted to use a metal saw-tooth blade for heavy brush cutting.
Trimmer line is available separately in various thicknesses from .040 to .130 inches and in various lengths from a foot to 1,000 feet.
Gasoline-powered string trimmers tend to be heavier duty and are available in a wide range of sizes and capabilities, from those for home use to professional landscape maintenance operations.
Gas engines are rated by displacement measured in cubic inches; the higher numbers indicate more power.
Cordless battery-powered string trimmers are powered by rechargeable batteries. They are easy to start, quiet, do not use volatile fuels, and emit no exhaust fume. Their use is limited by battery life.
Corded electric-powered string trimmers are powered by electric motors. They are easy to start, quiet, do not use volatile fuels, and emit no exhaust fume.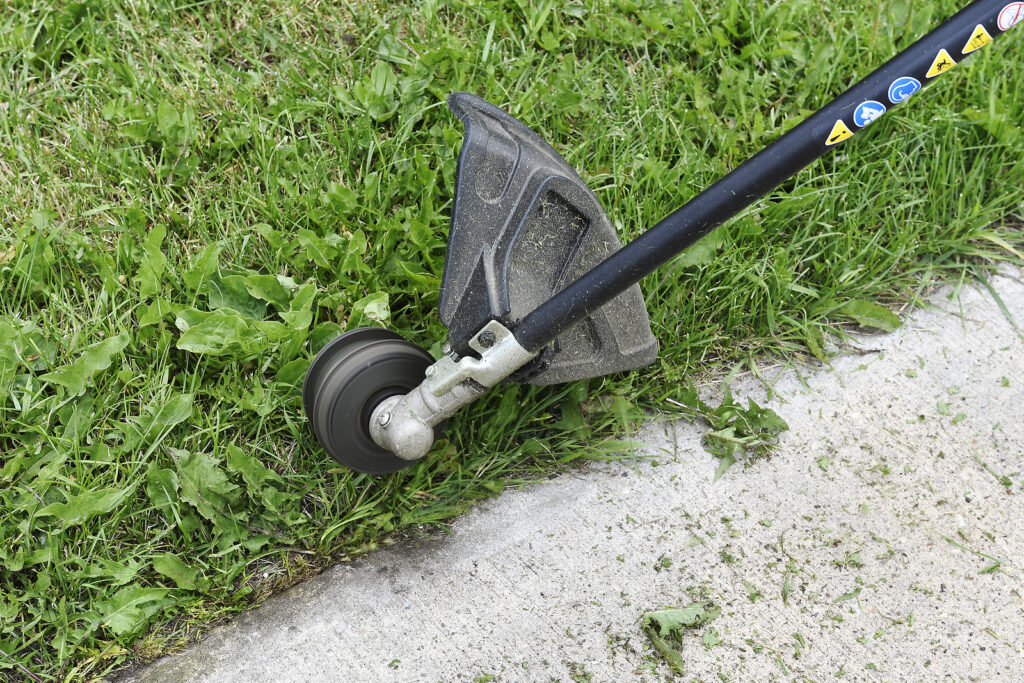 Frequently asked questions before buying a string trimmer
Q: How big is your yard or the area that needs maintenance?
A: Take a good look at the whole yard. An electric corded is good for small yards. A gas-powered trimmer is best for big yards and large properties. Battery-powered trimmers can be used in both large and small yards.
Q: What kind of string trimmer do I need?
A: If you have a large yard, you will need a trimmer with long runtime. A battery-powered cordless string trimmer can take on large areas, but you will likely need an extra battery. A gas-powered trimmer will have the greatest power and can take on large, tough jobs.
Q: What kind of obstacles can a string trimmer go up against?
A: If you will be trimming along walls or fences or around swing sets or other heavy permanent objects, you may need a machine that can use thicker, weighted line; heavy line is less likely to break or fray when striking hard objects. If you will just be trimming grass along a sidewalk in a small yard, a lighter corded machine will be sufficient.
Q: What is the best string trimmer for thick, overgrown weeds?
A. Gas-powered string trimmers are more powerful than electric models. If you want to use a battery-powered trimmer to remove heavy weeds, make sure the trimmer has a high voltage rating.
Q: Can I use a string trimmer as an edger?
A: If you will be edging along walks, hardscapes, or planting beds, choose a trimmer that features a flip head that can be used as an edger, or consider a trimmer with a built-in edger.
Q: Can I use any of the strings or lines available at the store on my string trimmer?
A: No. Follow the manufacturer's recommendations regarding string gauges. If you use a string or line that is too heavy for your machine, you risk burning out the motor. Electric trimmers use the lightest gauges. Gas-powered trimmers commonly use medium to heavy gauge line. A heavier gauge cuts thicker weeds.
Q: How long will a string trimmer last?
A: With good care and maintenance, a string trimmer will last for several years. You will need to replace the string regularly. Battery-operated machines will need new batteries every few years.
String trimmer buying tips
There is a large choice of string trimmer makes and models available.
Be sure the tool is comfortable to use. Check the handle length, controls, overall feel, and importantly the balance of the machine in your hands.
Models with the engine mounted on the upper end of the handle and with straight shafts are easily handled and more powerful.
Larger models can carry more string.
A built-in clutch that prevents the cord from turning when the motor idles is an important safety feature.
Some models have "bump feeds." A bump feed means when the head of the tool is bumped on the ground cord is released while the motor continues to run.
Models without bump feeds must be turned off to hand-feed new string.
Electric and battery-powered trimmers are quieter and vibrate less than gas-powered trimmers
A 20 to 25-centimeter gas engine is sufficient for most lawns and homes.
Electric models have a range of 1/8 to 3/4 horsepower. Look for the most amperage.
Some gas and battery operated string trimmers are available as a split base or power base. A split base tool is a shaft with a power head (engine) that can accept different attachments usually with a string trimmer and separately a hedge trimmer, a pole saw, an edger, a brush cutter, or a cultivator. This is a good option if you need multiple powered tools.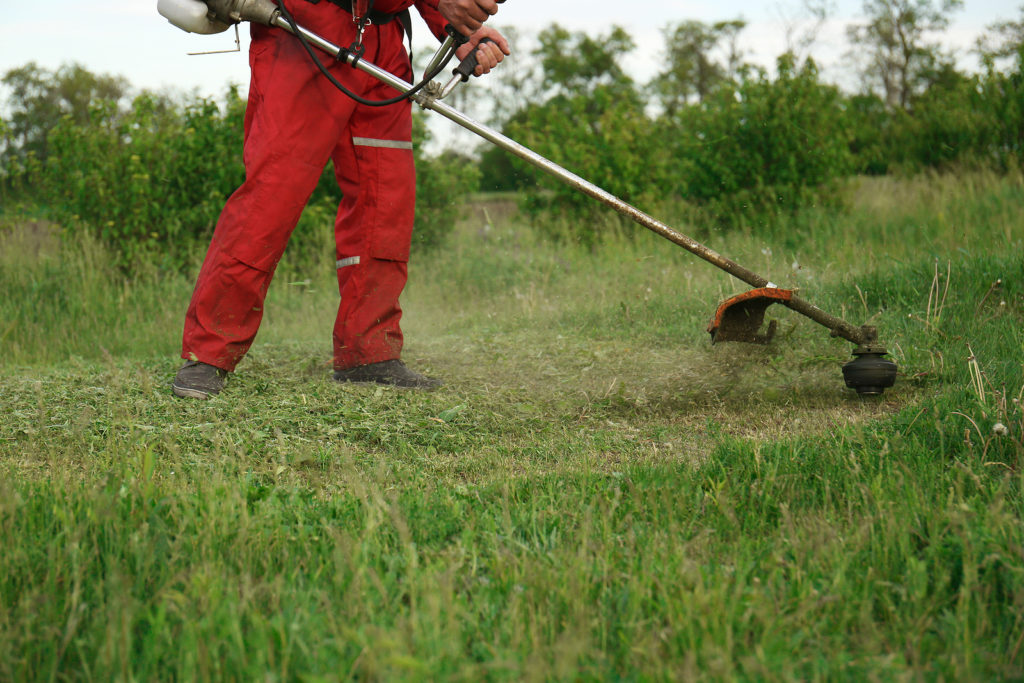 Types of string trimmers
Electric corded string trimmers
Electric corded string trimmers run on electricity. They require an extension cord –usually 50 to 100 feet long–and must be plugged into an electrical outlet. Electric trimmers usually have enough power for small to medium size yards–about 1/4 to 1/2 acre–that are within 100 feet of an outlet. Use is limited by the length of the cord.
Pros: usually the least expensive, lightest weight, start instantly, run indefinitely, no fuel, no need to re-charge batteries, quieter, no fumes, less maintenance.
Cons: slower cutting speed, requires outlet and extension cord, range limited by the length of extension cord, potential electric shock.
Tip: follow the manufacturer's instructions for selecting a compatible outdoor-rated extension cord (usually a 14-gauge or heavier 12-gauge extension). Extension cords usually max out around 100 feet.
Cost: average $70 to $130.
Cordless battery-powered string trimmers
Cordless battery-powered string trimmers are powered by rechargeable batteries. The batteries require a charging station that is plugged into an electrical outlet. Lithium-ion batteries provide the power and runtime for the average residential yard to about 1/2 acre. You will likely need a second battery so if the machine runs out of power while trimming you can finish the job.
Pros: start instantly–no choke or pull-cord, good mobility, less vibration than gas models, the motor does not produce emissions; brushless motors and high-voltage batteries give long-lasting power, and batteries may be interchangeable with power equipment from the same manufacturer.
Cons: cost can be about the same as gas trimmers, run time is determined by the voltage and amp-hour rating of the battery (about 30 to 40 minutes of semi-continuous cutting on a single charge), battery re-charge time of about 60 minutes can slow your work.
Cost: $115 to $300; spare batteries can range from $40 to $125.
Gas-powered string trimmers
These are commonly the best choice for large yards, orchards, or fields where a long runtime is needed. Gas-powered trimmers are also powerful enough for cutting down thick, heavy brush. Gas trimmers are available with either 2-cycle or 4-cycle engines. Two-cycle engines require a gas-oil mixture to run. Four-cycle engines run on regular gas (the oil is separate) and are the most powerful.
Pros: best for heavier work, faster cutting, big range of sizes and cutting capacities to choose from, work anywhere.
Cons: usually more expensive, needs fuel/oil mixtures, stepped starting procedure, heavier and noisier (use earplugs or ear-muff style headsets) than battery or electric models and creates fumes, requires more maintenance.
Cost: Average cost $125 to $400. You will also need specific fuel mixes and heavy lines.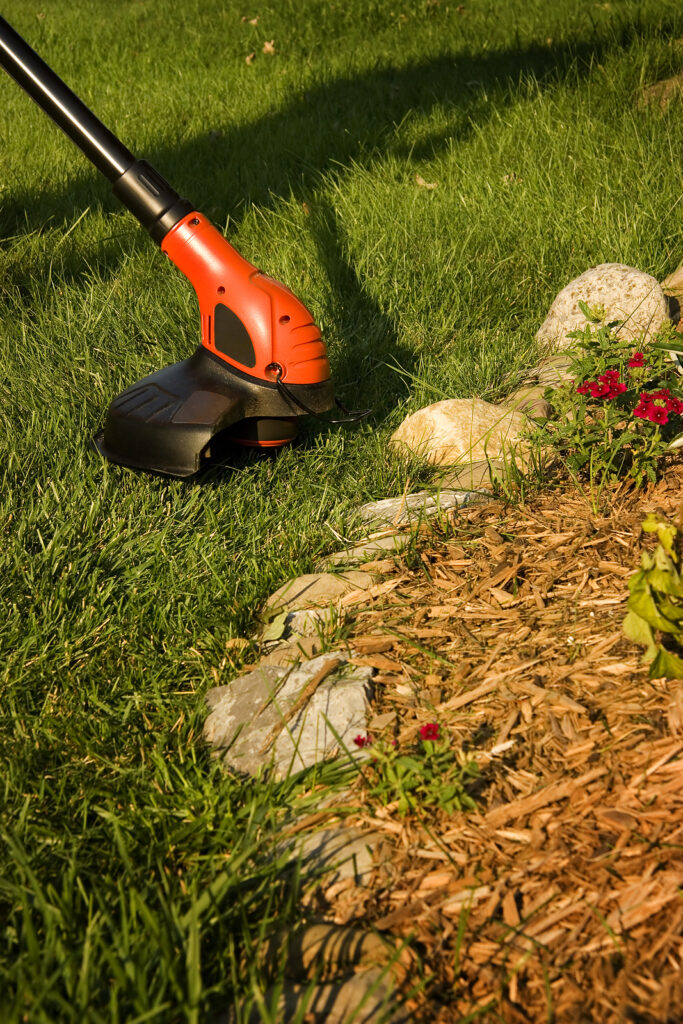 String trimmer features to consider when buying
Weight: Choose a weed trimmer you can lift and handle.
Straight or curved shaft: Choose between a straight and curved shaft. This is a personal choice. Curved shafts tend to be shorter and are often lighter. They are able to maneuver around obstacles. Straight shafts are longer increasing reach and coverage from a given point; they can cover more ground in fewer steps.
Balance: Choose a trimmer that is easily balanced in your hands. Top-mounted motors offer the best balance. You may want a trimmer with adjustable-length shafts or handles if the trimmer is going to be used by different members of the household.
Noise: Corded electric and battery-powered trimmers are quieter than gas-powered trimmers. Use ear protection when using power equipment.
Vibration: Gas-powered trimmers produce intense vibration which can leave your hands numb. Choose a trimmer with anti-vibration technology or use anti-vibration gloves.
String loading and feeding: String loading and replacement can be difficult. Choose a trimmer that fits your needs and is easy to load with line. Some models offer pre-wound string refills; others require you to load the string yourself. Remember, using string or line that is too heavy risks burning out your trimmer's motor.
Shields and guards: The trimmer should have a shield over the string to prevent debris from flying out and striking you or others. Some models have cutting guards that extend away from the machine and limit the trim range and protect plantings.
Attachments: Some models offer optional attachment heads such as an edger, blower, pole saw, hedge trimmer, mower, or tiller. These models have a power head and shaft that accepts attachments; these are often called split shaft or power base tools. The attachments fit on to the end of powered shaft.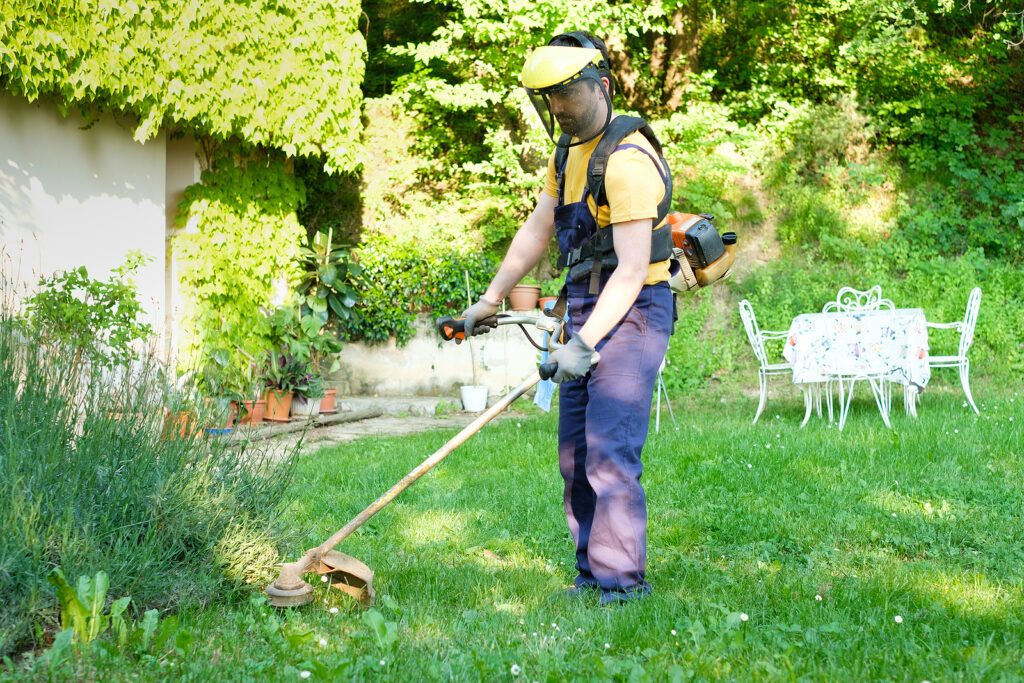 String trimmer safety tips
String trimmers can sling stones and debris. It is strongly recommended that you wear long pants, shin guards, heavy boots, goggles or a face shield, ear plugs or muffs, and gloves when using a string trimmer.
Keep people and pets away from the area where a string trimmer is being used. Debris can fly up and injure animals or people 30 feet or more away.
Be careful around trees and shrubs; string trimmers can remove or injure tree and shrub bark. A plastic or metal tree guard is recommended for young trees.
Do not work a multiple-line trimmer with one line.
String trimmer maintenance
Replace the cutting string as needed.
Check the oil and gas on gas-powered machines before every use.
Keep batteries charged. Check cords for damage before each use.
Clean away grass, brush, and debris after every use.
String trimmers we like
About our list: We spend nearly every day in the garden. We also spend a lot of time with other gardeners. Many of the tools on our favorites list are tools we use or tools we see being used by our gardening friends. We also chat with sales associates at the garden center, box store, and hardware about tools they are selling and recommend. Our list is comprised of tools we know first-hand are right for the job and reasonably priced.
Battery-powered cordless string trimmers
EGO Power+ ST1511T 15-Inch Weed Eater 56-Volt Lithium-Ion Cordless POWERLOAD String Trimmer Kit with Telescopic Alu Foldable Shaft Weed Wacker – 2.5Ah Battery and Charger Included. About $190.
Ryobi 40-volt Lithium-Ion Brushless Electric Cordless String Trimmer. Straight shaft. 15″ maximum cutting width. Weighs 11.7 lbs. About $219.
BLACK+DECKER 40V MAX* String Trimmer / Edger, 13-Inch (LST140C) 7.06 lbs. About $115.
Ryobi ONE+ 18-Volt Lithium-Ion Electric Cordless String Trimmer and Edger. Maximum cutting width 10 inches. Weighs 4 lbs. About $112.
Makita XRU12SM1 18V LXT® Lithium-Ion Brushless Cordless String Trimmer Kit (4.0Ah). 18 volts, Straight shaft. Maximum cutting width 15 inches. Weighs 11 pounds. About $327.
EGO Power+ MHC1502 Multi Combo Kit: 15 String Trimmer, 8-Inch Edger & Power Head with 5.0Ah Battery & Charger Included. About $449.
Electric corded string trimmers
Worx WG119 15 in. 6 amp. Corded Electric String Trimmer, Edger with Telescopic Straight Shaft, and Pivoting Head. Weighs 7 lbs. About $49.
Toro 51480 Corded 14-Inch Electric Trimmer/Edger. Straight shaft. Maximum cutting width 14 inches. Weighs 6.3 lbs. About $65.
Gas-powered string trimmers
Husqvarna 330LK Gas String Trimmer, 28-cc 2-Cycle, 20-Inch Straight Shaft Gas Weed Eater. About $239.
Echo SRM-2620 ProXtreme Trimmer. About $359.
Wheeled string trimmers
TAZZ 40095 Walk-Behind String Mower/Trimmer, 160cc 4-Cycle Gas Engine, Large 14″ Wheels. About $472.
BLACK+DECKER 25A-26S5736 4-Cycle Gas Powered 22-Inch Walk-Behind High-Wheeled String Trimmer with 140cc OHV Engine. About $528.
More Buyer's Guides