There are different types of rototillers on the market, so it can be tough to decide which is the best rototiller for your garden.
Gas-powered rototillers are the most powerful and can break through tough soil easily. They can go just about anywhere and they can tackle big jobs in large spaces. Electric corded and battery-operated rototillers–often called cultivators–are a good choice for small home gardens and lighter, loose soils. They are not as powerful as gas-powered tillers but they are lighter weight, fairly portable, less expensive, and eco-friendly.
Rototiller manufacturers make tillers in all shapes and sizes, from small, light models to large machines with good-sized motors and big rotating tines. The size of the rototiller you need depends on the size of your garden.
If you have a small home garden, an electric corded rototiller should be adequate. These machines are small and easy to maneuver, and they can turn a small area of previously worked, loose soil in just a few minutes.
If you have a large garden or heavy clay soil, you'll need a large rototiller with a powerful engine. These machines–usually rear-time tillers–are bigger and heavier and more powerful, and they are well suited for large spaces.
No matter what size garden or yard you have, be sure to choose a rototiller that is powerful enough to do the job. A weak or underpowered machine will only frustrate you and make the job take longer than it needs to.
Here's our guide to help you buy a rototiller:
What are rototillers used for?
A rototiller is a power tool used to turn the soil and prepare it for planting.
A rototiller uses curved tines to loosen compacted soil allowing plant roots to grow deep into the soil. By loosening the soil a rototiller can also help improve soil drainage.
A rototiller can be used to mix compost, fertilizer, topsoil, and soil amendments into the soil.
The tines or blades of a rototiller–depending on the model–can turn the soil to a depth of 5 to 12 or more inches.
A rototiller can prepare the soil in varying widths, usually from 6 to 20 inches wide depending on the model.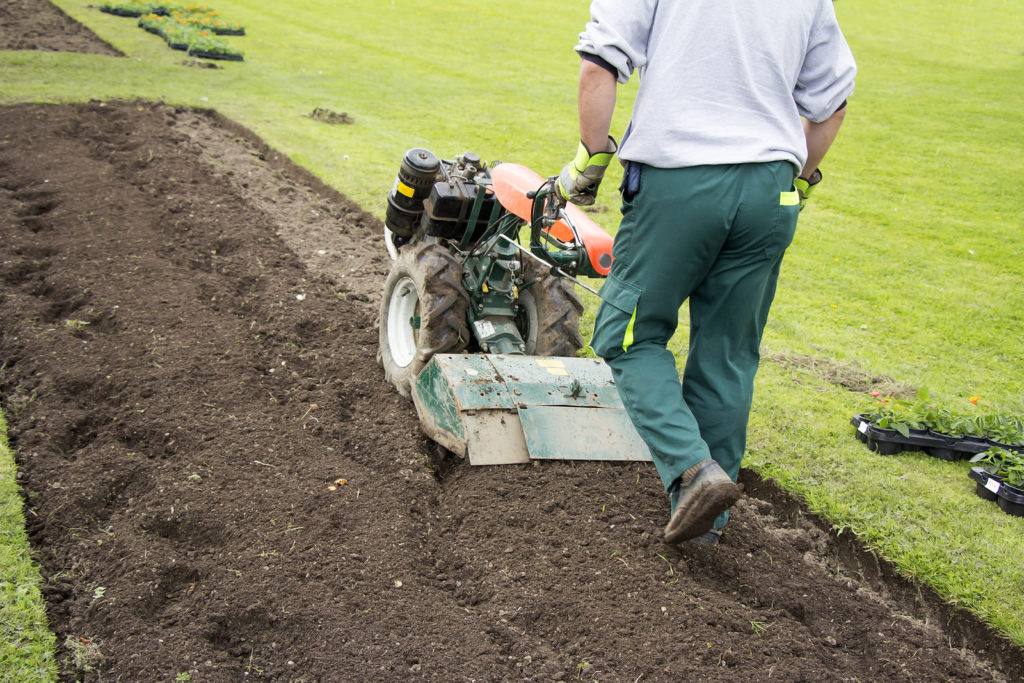 What is a rototiller? Rototillers vs. cultivators
A rototiller is also called a rotary tiller, power tiller, and tiller/cultivator.
A rototiller has a gas or electric motor attached to a tined wheel or a series of tined wheels. A rototiller also has long straight or plow-type handles.
The tines or blades are the part of the rototiller than turns the soil.
The smallest tillers have one or two-blade wheels.
Larger tillers have four blades or more.
Some machines are combination rototillers and cultivators. They usually have tines that can be removed or replaced to reduce the width and depth of tilling.
The tines can be placed at the front of the machine or at the back of the machine.
Small, electric models are commonly called cultivators, power cultivators, or tillers.
Cultivators are usually smaller and have less power than rototillers. Cultivators are used for aerating the soil, mixing in fertilizer, and weeding the soil surface.
Cultivators are usually less expensive and easier to handle than true rototillers.
True rototillers are gas-powered, have a powerful motor, and have larger tines than a cultivator.
Some rototillers come with special blades that can furrow, aerate, dethatch, or make raised planting rows. Some come with attachments for snow removal, edging, or trimming.
Some rototillers allow the tines to rotate in reverse.
Electric and gas tillers
Rototillers can be powered by gas motors or electric corded or battery-powered motors.
Battery-powered tillers are mobile but limited by the life of the battery.
Corded-electric tillers are limited by the length of the extension cord.
Electric tillers generally have a single shaft or handle, and the tined wheels are below the motor.
Gas-powered tillers tend to be bigger and commonly have two regular rubber wheels in addition to the tined wheels.
Power tillers come in a wide range of sizes up to 5 horsepower, and dig at adjustable depths up to 8 inches.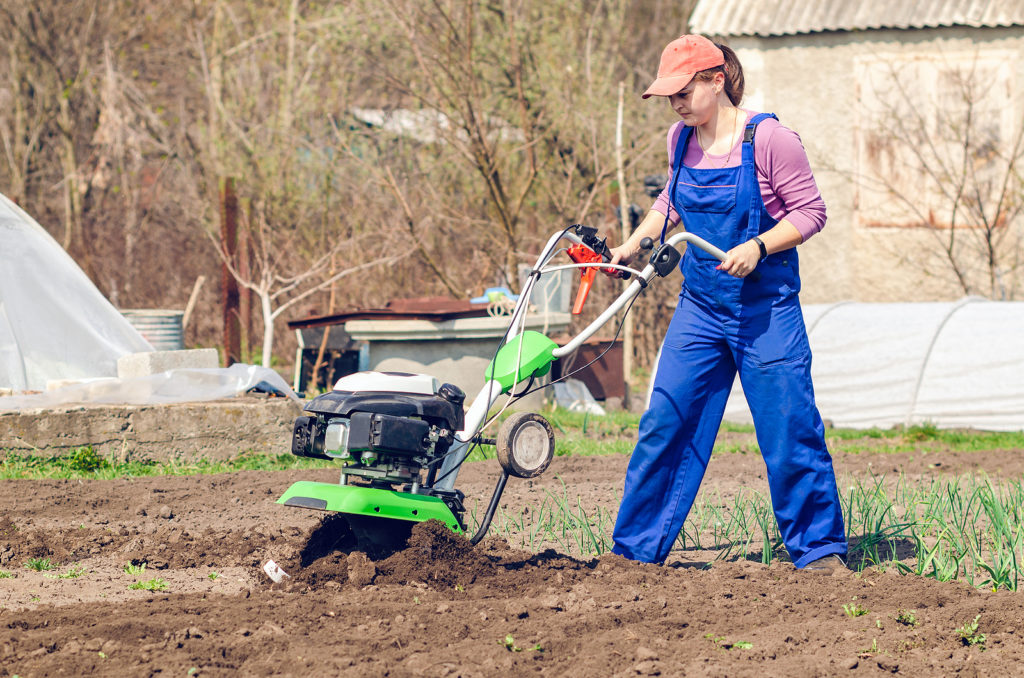 Types of tillers
Front-tine tiller, also known as front-tine or front-end tiller: A front-tine rototiller has the tines in front of the machine and wheels at the back of the machine. Gasoline or electric motor sits above the tined wheels (metal tined wheels do the cultivating). Front-tine tillers sometimes have rubber stabilizing wheels behind the motor, and plow-type handles. The tine wheels propel the machine. Front-tine tillers are usually 6 to 9 inches wide. They are smaller and lighter than rear-tine tillers.
Rear-tine tiller, also known as rear-tine or rear-end tiller. These are the largest tillers. These tillers have the wheels in front and the tines or blades are located at the rear of the machine. The blades are usually covered since they are nearer the operator's feet. Rear-tine machines are commonly propelled by load-bearing front wheels. These heavy machines are usually gas powered; the gas motor is above the front wheels.
Tilling depth
Tilling depth is the maximum depth the rototiller can reach to break up the soil.
A deeper till depth can be helpful for breaking up dense soil or for preparing a fallow or neglected garden bed for planting.
Most rototillers have a tilling depth of 6 to 8 inches, but some have a depth of up to 12 inches or more.
If you have a tough patch of soil to break up, be sure to choose a rototiller with a deep tilling depth.
Number of blades/tines
Rototiller blades are commonly called tines.
An important factor in selecting a rototiller is the number of blades on the tiller.
A four-blade tiller does a much better job of breaking up the soil than a two-blade tiller.
The more blades, the less likely the tiller will clog with dirt.
Engine or motor size
The type of engine or motor a rototiller has is important.
A good sized engine for a gas powered tiller would be around 150cc's or greater, a heavy 4-stroke engine will improve power and efficiency.
For small gardens less than 1,500 square feet, a mini-tiller, sometimes called a cultivator with an electric or battery-powred motor should be sufficient.
For a medium-size garden, you probably need a mid-size tiller with a 5-horsepower engine.
For gardens larger than 5,000 square feet, you'll want a heavy-duty tiller with at least a 6-horsepower engine.
Electric vs. gas — cultivators vs. rototillers
Electric-powered front-tined tillers are commonly called cultivators; they are best suited to easier-to-work soils, such as established beds and gardens and soils that have been previously cultivated. Use these tillers for seasonal cultivation of established beds ahead of seeding and for working in soil amendments.
Gas-powered rear-tine tillers commonly called rototillers are heavier than electric tillers/cultivators. Use gas-powered, rear-tine tillers for areas that have never been tilled. These tillers can cultivate, hard-packed, rocky soil that lighter front-tined models cannot handle.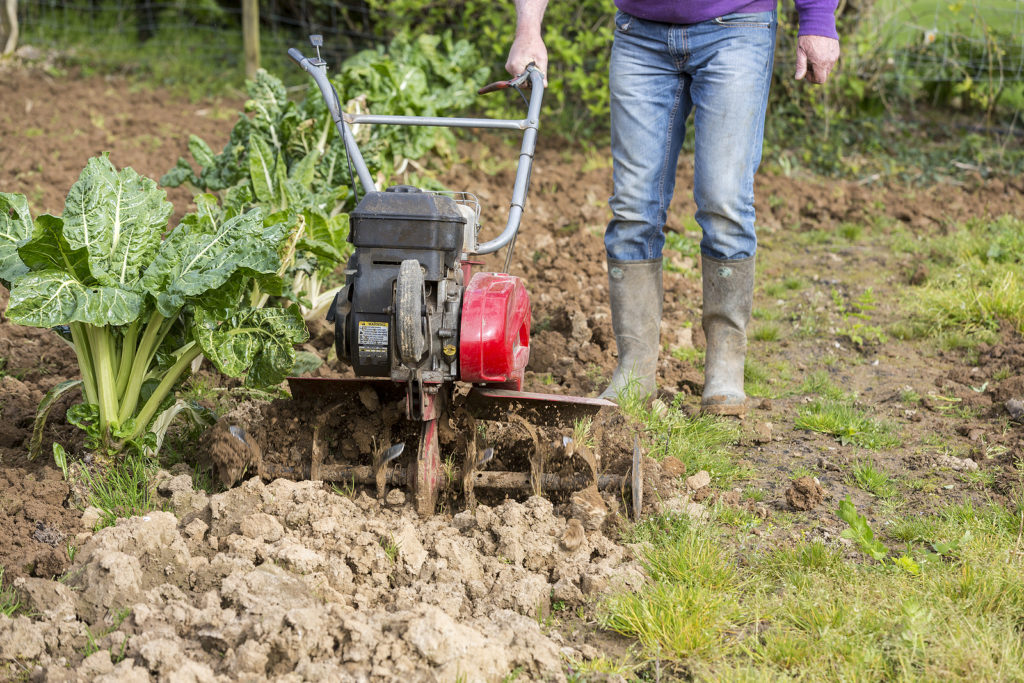 Rototiller-cultivator buying tips
A tiller is one of the more expensive garden tools you can buy. Shop around or rent one or two before you buy.
Rear-end tillers which are commonly gas-powered can cost twice as much as front-tined models.
Determine if your garden is large enough to justify the expense of a tiller. The alternative is to turn the soil with a spade, shovel, or garden fork.
The capability of a tiller is determined largely by the size of the engine and the weight of the machine.
Consider the weight and maneuverability of the rototiller you may purchase. The heavier the tiller the more difficult it will be to maneuver.
The wider the tiller the fewer passes you will have to make to till the garden.
The more tines a tiller has the easier and quicker it will break up the dense soil.
Most tillers allow for the adjustment of the cultivating depth.
Front-tined tillers are commonly used in small gardens and rear-tined for larger gardens, but some models may overlap. The engine of a front-tine tiller should be almost directly over the tines to aid the digging.
Larger, rear-tined tillers are heavier than front-tined tillers. Larger, heavier models can sometimes be easier to control than lighter models.
Rear-tined models can handle heavier work than front-tined models.
The wheels or rear-tined models do not pass over and compact just tilled soil; front-tined tillers often have wheels that pass over freshly turned soil.
Light, small tillers are best for churning the top layer of soil. They can be used to combat weeds.
Note or ask how easy the tiller is to turn
If you want extra attachments, be sure the machine has the power to use them.
A tiller should have high-quality, high-carbon steel tines that are adjustable for width.
The tiller should have easily operated controls, a shielded muffler, and adjustable handles. Try to see how much noise and vibration the motor produces before you buy.
Rear-tined tillers should have hinged tine covers for safety.
Some rototillers may feature shock reduction or ergonomic designs.
If you are using the machine only once a year, consider renting instead of buying.
More helpful tips to consider
Consider the size of your garden. If you have a large garden, you'll need a larger rototiller.
Think about the type of soil you have. If your soil is hard, heavy clay, you'll need a more powerful rototiller. How deep do you need to till?
Consider how often you'll be using the rototiller. If you'll be using it frequently, you'll need a model that is durable and easy to operate.
Tiller use tips
Be sure the ground is moist enough to work, but not so wet that the tiller sinks into the soil.
Check the soil before operating a tiller.
Do not attempt to till ground with tall weeds; they will wrap themselves around the tiller tines. Cut weeds before tilling.
A tiller can be a dangerous machine if not used properly.
Don't expect a small machine to do heavy-duty work.
Follow the manufacturer's instructions for how to use the tiller, and be careful not to damage your plants or your soil.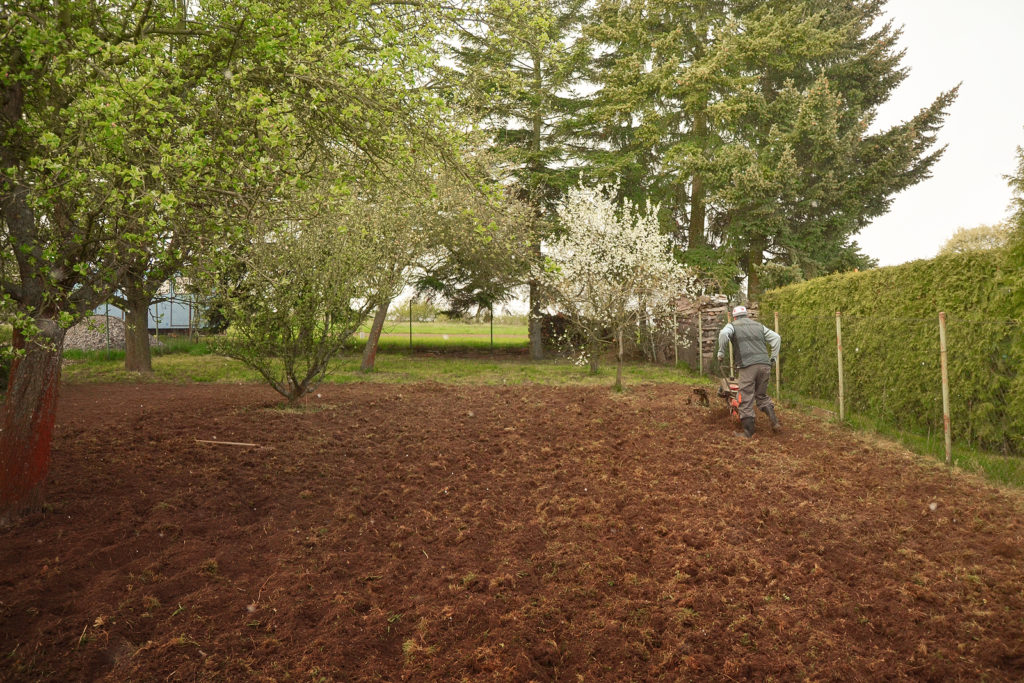 Tillers and cultivators frequently asked questions
Q. Can a rototiller be used in rocky soil?
A. Running a rototiller over rock can damage the tines. It is best to remove rocks by hand.
Q. Can a rototiller remove tree roots from the soil?
A. Rototillers will not break up large roots.
Q. How deep do rototillers dig?
A. A rear-tine, gas-powered rototiller can dig 8 to 10 inches deep. A cultivator will dig 4 to 5 inches deep.
Tillers and cultivators we like
About our list: We spend nearly every day in the garden. We also spend a lot of time with other gardeners. Many of the tools on our favorites list are tools we use or tools we see being used by our gardening friends. We also chat with sales associates at the garden center, box store, and hardware about tools they are selling and recommend. Our list is comprised of tools we know first-hand are right for the job and reasonably priced.
Electric corded tillers
Sun Joe TJ603E Tiller and Cultivator. Front tine tiller. Corded electric powered. 16-inch tiller width. 8-inch maximum tilling depth. Weighs 27 lbs. About $136.
Sun Joe TJ604E Garden Tiller and cultivator. Front tine mini tiller and cultivator. Corded electric powered. 16-inch width. Maximum 8-inch tilling depth. Weighs 27 lbs. About $169.
Earthwise TC70016 Tiller & Cultivator. Corded electric powered. 11-16 inch tilling width. 8-inch maximum tilling depth. Weighs 35 lbs. About $179.
Greenworks 8 Amp 10-Inch Corded Tiller, 27072. Adjustable width 8.25-10 inches. Tilling depth to 5 inches. About $167.
Battery-powered tillers
Sun Joe 24V-X2-TLR14 48-Volt iON+ Cordless Garden Tiller/Cultivator Kit | W/ 2 x 2.0-Ah Batteries and Charger. 14-inch tilling width. 7-inch tilling depth. Weighs 33 lbs. About $225.
SuperHandy Electric Tiller-Cultivator. Battery-powered 40V Li-on 14-inch tilling width, 4 tine. 4-7 inch tilling depth. Weighs 25 lbs. About $219.
BLACK+DECKER 20V MAX* Tiller (LGC120). Lithium-ion battery. Cable of cultivating 325 square feet on one charge. 11,7 lbs. About $56.
Gas-powered tillers
Earthquake 31635 MC33 Mini Tiller Cultivator. Gas-powered 33cc 2-cycle Viper Engine, gear drive transmission. Adjustable height wheels. Weighs 33 lbs. About $205.
Mantis 7940 Gas Tiller & Cultivator. Garden tiller and cultivator. Gas powered. 9-inch till width. 10-inch maximum tilling depth. Weighs 24 lbs. About $419.
Tazz 35310 Tiller & Cultivator. Front tine tiller and cultivator. Gas powered. 11-, 16-, 21-inch tiller width. 11-inch maximum tilling depth. Weighs 84 lbs. About $400.
Earthquake 20015 Versa Front Tine Tiller Cultivator with 99cc 4-Cycle Viper Engine. 78 lbs. About $379.
SENIX TL4QL-L1 46 cc 4-Stroke Gas Powered Cultivator, Tiller. 15-inch tilling width. 8-inch tilling depth. About $339.
More Buyer's Guides