When it comes to yard work, there are few tools as versatile as a chipper shredder. Available in both electric and gas models, chipper shredders can take care of a wide range of tasks, from shredding leaves to chopping up tree branches.
A chipper shredder is a machine that can mulch your leaves down to a fraction of their size, making them easy to store or dispose of. Chipper shredders are also great for turning tree limbs and other yard debris into mulch. Not only will a chipper shredder make your yard work easier, but it will also help you conserve time and energy.
When purchasing a chipper shredder, there are a few things that you should look for. The first is the size of the chipper shredder. You want to make sure that it is big enough to handle the size of the branches that you will be chipping. The second is the horsepower of the motor. You want to make sure that the motor is powerful enough to handle the size of branches that you will be chipping. The third is the warranty. You want to make sure that the chipper shredder comes with a warranty.
If you will only be using the chipper shredder occasionally for mulching leaves and general yard work a small, electric model should be sufficient. If you will be using the machine regularly for cleaning up tree pruning and chipping large branches, you will need a larger, more powerful unit.
So, what do you need to know to choose the best chipper shredder for your needs? Here's our guide to help you make your decision.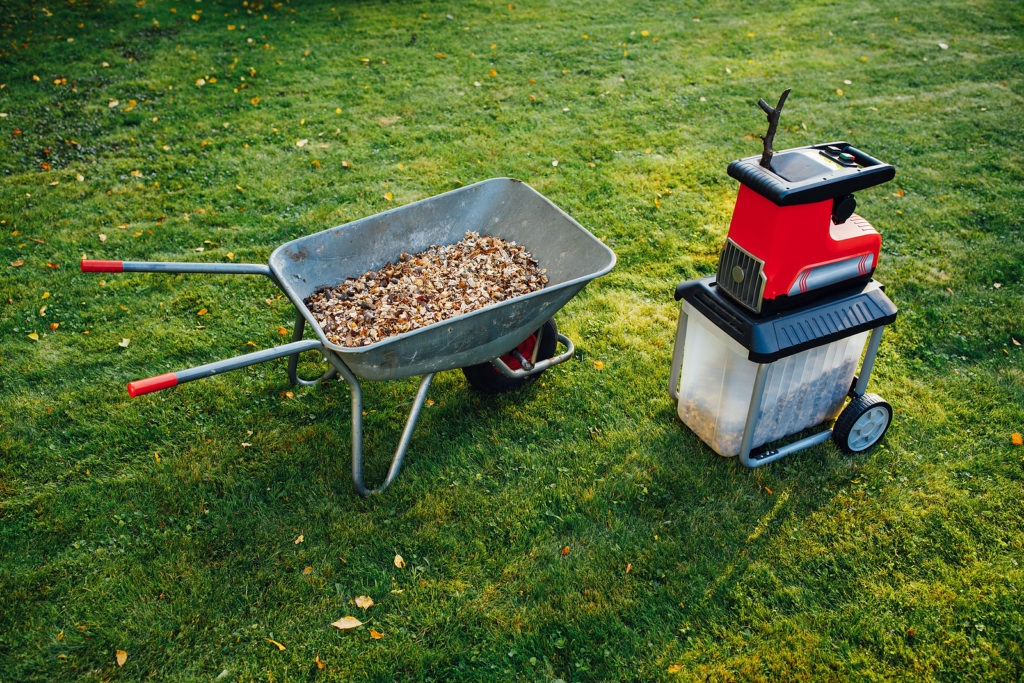 What chipper shredders are used for
A chipper shredder reduces leaves, twigs, and branches to mulch.
A chipper, shredder, or shredder/chipper has an electric or gasoline-powered cutting mechanism for leaves and branches contained inside a chute.
Chipper shredders range from light-duty electric models for leaves and twigs to heavy-duty gasoline-powered machines that can chop branches several inches in diameter.
A chipper shredder has a chute that accepts branches for chipping. The chipper has a rotating blade or blades that chop wood. The shredder handles light debris such as leaves and twigs and turns them into mulch. Some machines have a single chute for chipping and shredding, others have separate chutes.

Machines with a separate shredder have a spinning interior drum with small hammers or nylon lines called flails that break up organic material when it comes in contact with them. Shredders shred leaves, small twigs, and other light plant material.

Standalone shredders tend to be small and stand on legs about 3 feet tall with 1/4 or 1/2 horsepower electric motors. They can reduce 8 large trash bags of leaves to one.
A standalone chipper is similar to a shredder but has blades that cut up heavier wood material such as branches and limbs into chips. Chippers are larger than shredders and some models are very large and roll on wheels.
A chipper shredder is a machine that can both cut and shred leaves and chip woody material. Some use a blade for both shredding and chipping. Some have two separate chutes, one for shredding and one for chipping with both hammers and blades.
A chipper shredder can discharge material into a collection bag or onto the ground.
Types of chipper shredders
The size of your landscape and the type of debris you want to chip or shred should factor into the type of chipper shredder you need. For a small yard, an electric chipper shredder will handle leaves and small branches. For large yards, for clearing an area for replanting, or for storm cleanup, a larger, gas-powered chipper shredder is best.
Electric-powered chipper shredders
Electric chipper shredders are best for light cleanup work. They are compact and run quietly.
Electric chipper shredders can be used for grinding or mulching leaves, grass clippings, pine needles, and small twigs.
Electric chipper shredders require an electrical outlet and outdoor extension cord. They must be used within 100 feet of an outlet.
These machines usually shred branches up to 2 inches in diameter across the widest spot.
Gas-powered chipper shredder
Gas-powered chipper shredders are powerful and suited for heavy debris cleanup. Some can chip branches up to 4 inches in diameter.

They require gasoline and oil to run and they are louder and give off fumes.

Gas-powered chipper shredders are best for branches that are 3 to 4 inches in diameter; a commercial machine is needed for branches 4 to 7 inches in diameter.
Gas-powered machines cost more than electric-powered machines.
Power take-off (PTO) chipper shredders
Power take-off (PTO) chipper shredders have a drive shaft that attaches to a splined outlet on a tractor, mower, or truck.
These machines are powered or driven by the engine of the vehicle they are attached to.
PTO chipper shredders have more energy and power than gasoline-powered or electric chipper shredders.
PTO chipper shredders are well-suited for very large properties or projects.
Yard vacuum
A yard vacuum is an alternative to a chipper shredder. It looks like a push lawn mower. A yard vacuum can suck up leaves and twigs but it cannot handle branches.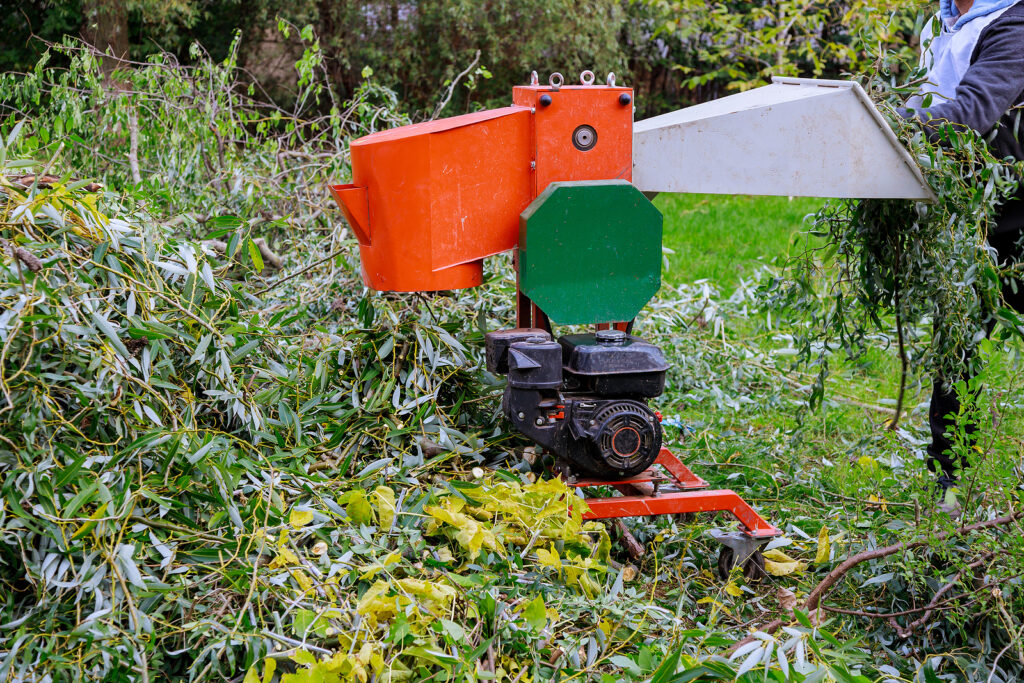 Chipper shredder basics to know
Engine horsepower indicates the power of the machine. Machines with more horsepower can handle bigger jobs.
Chipper capacity specifies the largest-diameter branches the chipper can cut. If you are mulching leaves and twigs a low-capacity machine will do.
Reduction ratio describes how efficiently the machine can reduce leaves, branches, and other organic material. A higher reduction ratio equals a finer-textured end product. For example, a 10:1 ratio means the machine can reduce material down to one-tenth of its size–10 bags of material are reduced into one bag of processed material. Chippers need more power and energy to reduce material down into smaller bits.
Weight and mobility are important factors when purchasing a chipper shredder. The machine must be easy to move over the terrain–grass, garden paths, sticks, and obstacles. The heavier the machine the more difficult it will be to move if it does not have wheels suited for the terrain.
Frequently asked chipper shredder questions
Q: What can I use a chipper shredder for?
A: Use a chipper shredder to grind yard waste such as leaves, twigs, branches, and dead plants into mulch-sized bits.
Q: How does a chipper shredder work?
A: A chipper shredder has a hopper or chute into which you feed leaves, twigs, or branches. Beneath the chute is blades or grinding teeth that chop the material into smaller pieces. Some machines are self-feeding others require the operator to push the material into the chute.
Q. How loud is a chipper shredder?
A. The noise from a chipper shredder measures between 85 and 110 decibels. It is best to wear earplugs or earmuffs when operating a chipper shredder.
Q: Can I chip or shred newly cut leaves and branches or should I let them dry before chipping them?
A. Chip or shred leaves and branches when they are freshly cut if you can. The moisture from green leaves and limbs will help cool the chipper's blades. Moist cool material is also less likely to catch fire if there are sparks from the machine.
Q: Do chipper shredder blades need to be replaced?
A. Usually blades need to be replaced after about 25 hours of use. Some machines have self-sharpening blades.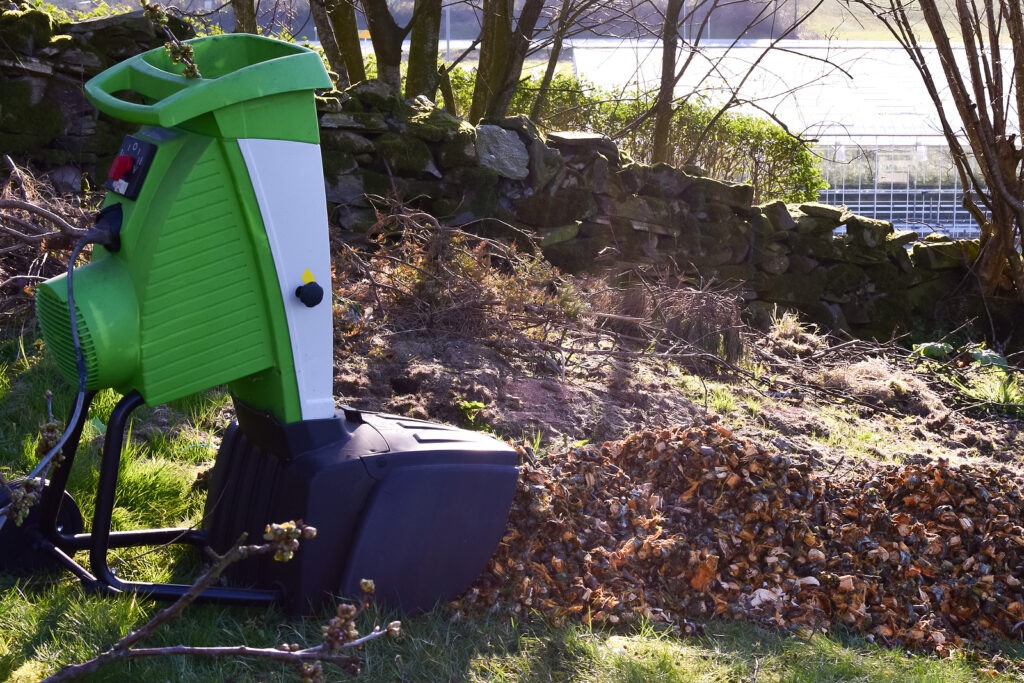 Chipper shredder buying tips
Consider the chipping and shredding you will be doing. You will want a machine powerful enough for the jobs you will do, but not so powerful or big that you pay extra for power you do not need. A small machine for home use can cost $150 to $300. A large machine can cost $1,500 or more. If you will not be using the machine often, fewer than two times a year, it might be less expensive to rent a machine when you need it.
Consider the weight and size of the machine and where you will store it. Electric chipper shredders can weigh 25 to 100 pounds; a gas model can weigh 1,000 pounds or more. Large models will need a space of 8 feet by 8 feet to store.
A tow bar or trailer hitch allows you to move the chipper shredder around with a lawn tractor or all-terrain vehicle.
An electric starter makes starting a gasoline-powered chipper shredder easier.
A tilt-down hopper lets you rake leaves or grass into the shredder.
Self-sharpening blades and knives make maintenance easier.
Chipper shredder features to consider when buying
A chipper shredder made of 12- to 16-gauge steel is a sign of quality.
Look for safety features such as lids and baffles or feeding chutes that make it impossible to insert your hand near the cutting blades or flails; look for small diameter chutes, or chutes longer than your arm which will ensure you do not accidentally injure your hand or arm.
Look for ease of feeding material; check the size of the shredding hopper, the height of the shredder section, and the maximum diameter of wood it can take.
Narrow feeder chutes are safer but slower.
Wheeled models are the most convenient.
Look for easy cleaning access.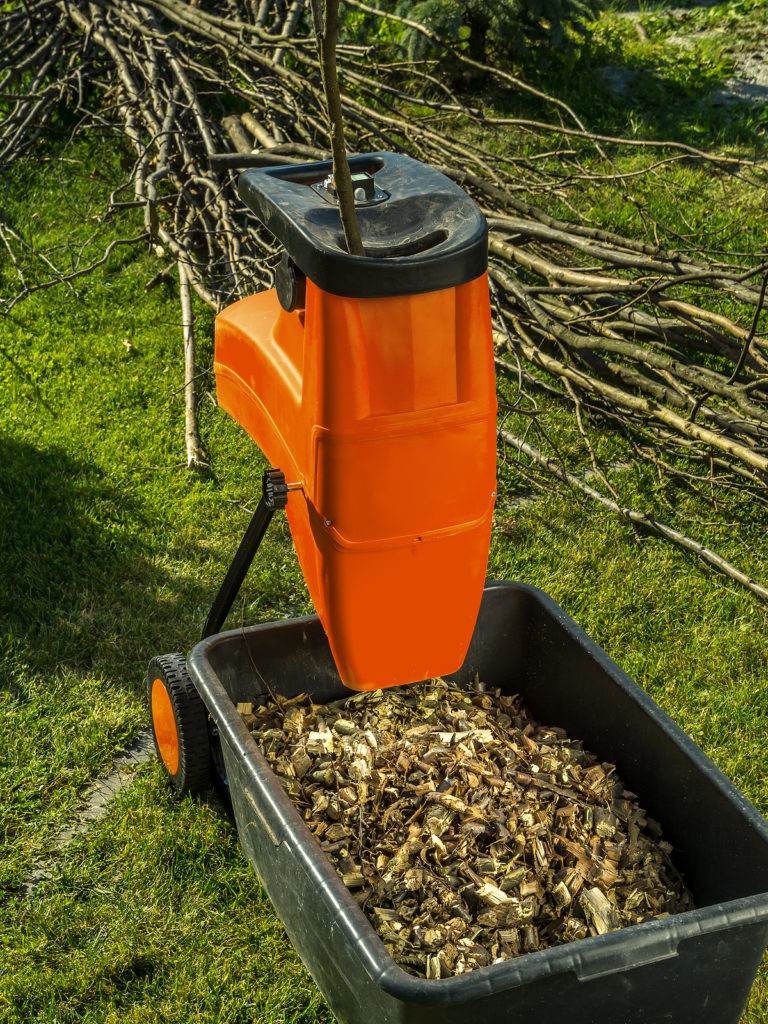 Chipper shredder safety tips
Chippers and shredders can be hazardous machines; always use safety precautions.
Read the manufacturer's instructions before using a chipper shredder.
When moving or doing maintenance on a chipper shredder disconnect the spark plug wire to prevent accidental start-up.
Wear goggles, gloves, ear protection, and a hard hat when using chippers and shredders.
Wear tight-fitting clothes to prevent clothing from getting caught in the machine.
If the machine has wheels, be sure to set the brake before using it.
Keep your hands away from the blades and hammers.
Do not force branches or other material into the machine. Let the machine pull the material down the chute.
Do not try to chip branches larger than what the manufacturer recommends.
Fresh vines can get tangled in the machine. Check the owner's manual for the type of material the machine can accept.
Chipper shredder maintenance
When moving or doing maintenance on a chipper shredder disconnect the spark plug wire to prevent accidental start-up.
To clean a chipper shredder disconnect the spark plug wire then remove the flail screen and any large debris. Clean the flail screen, clean the chute, and clean around the muffler. Use water and a brush or dry cloth. Avoid using a stiff stream or water or high-pressure spray because it can contaminate the fuel system.
Chipper shredders we like
About our list: We spend nearly every day in the garden. We also spend a lot of time with other gardeners. Many of the tools on our favorites list are tools we use or tools we see being used by our gardening friends. We also chat with sales associates at the garden center, box store, and hardware about tools they are selling and recommend. Our list is comprised of tools we know first-hand are right for the job and reasonably priced.
Electric chipper shredders
Patriot Products CSV-2515 14 Amp Electric Wood Chipper/Leaf Shredder. Chips branches up to 2.5 inches in diameter. Weighs 95 lbs. About $1,495.
Sun Joe CJ603E 15-Amp 1.7-Inch Cutting Diameter Electric Silent Wood Chipper/Shredder. Weighs 39 lbs. About $199.
WEN 41121 15-Amp Rolling Electric Wood Chipper and Shredder. Weighs 30 lbs. About $120.
Earthwise GS70015 15-Amp Garden Corded Electric Chipper, Collection Bin. Branches up to 1.7 inches. Weighs 31 lbs. About $154.
WORX WG430 13 Amp Electric Leaf Mulcher. Weighs 20 lbs. About $139.
Gas-powered chipper shredders
SuperHandy Wood Chipper Shredder Mulcher Ultra Heavy Duty 7HP 3 in 1 Multi-Function 3″ Inch Max Capacity. Weighs 121 lbs. About $598.
Patriot Products CSV-3100B 10 HP Briggs & Stratton Gas-Powered Wood Chipper/Leaf Shredder. Chips branches up to 3 inches in diameter. Weighs 139 lbs. About $1,825.
Landworks Mini Wood Chipper Shredder Mulcher Heavy Duty 7HP Compact Design 3″ Inch Max Capacity. Weighs 100 lbs. About $700.
GreatCircleUSA Wood Chipper Shredder Mulcher Heavy Duty Gas Powered 3 in 1 Multi-Function 3″ Inch Max Wood Diameter Capacity. About $605.
PTO Chipper
Victory Tractor Implements BX510H 5″ Wood Chipper with Hydraulic Infeed, CAT I Tractors, Min 18HP. About $2,995.
More Buyer's Guides