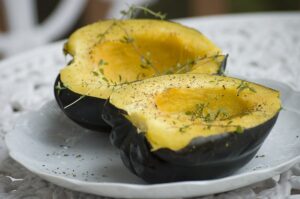 Winter squashes are the most plentiful from early autumn until late winter.
Unlike the summer squashes, the winter squashes must be cooked before they are eaten. Add winter squash to soups, stews, couscous, and curries. Use winter squash to make pies, cakes, muffins, cookies, pudding, soufflés, and cream desserts.
Choose a winter squash—such as the Hubbard, butternut, acorn, or buttercup—that is hard shelled and heavy for its size. That means the squash will be mature and the flesh is ready for eating.
To serve four, you will need to select a squash that weighs at least 2 to 3 pounds.
Winter squashes have tough, hard skins that are never eaten. It is best to cook a winter squash in its skin.
Acorn, butternut, Kabocha, and pumpkin should be cut in half lengthwise before cooking. Banana and Hubbard squash should be cut into serving-size pieces. Use a heavy-bladed knife. Remove the seeds and stringy insides and you will be ready to cook. You can peel the skin away after cooking.
Basic cooking instructions for winter squash
Baking winter squash
Halve or quarter the squash if it is too large to cook whole. Place, cut side down, in a greased rimmed baking pan. Bake all except pumpkin, covered, in a 400ºF to 450ºF oven until flesh is tender when pierced (30 to 45 minutes). Bake small pumpkin, uncovered, in a 350ºF oven until flesh is tender when pierced (1 to 1¼ hours).
Or bake topped with brown sugar or maple syrup. Cut the unpeeled squash in half (or quarters), remove the seeds, put butter or oil in the cavity, and season to taste with salt and pepper, nutmeg and cinnamon, or another seasoning. Place the squash in a baking dish with 1 to 2 inches (2.4-5 cm) of water and bake for 30 to 60 minutes or until tender.
Roasting winter squash
Small winter squashes such as butternut, Delicata, and acorn can be roasted in halves to serve right in the shell.
Preheat the oven to 400°F.
Halve the squash and scoop out the seeds. No need to remove the skin.
Place the halves cut side up on an oiled rimmed baking sheet or shallow roasting pan, drizzle lightly with olive oil and sprinkle with salt. Turn the cut side down and roast for about 30 minutes without disturbing.
Turn the squash over and roast until tender, another 20 minutes or so depending on the variety.
After turning the squash cut side up, baste the pieces generously with oil or melted butter every 10 or 15 minutes for added moistness and flavor. Baste with (1) olive oil or butter or (2) equal parts oil and orange juice or (3) two parts oil, one part lemon juice, and sugar or honey to taste.
Add a few dashes of cinnamon, nutmeg, or allspice to the basting mixture if you like.
The skin will be soft after roasting and just fine to eat.
Unpeeled butternut or Delicata squash, once halved and seeded can be cut into long slices and laid on an oiled baking sheet to roast as well.
Boiling winter squash
Halve or quarter the squash if it is too large to cook whole. Peel and cut into ½-inch-thick slices. In a wide frying pan, boil 1½ to 2 pounds of squash, covered, in ½ inch water until tender when pierced (7 to 9 minutes). Drain.
Butter-steaming winter squash
Halve or quarter the squash if it is too large to cook whole. Peel and cut into 1-inch cubes. Butter-steam up to 5 cups, using 2 tablespoons butter or margarine. Cook, stirring, for 1 minute. Add 3 to 5 tablespoons liquid, cover, and cook just until squash is tender to bite (6 to 8 minutes).
Microwaving winter squash
Halve or quarter 2 medium-size squash such as acorn or butternut (about 1½ pounds each) or a 1-pound piece of squash such as banana. (Pumpkin is not recommended for microwave.) Place squash, cut side up, in a 9- by 13-inch nonmetallic baking dish. Spread cut surfaces with 1 to 2 tablespoons butter or margarine; cover. Microwave on high (100%) for 10 to 13 minutes, rotating dish ½ turn after 5 minutes. Let stand, covered, for 5 minutes. The flesh should be tender when pierced.
Steaming winter squash
Halve or quarter the squash then peel and cut into ½-inch-thick slices. Arrange on a rack. Steam until tender when pierced (9 to 12 minutes).
Winter squash flavor partners
Winter squash has a flavor affinity for butter, couscous, garlic, honey, lamb, maple syrup, olive oil, pasta, rosemary, sage, savory, and thyme.
Season winter squashes with salt, pepper, onion, garlic, basil, dill, mustard, oregano, thyme, parsley, marjoram, cardamom, ginger, cinnamon, allspice, nutmeg, mace, cloves, coriander, cumin, curry powder, anise, rosemary, or fennel.
Serve winter squashes with seasonings alone or top with plain or flavored butter or margarine, or with white sauce or with honey, molasses, or brown sugar.