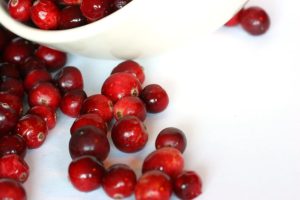 Cranberries with roast pork, beef, chicken, or duck: now that's tasty!
A chunky cranberry sauce takes only a minute or two to prepare and will add zest to the foods it's paired with.
Add cranberries to salads, stuffings, cakes, muffins, pies, and puddings or make them into relishes and jellies.
Cranberries are crunchy and tart and almost always need to be sweetened with sugar. That means you can prepare cranberries specifically to your taste.
A traditional addition to the American Thanksgiving table, cranberries are easily frozen whole or turned into preserves and relishes which means they can come to the table any time of the year.
Cranberries combine well with other fruits such as apples and oranges; they're perfect for fruit tarts, cobblers, or pies. Cranberry juice will zip up a punch or cocktail. Dried cranberries can be added to recipes in place of raisins.
Cranberries are bright red to reddish-orange berries that grow to about ¾ inch in diameter. The cranberry plant is a low-growing trailing vine that grows best in low-lying sandy bogs.
Cranberries are native to North America and northern Europe and take their name from the shape of their pale pink blossoms that resemble the heads of sand hill cranes which often wade through cranberry bogs. Cranberries bloom in early summer and their berries are ready for harvest in the fall.
There are more than 100 varieties of cranberries. Four North American varieties are best known:
• Early Black is a small, blackish-red berry that comes to harvest in early fall. It is grown mostly in the state of Massachusetts.
• Howe is a fairly large oblong, medium red cranberry also grown in Massachusetts.
• Searles is a variety grown in the state of Wisconsin.
• McFarlin is a large, deep-red cranberry grown in the American Northwest.
North American cranberries are larger than cranberries growing in Europe. European cranberries generally grow wild unlike their cultivated American counterparts.
Local Season: Fresh cranberries are at their peak from fall to mid winter.
Choose. Select cranberries that are plump and firm with a nice shine. Avoid cranberries that are withered, discolored, or dull looking.
Amount. One pound of cranberries equals about four cups.
Store. Use fresh cranberries within two days of harvest. They will spoil if left at room temperature. Packaged cranberries will keep in an unopened plastic bag in the refrigerator for up to four weeks.
Cranberries can be dried in a warm oven. Leave the door ajar and check on them often until they dry. To re-hydrate dried cranberries, soak them for a few hours in water or juice.
Cranberries do not continue to ripen after picking.
Freezing. Arrange unwashed cranberries in a single layer on a shallow pan and freeze solid. Then place them in a plastic bag and store them in the freezer for up to 6 months.
Prepare. Rinse cranberries under a gentle stream of water before using. Drain the berries on a paper towel then sort them discarding soft, wrinkled, or moldy berries. Remove the stalks before using.
Cook. Cook cranberries in a small quantity of water. Leave the pot uncovered so that the steam does not cause the berries to swell.
To make a simple cranberry sauce, combine 2 cups of berries in a saucepan with 1 cup of sugar, and 1 cup or water or orange juice; simmer for 10 minutes until the berries pop.
Serve. Cranberries contain oxalic and citric acid and are so tart that they are rarely eaten raw.
Cranberry relish or sauce can accompany turkey, poultry, duck, or squab.
Use cranberries as a dressing on baked potatoes and as stuffing for squash.
Use to season pâtés, sausages, and terrines.
Use in baked goods: muffins, breads, cakes, pies, quick breads and puddings.
Use to make jam, jelly, preserves, and chutney.
Use with crêpes, mousses, and sorbets.
Combine dried cranberries with dried apples and dried apricots.
Blend cranberry juice with the juice of apples, pears, citrus, or use in punches or cocktails.
Flavor partners. Cranberries have a flavor affinity for apple, brown sugar, corn, cream, maple syrup, orange, pork, poultry, sugar, tangerine, and walnuts.
Nutrition. Cranberries are high in vitamins A and C and potassium. One cup of unsweetened raw cranberries contains about 44 calories.
The botanical name of the North American cranberry is Vaccinium macrocarpon. The botanical name of the European or common cranberry is Vaccinium oxycoccus.