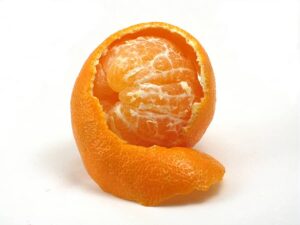 Mandarin oranges are smaller than oranges and less acidic. They are perfect for eating out of hand or for cooking.
There are more than 200 varieties of mandarins. The most popular are the swet Satsuma, the smooth juicy Clementines, and the spicy red-orange Dancy. Mandarin cultivars–crosses with sweet oranges or grapefruits–include tart Temple tangor and the honey-flavored Minneola tangelo.
Depending upon the variety, mandarins can be found at the farm store or farmers' market from early winter right into summer. Here's what to look for at the market and how to handle the mandarin at home:
Choose. Select mandarins that are deeply colored, free of dull spots, and heavy for their size. Avoid mandarins that are overly bumpy or puffy. They can be old or overripe.
Store. Mandarins will keep at room temperature for up to 1 week. They will keep in a plastic bag in the refrigerator for up to 1 month.
Prepare. Mandarins are easily peeled with the fingers. They are also easily segmented.
Cook. Sectioned mandarins can be baked, poached, and sautéed. To preserve their delicate flavor, add mandarins at the end of cooking and just heat through.
Baking. Peel and section fruit. Glaze and bake until hot (as little as 5 minutes depending on size of fruit).
Poaching. Peel and then simmer in poaching liquid until hot.
Sautéing. Peel and section. Sauté until hot (less than 3 minutes).
Serve. Mandarins are best eaten out of hand.
Use mandarins in light sauces for poultry, fish, and pork.
Add segments to fruit, green, or rice salads.
Add sections to sweet-and-sour dishes.
Use sections to decorate cakes, puddings, pies.
Use peel to flavor cakes, muffins, and quick breads.
Use peel to flavor stews and stir-fries.
Flavor partners. Mandarins have a flavor affinity for apricot, banana, chicken, chocolate, crab, cream, duck, fish, hollandaise sauce, melon, passion fruit, scallops, shrimp, sugar, turkey, and vinaigrette.
Nutrition. Mandarins are a good source of vitamin C.