Chickpeas can be boiled, sauteed, roasted, and baked. They can be added to stews and turned into hummus. Chickpeas can be used in appetizers, mixed salads, and soups. The nutty flavor and creamy texture of the chickpea make it a robust and hearty addition to many dishes.
The chickpea is a staple in cookery throughout much of the world. It goes by many names: garbanzo bean in Spain, pois chiche in France, ceci in Italy, hummus in the Middle East, gram in India, and chickpea in the United States.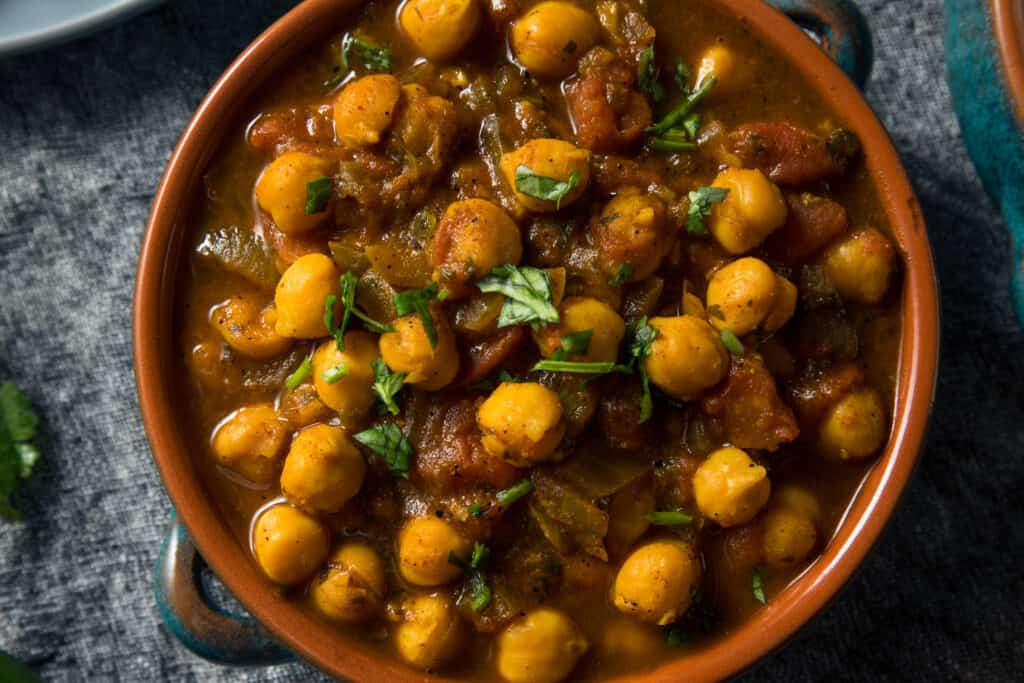 How to choose chickpeas
The immature green shell can be picked and eaten like a snap bean.
Choose pods that are young and tender.
For dry beans, harvest after plants mature and leaves have turned completely brown. Thresh the dry pods to remove the beans.
Kitchen Helpers from Amazon:
How to store chickpeas
Fresh chickpeas will keep unshelled in the refrigerator for one week. You can freeze, can, or dry-shelled chickpeas.
Mature unshelled chickpeas can be dried on a cloth or plastic sheeting in the sun until the pods split.
Store dried, shelled chickpeas in a cool, dry place for 10 to 12 months.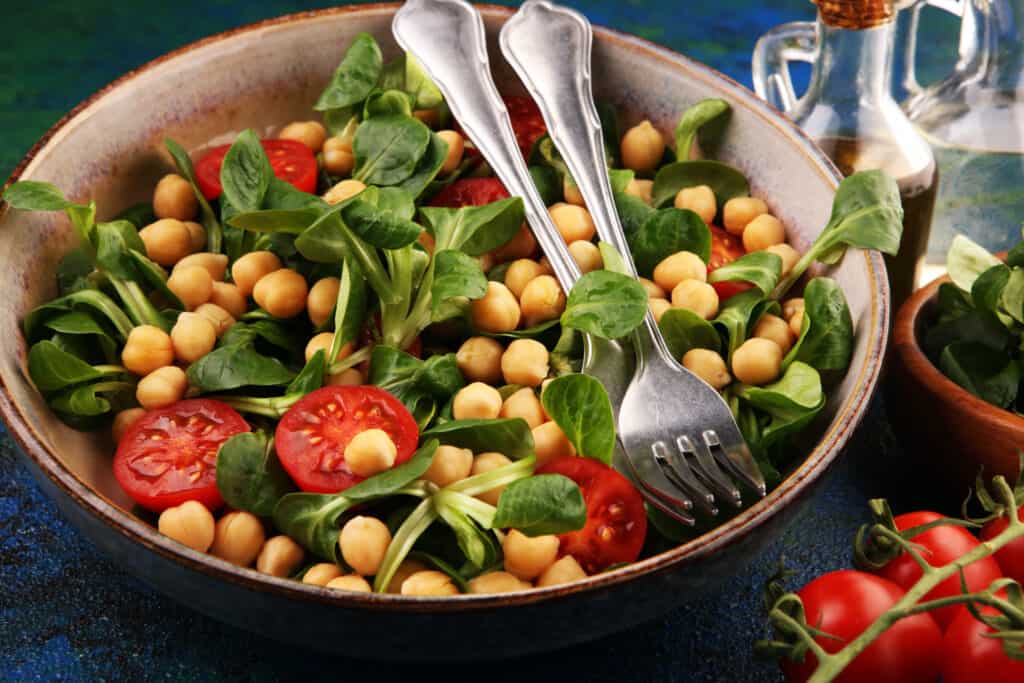 Many ways chickpeas are prepared
Fresh or dried chickpeas can be used like peas or beans in side dishes, soups, stews, dips, and vegetable curries. The chickpea has more texture than other legumes and does not fall apart as easily.
Gathered before their pods reach maturity, green pods and tender leaves are eaten as green vegetables. The leaves can be cooked like spinach.
Chickpeas can be used with grains as a protein-rich substitute.
Split chickpeas are known as chana dal in India.
Mature chickpeas are canned in brine and used in salads in the United States and are usually called garbanzo beans.
Spanish cook garbanzo beans in stews such as cocido. The Mexicans cook garbanzo beans in similar hotpots called puchero and olla. Italians use ceci in minestrone soup. French use the chickpeas in gratins covered with Mornay sauce.
Chickpeas can be ground into "gram flour" and used in vegan cooking.
Chickpea cooking suggestions
Shelled chickpeas can be steamed or boiled like peas or roasted like peanuts.
Whole chickpeas can be fried, roasted, and boiled.
Soak dried chickpeas for 12 to 16 hours before cooking. After soaking, boil chickpeas for 1 to 2½ hours.
Shelled chickpeas can be steamed or boiled like peas or roasted like peanuts. Whole dried seeds are used like dry peas or beans.
When cooking chickpeas in a pressure cooker, allow 20 to 25 minutes for soaked beans and 35 to 40 minutes for unsoaked beans.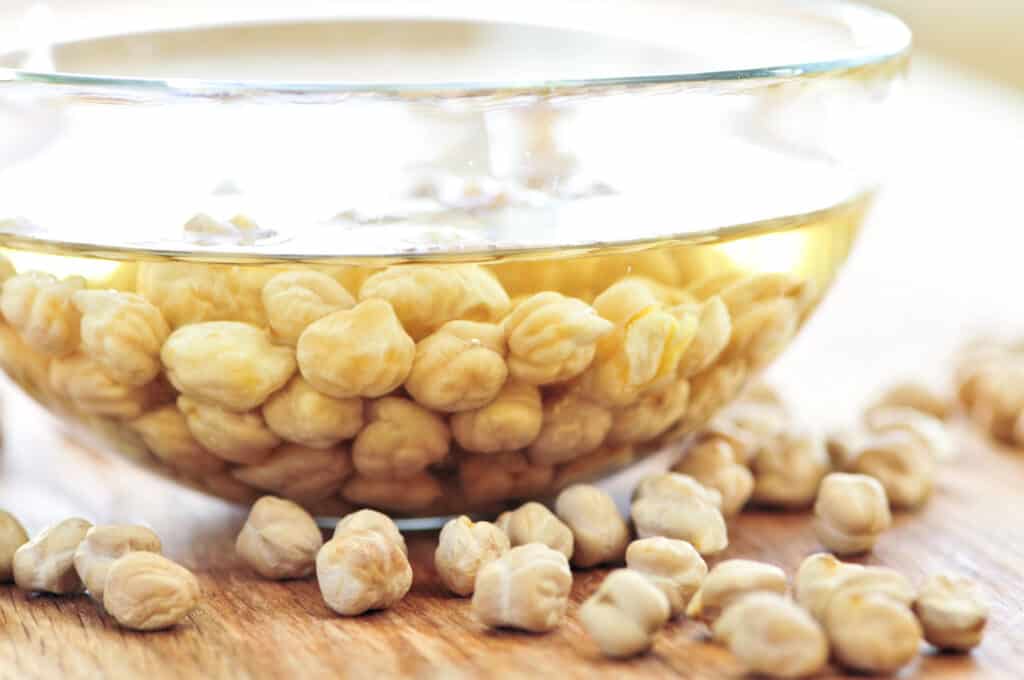 How to prepare dried chickpeas for cooking
Soak the chickpeas overnight in water that covers the beans.
Add ½ teaspoon baking soda for 2 cups of dried beans.
Next day drain and discard any imperfect beans.
Wash and drain, cover with fresh water, then simmer covered until the beans are tender.
Drain thoroughly. You are ready to cook.
How to sauté chickpeas
Use drained cooked chickpeas, about 3 cups.
Add ½ stick of butter and 2 tablespoons of olive oil to a medium saucepan over medium heat.
Add crushed garlic cloves to taste and sauté slowly.
Add the chickpeas and cook very slowly shaking the pan often.
Cook until the beans are golden and tender.
Salt and pepper to taste. Often served with rice pilaff.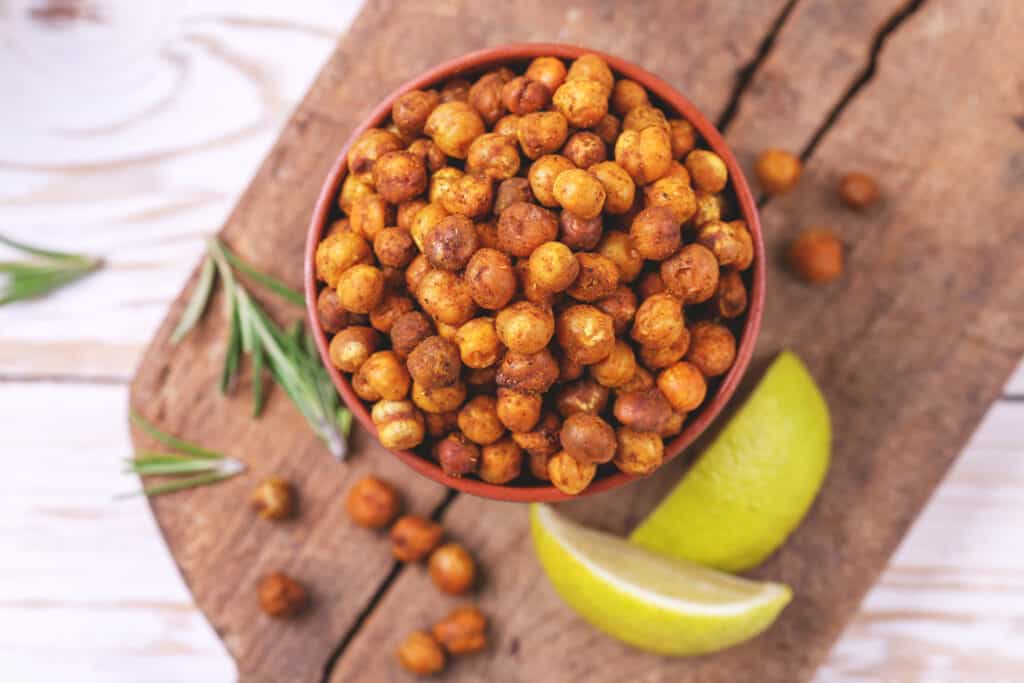 How to roast chickpeas
Preheat the oven to 400 degrees F.
Drizzle a few tablespoons of olive oil to lightly coat an ovenproof skillet or roasting pan.
On the stovetop turn a burner to medium heat and heat the oil.
When the oil is just hot add drained and cooked chickpeas and season with minced garlic and salt and pepper to taste.
Add the chickpeas–just enough for one layer across the pan.
Shake the pan so that the chickpeas are evenly coated with warm oil.
Place the skillet or pan in the oven and cook until the chickpeas begin to brown about 15 or 20 minutes.
Remove the chickpeas from the oven and let them slightly cook; add olive oil or seasoning and fresh-squeezed lemon juice.
Serve hot or at room temperature.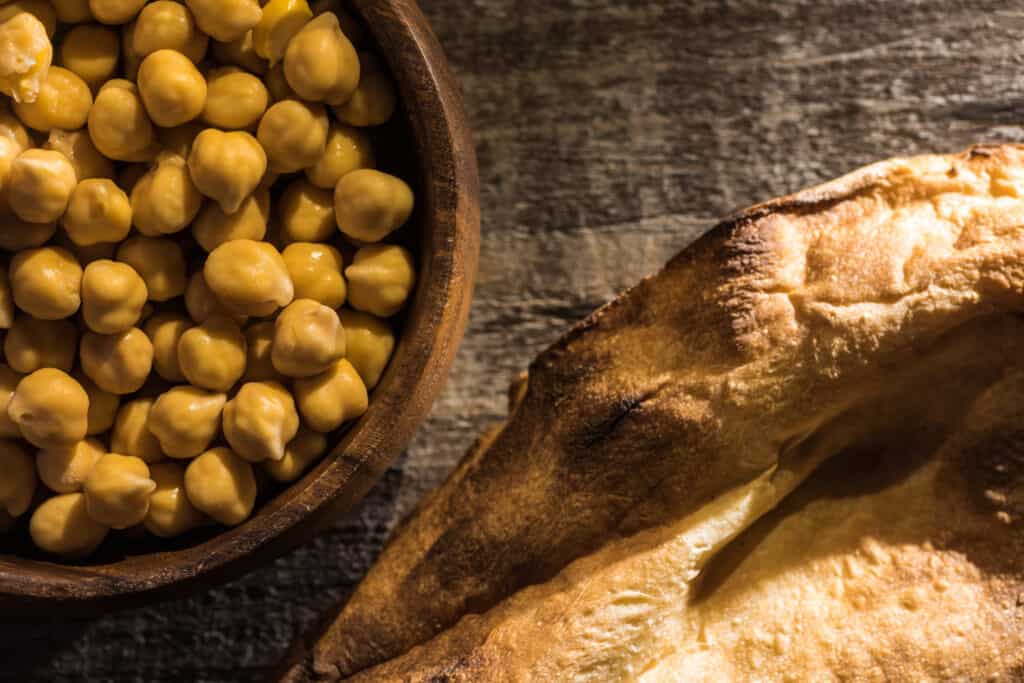 How to bake chickpeas
Preheat the oven to 350 degrees F.
Combine the following ingredients in a baking dish: 4 cups drained cooked chickpeas, 1 teaspoon salt, ½ teaspoon freshly ground pepper, 3 large tomatoes peeled, seeded, and chopped, 1 onion chopped, 1 clove of crushed chopped garlic, 1 teaspoon rosemary, and ½ cup olive oil.
Bake for 1 hour or until well blended.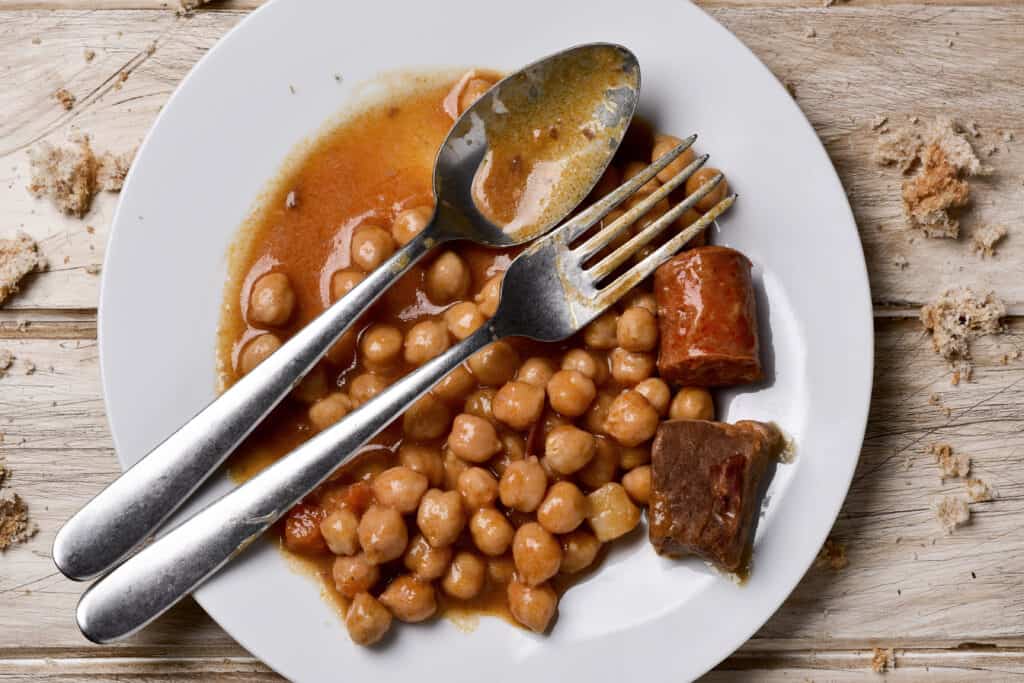 How to make chickpea vegetarian stew
Preheat the oven to 400 degrees F.
Warm 4 cups of drained cooked chickpeas in a deep skillet turned to medium heat.
Brown the chickpeas evenly for about 15 minutes. Season with salt and pepper to taste. Let the beans simmer once browned.
In a separate pan, sauté in olive oil zucchini, peppers, eggplant, carrots, onions–or other vegetables–until the vegetables are softened, about 15 to 25 minutes.
In another separate pan, sauté tomatoes and season with garlic, ginger, coriander, and cumin to taste.
Combine the vegetables with chickpeas in the deep skillet and transfer to the oven; roast until the mix is bubbly, about 10 minutes.
Serve hot garnished with cilantro or fresh parsley leaves.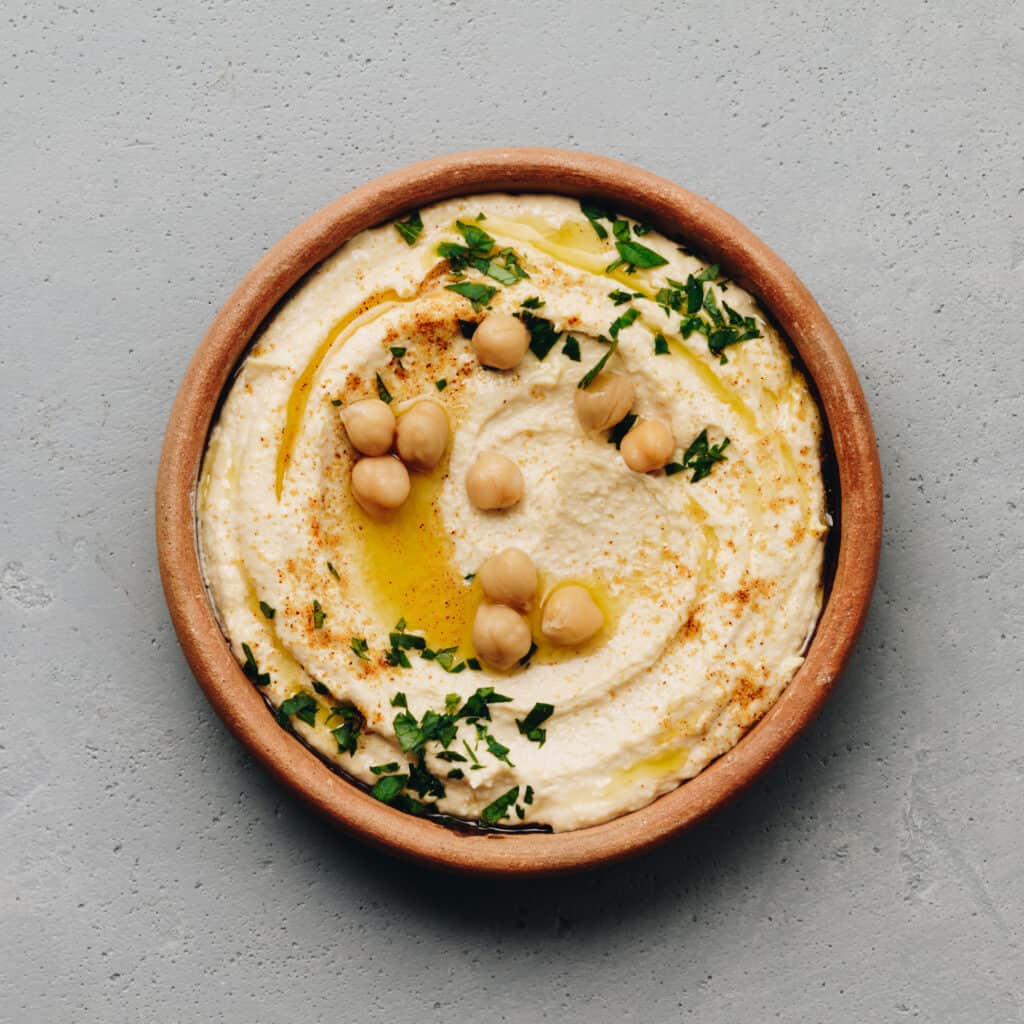 How to make hummus
Chickpeas are the main ingredient of hummus, and the thick sauce is usually served as a dip with pieces of pita.
Grind boiled chickpeas into a paste or use a sieve or food mill.
Add olive or sesame oil and lemon juice alternately a little at a time, tasting for flavor as you go.
Add crushed garlic and salt to taste.
Add any of the above as you check for seasoning and flavor.
Refrigerate for a few hours before serving.
Eat hummus on pita bread or crackers.
Chickpea nutrition
Chickpeas are high in energy content (361 calories per 100 grams) and rich in carbohydrates, proteins, phosphorus, calcium, and iron.
The protein content of the chickpea is about 20 percent. It is an important meat substitute.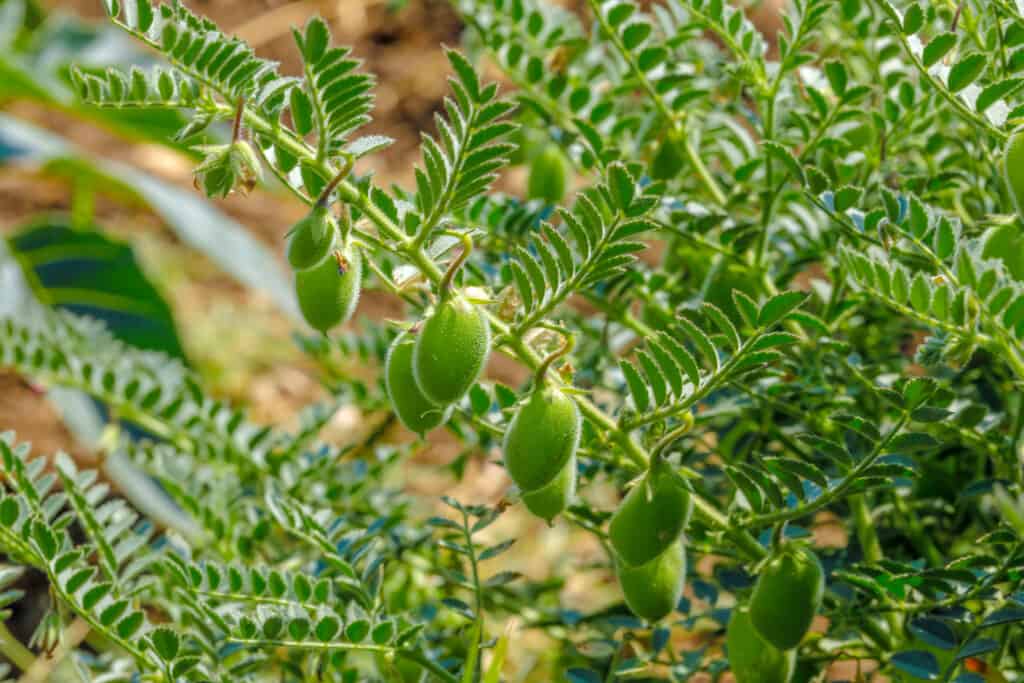 Get to know chickpeas
The chickpea is a bushy, upright plant with compound leaves that are covered with sticky hairs. Chickpea pods are puffy and grow to 1 inch (2.5 cm) long and contain one or two buff-colored seeds. Each seed has a small "beak" at its tip hence the common name chickpea.
The chickpea requires at least 100 days of warm dry weather to mature. It is often cultivated in subtropical and Mediterranean climates as a cool-season crop. In temperate regions of the Northern Hemisphere, it comes to harvest with other shell beans in late summer and early fall.
The chickpea is native to the northern regions of the Fertile Crescent from southern Europe to India. It was in cultivation at least 5,000 years ago in the Mediterranean region and 4,000 years ago in India. More than 80 percent of the chickpeas grown today are grown in India.
Cicer is the Latin word for "pea." That became chiche in Old French and chick in Middle English. The tag "pea" in modern English is redundant.
The botanical name of the chickpea is Cicer arietinum.
Also of interest:
Articles of interest:
Best Herbs for Container Growing
Garden Planning Books at Amazon:
More kitchen tips:
Bring your harvest to the table. Kitchen prep tips and easy recipes for the vegetables you grow. Click below for vegetable prep and recipes you can use now.