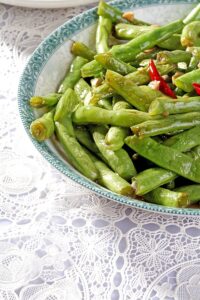 Here is a simple recipe for les haricots verts à l'ail or green beans with garlic.
Serve this simple side dish with pasta, chicken, steak, or salmon.
This recipe comes from La Cuisine du Comté de Nice by Jacques Médecin. Médecin was the mayor of Nice and also a chef in that city for many years.
As a chef Médecin was a great promoter of Nicois dishes—food from Nice. His cookbook was reissued five years after his death.
Nice became a part of France in 1860 so many of its culinary traditions are not wholly French. The Nicois cook favors fresh fish, fruit, and vegetables with subtle seasoning over the rich sauces you will find in Paris.
Green Beans with Garlic
Yield 6 servings
Ingredients
1¼ pounds (2/3 kg) green beans, trimmed and cut into 1¼-inch (3cm) pieces
6 tablespoons (90 ml) olive oil
6 garlic cloves, crushed with the side of a knife blade
3 cups (¾ liter) fresh bread crumbs
Salt and pepper
Instructions
Heat the olive oil in a large skillet and, when hot, throw in the garlic cloves. When the garlic begins to turn transparent, add the green beans and stir with a wooden spoon.
Keep the oil very hot. When the beans start to turn dark green, add the bread crumbs and stir very briskly so that they do not burn or stick to the bottom of the pan. Turn the mixture immediately onto a warmed platter. Add salt and pepper to taste, and serve at once.
Courses Side Dish