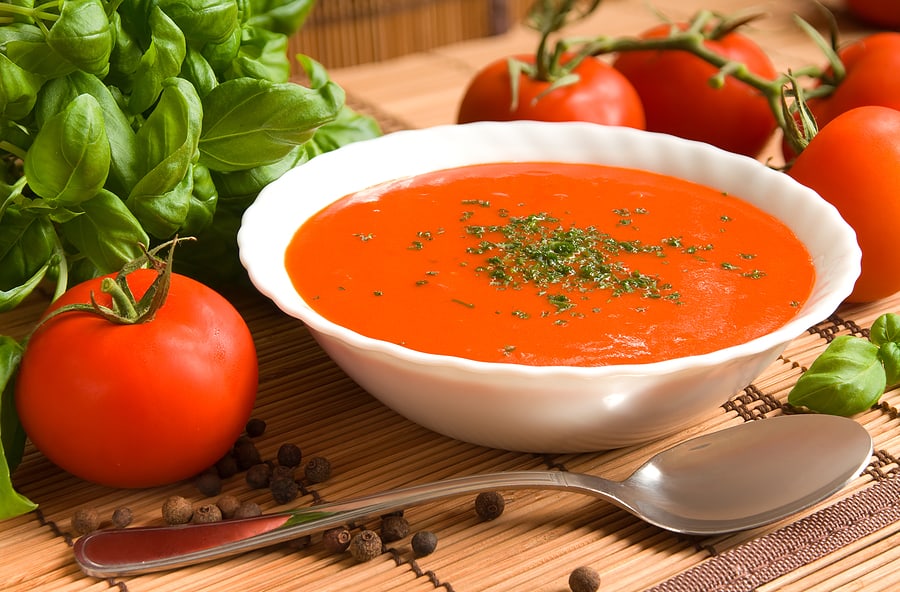 What could be more satisfying than a late summer soup made from the vegetables out of your own garden or the one's you hand selected at the farm market.
Basil and Tomato Soup
Yield 6-8 servings
Here's a basil and tomato soup which you can serve hot or cold. I like to serve it cold for lunch on warm late summer days. I add a few slices of warm, buttered French bread and finish the meal with some early apple slices.
For this soup I like 'Genovese Basil' which is extremely tender, very fragrant, and has extra-large leaves and the 'Celebrity' tomato which is exceptionally flavorful. The 'Celebrity' is supposed to be a mid-season tomato, but I can tell you I am still picking a half dozen at a time in September.
Ask your tomato grower at the farm market which tomato she recommends. There are dozens to choose from right now.
Ingredients
1 tablespoon butter
2 tablespoons olive oil
2 onions, diced
2 cloves garlic, minced
6 large ripe tomatoes, finely diced
4 tablespoons tomato paste
2 bunches fresh basil, finely chopped
2 tablespoons fresh oregano, minced
1 teaspoon honey
1 tablespoon kosher salt
½ teaspoon freshly ground black pepper
5 cups vegetable broth or water
½ cup cream or milk
Instructions
In a 2-quart saucepan over medium heat, melt butter and add oil. Add onions and cook for 5 minutes, stirring occasionally. Add garlic and cook for 3 minutes. Add tomatoes, tomato paste, basil, oregano, honey, salt, pepper, and vegetable broth. Bring ingredients to a boil, reduce heat, and simmer for 35 minutes.
Remove from heat and purée in a blender. Return to saucepan and add cream. Heat but do not boil. Serve hot or cold.
You can one-fourth cup diced sun-dried tomatoes to enhance the flavor of blander tomato varieties.