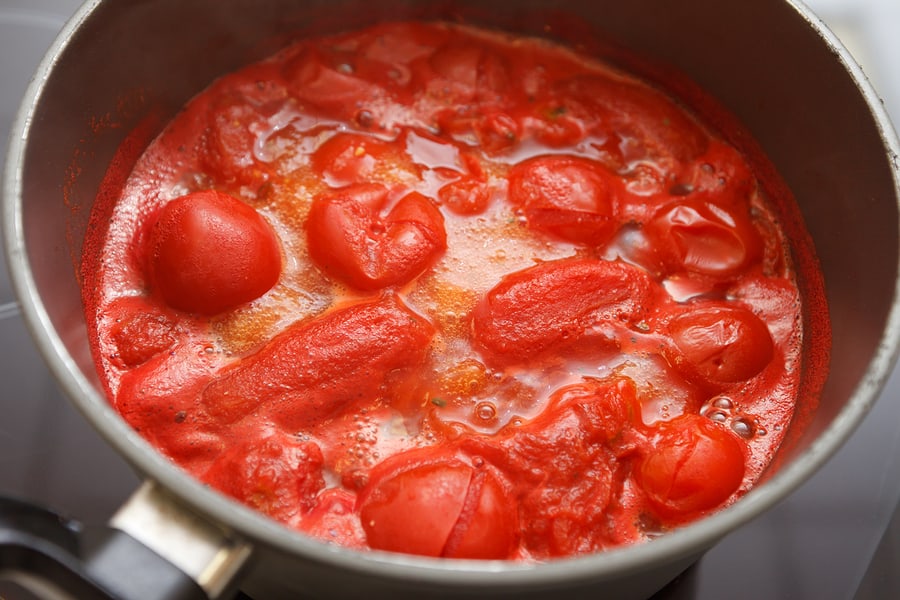 Tomato sauce—basic, herbed, or with vegetables added—is easily made from tomatoes fresh from the garden or tomatoes frozen last harvest.
Use tomato sauce on pastas, pizzas, vegetables, or soups.
The key to flavorful tomato sauce is ripe, juicy tomatoes—the fresher the tomatoes the more flavorful the sauce, but that's not to say you can't make a tasty sauce from frozen tomatoes.
Herbs commonly matched with tomatoes in sauce are bay leaf, oregano, marjoram, thyme, basil, parsley, rosemary, and cumin.
Vegetables easily matched with tomatoes in sauce are the warm-season vegetables that grow in the garden alongside tomatoes– onion, celery, peppers, eggplant, mushroom, garlic, summer squashes, and zucchini.
Tomato sauce can be seasoned with salt, pepper, and sugar.
Tomato Sauce
Here is a flexible step-by-step recipe for tomato sauce. Keep in mind one pound of whole tomatoes will make a cup of tomato sauce, 1¾ to 2 pounds of tomatoes will make two cups of plain or herbed tomato sauce—add vegetables and you'll have a cup or so more. Two cups of plain or herbed tomato sauce is enough for ½ pound of spaghetti.
Ingredients
2 pounds tomatoes, that's 3 or 4 medium to large globe tomatoes (1 pound of tomatoes, peeled and seeded with yield about one cup of pulp; a 28 ounce can of tomato sauce is equal to almost two pounds of whole peeled and seeded tomatoes).
1-4 tablespoons of olive oil, divided (use extra-virgin olive oil if you can).
2 cloves of garlic, thinly sliced, or minced or use 1 shallot or green onion, finely minced; for a spicy sauce add 2 or 3 dried arbol chiles (or dried chile flakes) with the garlic, but be sure to remove the chiles before serving.
½ teaspoon fresh lemon juice (optional) or ½ cup red wine (optional).
Salt and freshly ground pepper to taste, about ¼-½ teaspoon of each should be about right.
Herbs for flavoring, use herbs to taste—choose one or two from ½-1 teaspoon dried thyme, ½-1 teaspoon dried basil, ½-1 teaspoon dried oregano, ½-1 teaspoon dried marjoram, ½-1 teaspoon dried rosemary (if you use fresh herbs finely chop them and add them just before the sauce is finished cooking—not too early—a handful or ¼ cup of the chopped fresh herb you choose will be about right—other fresh herbs could include cilantro, Italian parsley, Bay leaf, or cumin).
Vegetables optional, choose one or two: 1 yellow onion, diced; 1 peeled and chopped medium eggplant; one bell pepper, cored and seeded then sliced; 1 small or medium zucchini or crookneck squash, thin sliced or chopped; a handful of green beans.
Instructions
Halve and core the tomatoes (core meaning to remove as many seeds as possible; do this with a scoop or spoon or hold half a tomato in your hand and squeeze out the seeds). Reserve the juice.
Bring a saucepan of water to a boil; blanch the tomatoes in the boiling water for 15 to 30 seconds or longer (until their skins are loose) then plunge them into cold water to stop the cooking. Drain the saucepan; the tomatoes will easily peel by hand.
When the tomatoes are out of season use frozen tomatoes from the last harvest or use canned tomatoes (one 28-ounce can of whole peeled tomatoes makes 2 cups of sauce).
Dice the tomato pulp into ½-inch dice.
Blend the tomatoes with their juice in a food processor or with an immersion blender. (If you are not adding herbs or vegetables and want a smooth sauce, pass the mix through a food mill at this time and then move on to cooking the sauce.)
Peel the garlic cloves, mash them, and mince.
Put a heavy-bottomed pot over medium heat and when hot pour in ¼-cup extra-virgin olive oil. If using onions, sauté the onions for about 5 minutes until soft then add the garlic until it too is soft and fragrant, a few minutes more.
Adding herbs, vegetables, and wine (options):Dried herb option: Add dried herbs (if you are making herbed sauce using dried herbs; wait until the last few minutes of cooking if you are using fresh herbs) and black pepper. Reduce the heat and cook another minute or two.Vegetable option: If you are adding fresh-picked vegetables to the sauce, dice or cut the vegetables to fork-size chunks and add them to the cooking garlic and onion, add additional olive oil if needed; sauté the vegetables until they are just tender, about 5 minutes. Good choices are eggplant, bell peppers, green beans, crookneck squash, and zucchini. As well, dried mushrooms make a flavorful and chewy addition to tomato sauce.Wine for flavoring option: Add wine or lemon juice now if using and let it cook down or reduce some before going to the next step.
Add the tomatoes with their juice if the juice hasn't been added already. Check the seasoning, and salt (a pinch) to taste. Use a dash or two of vinegar to bring up the flavors if you like. To thicken the sauce, let the liquid cook down. To thin the sauce, add water or perhaps more wine.
Cook on medium-high heat until tomatoes give off their liquid and start to bubble. Reduce heat to medium-low or low, so sauce gently simmers. Cook uncovered and undisturbed until oil separates from sauce and most of liquid has evaporated about 15 to 30 minutes.
If you are adding fresh chopped herbs—parsley, marjoram, oregano, or cut-thin strips of basil leaves; add them not sooner than 10 minutes before you are finished cooking.
After the sauce has simmered for about 20 to 30 minutes, check and adjust the seasoning before serving.
You can garnish tomato sauce with Parmesan of other freshly grated cheese.
Notes
If you are not using the tomato sauce the same day, cover and refrigerate. Bring to room temperature before tossing with pasta. Serve tomato sauce with a couple tablespoons of olive oil and toss with hot pasta.
Courses Sauce