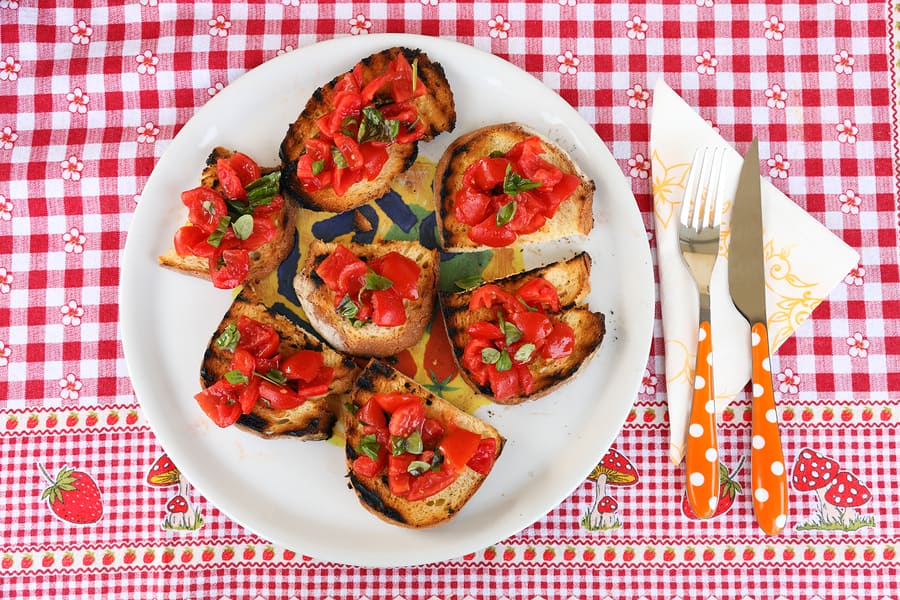 Bruschetta is an antipasto—a "before the meal" bite or first course—except when it's its own meal.
There is much to be said for the simple, traditional bruschetta—grilled bread rubbed with garlic and topped with olive oil and salt and pepper. That's an antipasto.
But when the summer garden is producing, bruschetta demands fresh, seasonal toppings—tomatoes, of course, bell peppers, eggplant, zucchini, onions, and mushrooms are great choices. Oh, yes, and fresh basil!
Any ripe, just-picked tomato will do, but meaty plum or cherry tomatoes are perfectly matched to bruschetta. If you choose your favorite-flavored medium-sized or beefsteak tomato, you will want to core and seed then slice, dice, or chunk the tomato–to keep the juice from  soaking the bread.
Other toppings: prosciutto or ham or Portobello mushrooms for lunch or a poached egg at breakfast.
There are many way to help bruschetta becomes its own meal–just see the list below.
(All of that said; do not forget bruschetta in late autumn as the olive harvest winds down to taste the very first oil of the season.)
Garden Tomato Bruschetta
Ingredients
1 slender baguette or loaf of crusty sourdough bread, sliced
Several tablespoons of extra-virgin olive oil, divided (or red-wine vinegar)
Ripe garden tomatoes; use 2 large cherry tomatoes, halved or 1 small tomato sliced per slice of bread
Kosher salt and freshly ground black pepper to taste
1 large garlic clove, halved
Small basil leaves
Topping—see a list of suggestions below
Instructions
Broiler: Preheat the broiler and adjust the rack to that is it about 4 inches from the heat.Charcoal or gas grill: Prepare grill for direct medium heat (350° to 450°F); you will be able to hold your hand 5 inches from the grate for only about 5 seconds.
Cut the bread into medium-thick slices suitable for toasting or grilling.
Brush the bread on both sides with olive oil and rub both sides of each slice with garlic. (If you rub the garlic well into the bread, the flavor will be more pronounced; less so, the flavor will be mild.)
Broil or grill the bread until lightly browned or toasted on both sides, about 1 to 3 minutes. Use tongs to turn the bread once. Transfer the bread to a platter.
Raw tomato topping: Peel—or not, core, seed, and dice, slice, or chunk the tomato. A meaty tomato such as a plum tomato is best, but you can use a cherry tomato or any fresh-picked garden tomato. If the tomato is juicy and seedy, drain the sliced tomato in a colander for a few minutes. Then arrange the tomato on top of the bread. Sprinkle with olive oil or red wine vinegar, salt and pepper, and basil leaves. Serve immediately.Cooked tomato topping: Heat a cast-iron skillet until water dances when sprinkled on the skillet. Add 1½ tablespoon oil and spread across the skillet with a heat-proof brush. Add tomato slices or chunks into the skillet sprinkle with salt and pepper, and cook stirring until the tomato juices evaporate, about 10 minutes. Gently loosen tomatoes from pan with a wide metal spatula as they are done and transfer to a bowl.
Set out the toasts and the tomatoes so family and guests can build their own bruschettas.
Notes
Bruschetta Toppings: Add these toppings to the toast and tomatoes:
A few small leaves of basil (or other chopped fresh herbs)
Freshly grated mozzarella or Parmesan cheese
Whole-milk ricotta cheese
Prosciutto or other ham
Chopped tender greens such as arugula or spinach
Pesto
Grilled eggplant or zucchini
Grilled or sautéed mushrooms (try porcini or portobellos)
Grilled or sautéed onions or shallots
Grilled or sautéed bell peppers
Grilled shrimp or cooked and chopped anchovies or seafood
Tapenade or black olive paste
A poached egg
Courses Sandwich