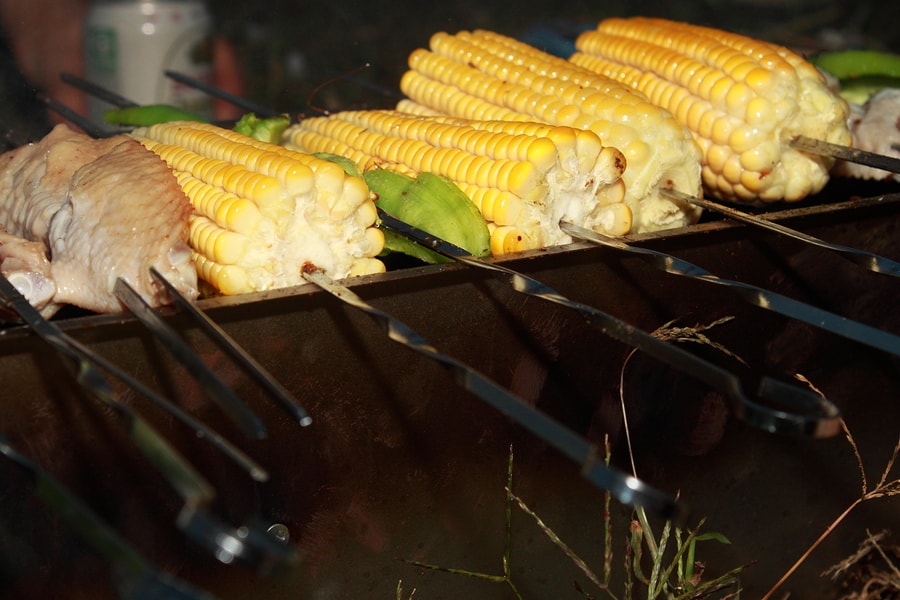 Grilled and roasted corn is most flavorful when it is cooked fresh—very fresh.
As soon as an ear of corn is picked, its sugars start converting to starch. As the sugars turn to starch, the sweetness of corn is lost—though it is true that some new breeds of corn will retain their sweetness for days.
Choose ears that are plump and fat with husks that are tightly closed. Choose husks that are bright green with golden brown silks streaming from the tops of the ears. Look for stems that are moist and pale green. Peel back the husk and check for tight, small plump kernels
Slathering grilled corn with sweet butter is almost always a necessary indulgence. Flavored compound and seasoned butters may just put your grilled corn over the top.
Grilled Corn with Seasoned Butter
Ingredients
8 ears corn in husks, with silks removed
Seasoned butter, see suggestions below
Instructions
Prepare a charcoal grill or gas grill or wood fire for direct medium-high heat (you can hold your hand 5 inches above the cooking grate just 4 to 5 seconds) or turn the oven to 450°F.
Remove the corn silks before cooking. Peel back the husks—don't tear them off. Pull out and discard the inner silks then fold and smooth the husks back over the cobs. Don't worry about the husks completely re-covering the kernels. (You can moisten the husks with water before grilling if you like; this will help keep them from burning.)Alternatively, you can shuck the corn entirely and grill the ears without husks.
Grill or roast the corn, turning occasionally. With husks on, cook 15 to 20 minutes on the grill, 20 to 30 minutes in the oven. (Expect husks to blacken.) Grill or roast corn without husks for 7 to 8 minutes, turning every few minutes (skewers can make this process easier). When some of the kernels char and others are lightly browned, the corn is done.
Transfer corn with husks to a counter or work surface, remove husks completely and brush the ears generously with sweet butter or a seasoned-butter mixture (see some seasoned butter suggestions below) then return the ears to the grill. Grill until lightly browned, about 5 minutes. Before serving, bite into one ear to make sure it is done. Serve warm, with remaining butter and salt and pepper if you like.Alternatively, you can serve with lime wedges and mixture of salt and cayenne sprinkled on the corn.
To cut kernels off the grilled ear: hold a husked ear of corn upright with the stem end down in a deep, wide bowl or on a small cutting board set inside a roasting pan—this can get a bit messy. With a sharp paring knife, cut down the length of the cob in a strip, cutting just deep enough to slice kernels away from the cob. Rotate the ear to shear off all the kernels.
Notes
SEASONED BUTTERS FOR CORN ON THE COB:
Garlic butter: chop 4 cloves of garlic very fine; blend with 6 tablespoons of butter, 1 teaspoon of salt, and 1 teaspoon of freshly ground pepper.
Lemon butter: combine ½ cup softened butter with ¼ cup lemon juice or to taste.
Parsley butter: Combine ⅓ cup finely chopped parsley with 6 tablespoons butter, and blend well. Add salt and freshly ground pepper to taste.
Rosemary butter: combine 6 tablespoons butter with 2 teaspoons of finely chopped fresh rosemary or 1 teaspoon of crushed, dry rosemary, add salt and freshly ground pepper to taste.
Tarragon butter: combine 2 tablespoons fresh chopped tarragon or 1½ teaspoons crushed dried tarragon with 6 tablespoons of butter and salt and freshly ground pepper to taste.
Tabasco butter: melt ½ cup butter with 1 teaspoon Tabasco; baste with butter during grilling.
Chile-honey butter: combine ½ cup melted butter with chopped chipotle chiles and ⅓ cup mild-flavored honey, 1 garlic clove minced and ½ teaspoon butter—whirl smooth in a blender.
Courses Side Dish