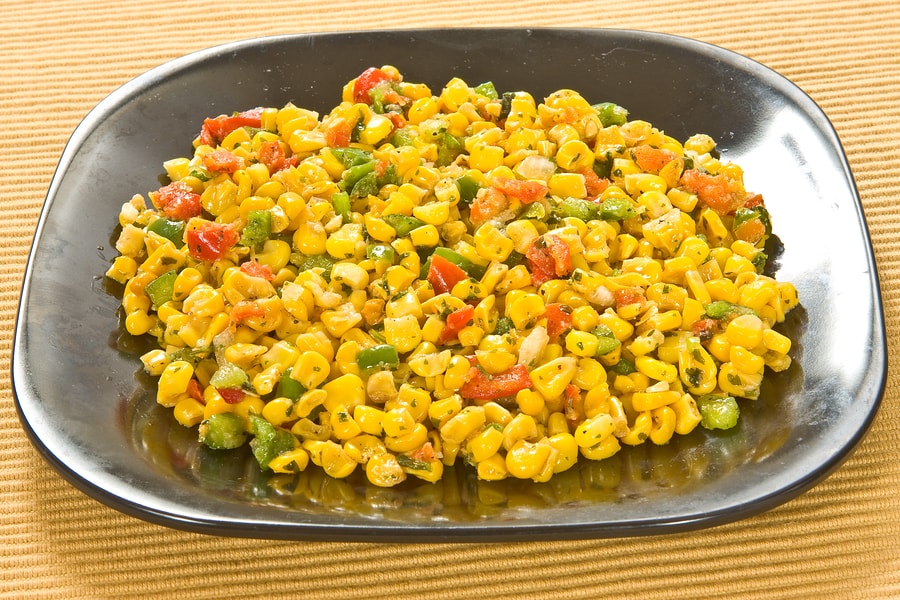 Here's a fresh harvest corn salad that matches just-picked corn with a handful of cherry tomatoes, a small red onion, a medium bell pepper, and cilantro—and sweet vinaigrette.
If you haven't just picked the corn out of the garden then choose bright green, full husks and look for silks that are moist and flowing. Pull back a corner of the husk and press a kernel with a fingernail—if the ear is ripe and perfect for eating there will be a squirt of white "milk."
Fresh Corn Salad
Yield 4-6 servings
Ingredients
6 to 8 ears fresh corn, husks and silk removed
10 cherry tomatoes halved (or substitute tomatillos, blanched, peeled, and sliced into ⅛-inch rounds)
1 medium green bell pepper, remove the ribs and then chop (or substitute 1 large avocado, pitted, peeled, and cut into ½-inch cubes)
1 small to medium red onion, diced or thinly sliced
3 tablespoons fresh chopped cilantro leaves (or substitute ⅓ cup chopped basil)
2 tablespoons Champagne vinegar (or substitute white wine vinegar with a touch of Meyer lemon juice if you want a less sweet taste)
1 teaspoon Dijon mustard
¼ cup extra-virgin olive oil
Coarse kosher salt and freshly ground black pepper to taste
Instructions
Cook—blanch–corn in a large pot of boiling water until warmed through, 2 to 3 minutes; drain and then plunge into ice water or cool under cold running water.
Hold each cob vertically over a wide, shallow bowl. Using a sharp knife, slice straight down, cutting under the kernels letting them fall into the bowl.
Combine corn, chopped tomatoes, onion, bell pepper, and cilantro in a large bowl.
Make vinaigrette by combining the remaining ingredients and whisk until blended. Pour the vinaigrette over the combined corn and vegetables and toss gently.
Courses Salad