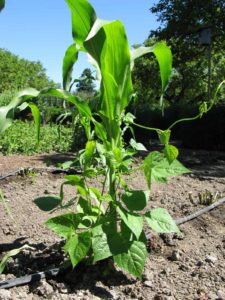 Sometimes one vegetable crop can help another vegetable crop grow better just by being nearby. For example lettuce and spinach often grow better in the shade of a taller plant. Growing two or more crops in close proximity for a shared benefit is called companion planting.
A classic planting of three garden companions is corn, beans, and squash. Native Americans call this inter-planted trio The Three Sisters.
Plant corn and pole beans on a mound or small hill; next, plant squash or pumpkin vines at the base of the mound. The corn will act as a living pole or stake for the beans to climb. The beans which draw nitrogen from the air and "fix" or add it to the soil will help the corn grow. Prickly squash vines growing at the foot of the mound will protect the corn and beans from animal crop invaders.
Planting The Three Sisters is an excellent use of space in a small garden.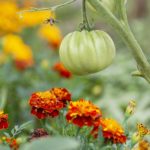 Companion Planting in the Vegetable Garden
Companion planting is a bit of art and science; anecdotal evidence and collected garden wisdom seem to support keeping some plants close and others at arm's length. Continue reading>>>