Sweet corn is a warm-season annual that is commonly planted directly in the garden. It can be started early indoors in individual containers in very short-season regions.
Sow early varieties in the garden 2 weeks after the last frost. Sow mid- and late-season varieties 2 weeks later. The soil should be at least 50°F for good germination. Seeds planted too early may rot. Seeds germinate in 7 to 10 days.
Start seeds indoors in short-season regions 4 weeks before setting out. Corn does not transplant easily. Be careful not to disrobe the roots, otherwise, growth can be checked.
Good Products for Growing Corn Family Crops:
For a continuous harvest, plant early-, mid-, and late-season varieties together in the garden. Make successive sowings every 3 to 4 weeks up to three months before the first expected fall frost.
Grow corn in loose, well-drained, humus-rich soil. Corn is a heavy feeder and needs high amounts of nitrogen and phosphorus and moderate amounts of potassium. Corn is shallow rooted so mulch to conserve soil moisture and keep down weeds.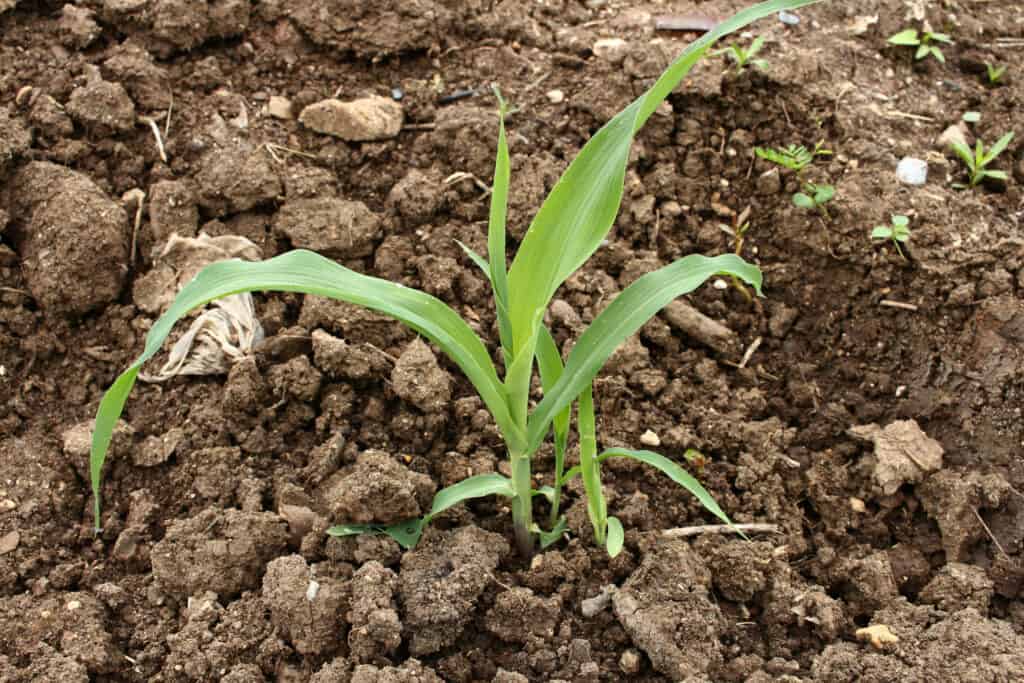 Corn is a tender, warm-weather crop. Sweet corn is commonly grown in gardens.
Sow corn in the garden 1 week after the last frost when the soil temperature has warmed to at least 65°F (18°C).
Start corn indoors 4 weeks before transplanting it to the garden. Seedlings as small as 1 inch (2.5 cm) can withstand transplanting.
Succession plant corn 1 to 2 weeks apart to extend the harvest. Time the last sowing so that harvest comes a week or two before the first expected frost in fall.
Planting corn in cold soil or chilly weather risks poor stands and poor yield.
Corn matures 60 to 100 frost-free days after sowing.
Corn planting details
Sowing depth: 1-2 inches (2.5-5cm)
Space between plant after thinning: 9-12 inches (22-30cm)
Days to sprout: 7
Days to harvest: 65-95
Storage period: 7-10 refrigerated
Seeds per 100-row feet: ¼ pounds
Yield per 100-row feet: 100 ears
Suggest varieties: (Early, 60-65 days) Golden Midget, Seneca, Early Sunglow. (Midseason, 70-75 days) Golden Beauty, Early Xtra Sweet, Early Golden Bantam, Kandy Korn, Gold Rush. (Main crop or late varieties, 80-100 days) Golden Bantam, Illini Extra Sweet, Golden Cross Bantam, Country Gentleman, Silver Queen, Stowell's Evergreen.
Corn Sowing and Planting Tips
Grow corn from seeds or seedlings.
Corn seed is viable for 2 years.
Direct sow corn in the garden in spring after all danger of frost has passed and the soil has warmed to 60°F (16°C).
The optimal soil temperature for growing corn is 65°F to 75°F (18-24°C). Corn will not germinate in soil chillier than 50°F (10°C).
To start plants indoors, sow seeds in peat pots 4 to 3 weeks before planting out. The optimal indoor temperature should be 70°F (21°C) until germination.
Sow seed 1 inch (2.5 cm) deep.
Seeds germinate in 4 to 10 days.
Transplant corn into the garden after the soil has warmed to at least 70°F (21°C).
Space corn 12 inches (30 cm) apart in all directions; plant corn in blocks of at least 4 rows for optimal pollination. About 4 plants for each square foot.
Keep the soil just moist; letting the soil dry out will interrupt pod development.
Fertilize with fish emulsion or a soluble complete fertilizer at half strength.
Add aged compost to planting beds in advance of transplanting.
Corn prefers a soil pH range of 6.0 to 7.0.
Grow corn in full sun for best yield.
Common corn pest enemies include aphids, armyworms, corn earworms, corn maggots, corn rootworms, cucumber beetles, flea beetles, Japanese beetles, leafhoppers, seed corn maggots, birds, and raccoons.
Common diseases include bacterial blight, mosaic virus, rust, corn smut, southern corn leaf blight, and Stewart's wilt.
Interplanting: Plant corn with bush beans, beets, cabbage, cantaloupe, cucumbers, melon, potatoes, pumpkins, and squash.
Container Growing Corn: Corn may not be a good choice for containers unless you have large containers that can hold multiple plants (to insure pollination). Choose a container 21 inches (53 cm) wide and 8 inches (20 cm) deep; plant at least 3 plants per container.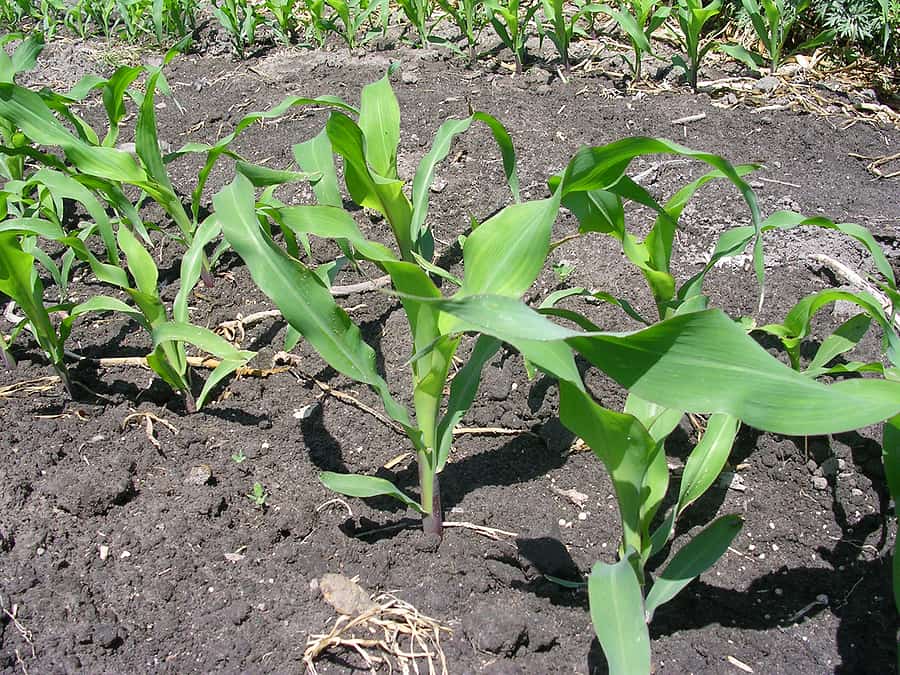 Corn planting calendar
3-4 weeks before transplanting seedlings to the garden: start seeds indoors.
1 week before the last frost in spring: direct sow seed in the garden; protect seedlings from the chill with a row cover; minimum soil temperature should be 50°
2-3 weeks after the last frost in spring sow directly in the garden without protection.
Every 2 weeks sow succession crops for a continuous harvest.
Corn planting dates
(These dates are for the Northern Hemisphere)
| | |
| --- | --- |
| Average date of the last frost | Planting dates |
| Jan. 30 | Feb. 1-Mar. 15 |
| Feb. 8 | Feb. 10-Apr. 1 |
| Feb. 18 | Feb. 20-Apr. 15 |
| Feb. 28 | Mar. 1-Apr. 15 |
| Mar. 10 | Mar. 10-Apr. 15 |
| Mar. 20 | Mar. 15-May 1 |
| Mar. 30 | Mar. 25-May 15 |
| Apr. 10 | Apr. 10-June 1 |
| Apr. 20 | Apr. 25-June 15 |
| Apr. 30 | May 10-June 15 |
| May 10 | May 10-June 1 |
| May 20 | May 15-June 1 |
| May 30 | May 20-June 1 |
| June 10 | |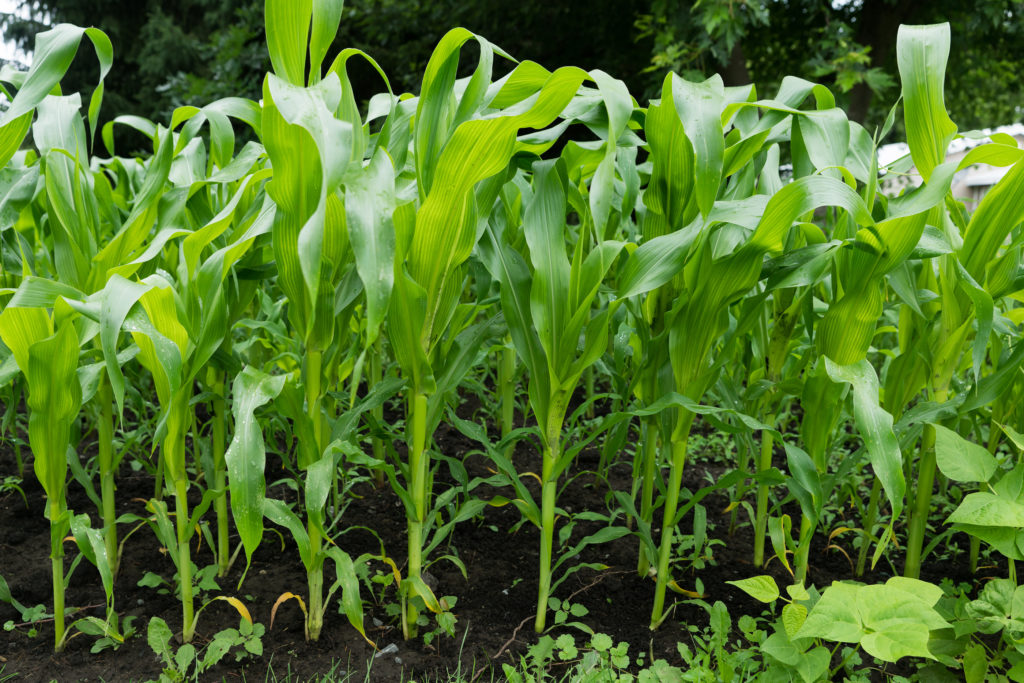 Recommended Corn Varieties
Early planting sweet corn varieties include 'Early Sunglow' and 'Polar Vee'; midseason varieties include 'Golden Bantam' and 'Honey and Cream'.
Late-season varieties include 'Country Gentleman' and 'Silver Queen'.
For small gardens try 'Golden Midget' and 'Tom Thumb'.
Botanical Name: Zea mays var. rugosa
Corn is a member of the Poaceae or grass family.
More tips: How to Grow Corn
Garden Planning Books at Amazon: