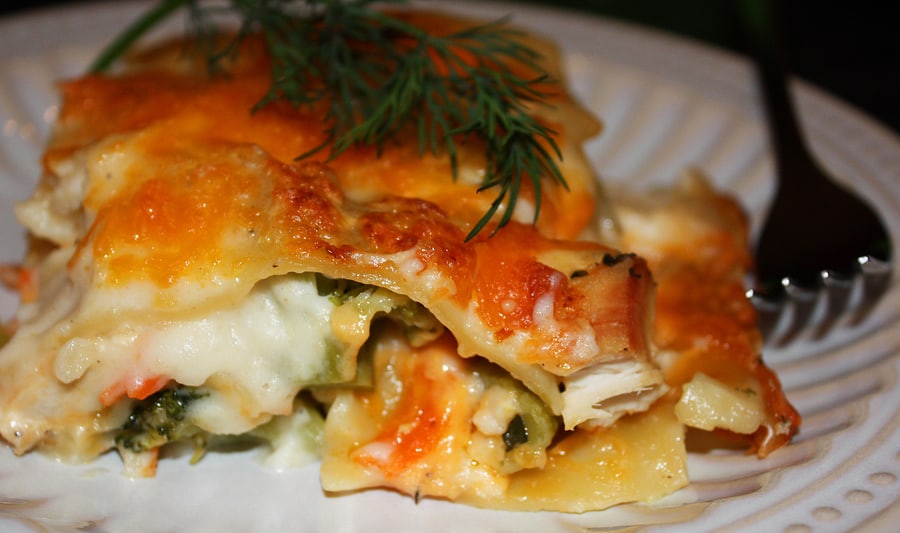 Here is a recipe for fresh vegetable lasagna—for all seasons. I am going to give you—in one recipe—the options to make this hearty and tasty dish in cool weather—using butternut squash or kale or spinach or a combination of these—or in warm weather—using bell peppers or eggplant or Swiss chard. As well, you likely will think of vegetables growing in your fall-winter or spring-summer vegetable garden that might easily stand in for some of the veggies I use here.
Here I have chosen wide whole-wheat lasagna noodles for their nutty flavor, but you can use any lasagna noodle–plain and spinach noodles are two others I like.
This recipe has a ricotta filling and gives you additional cheese options. Just to review our cheeses: ricotta is sweet and creamy; Parmesan is sweet, nutty, and grainy; Asiago can be a tad bitter, Gruyère is deep, nutty, and full flavored; and mozzarella will be mild and usually sweet.
Lasagna is what I call a "project" food. It takes a bit of time to get lasagna put together, and that's not counting the time you'll need to make your own white or tomato sauce. You'll want to set aside 1½ to 2 hours to make this recipe. But the good news is you can chill the assembled dish overnight or wrap it in plastic and freeze it for up to a month before baking.
I almost always think of lasagna on a day that is too cold or too wet to go out in the garden
Seasonal Vegetable Lasagna
Yield 8 servings
Ingredients
3 to 5 quarts of water
½ to 1 pound of lasagna noodles, whole-wheat, spinach, or plain
8 to 11 tablespoons olive oil, divided
1 medium yellow or red onion, diced or sliced
2 or 3 stalks celery, finely diced
1 carrot, sliced into thin rounds (optional)
¾ pound mushrooms, sliced
1-3 garlic cloves, minced, divided
1 teaspoon dried thyme or oregano or 1½ tablespoons fresh thyme or oregano, minced
Salt and freshly ground black pepper to taste
In cool weather you can use: 1 butternut squash (about 2 pounds), peeled and cut into ½ – inch cubes (6 cups) and ½ to 1 pound Tuscan or Lacinato kale or spinach (or you can substitute chard, escarole, or rocket)
In warm weather you can use: 1 eggplant, thin sliced into rounds, and 1 green or red bell pepper, or ½ pound Swiss chard
1 egg
¼ cup unbleached all-purpose flour (if you are including eggplant)
1½ cups white sauce, Béchamel sauce (in the cool season) or 2 cups simple herbed tomato sauce (in the warm season), the sauce is divided
2 cups grated cheese, about 5 ounces, divided; use fresh Parmesan, mozzarella, Asiago, or Gruyère (more or less depending on how much ricotta cheese you use)
1 pound of ricotta cheese (more or less depending on how much grated cheese you use), divided
1/3 cup flat-leaf parsley, chopped
Instructions
Preheat the oven to 375°F.
Roll out the lasagna noodles into 5- to 6-inch long sheets. Place 3 to 4 quarts of water in a large pot, add 1 tablespoon of salt and 2 or 3 tablespoons of olive oil then bring the water to a rolling boil. Add the noodles and cook until the noodles are just tender–al dente, about 7 to 10 minutes.
Drain the pan and rinse the pasta under cold water so that it stops cooking and the sheets do not stick together, drain again; set the noodles out on a clean dish towel so they will be flat when you are ready to use them. (If there is no room to lay them flat, set the pasta in a bowl and use 1 tablespoon of olive oil to lightly coat the sheet so that they do not stick to one another.)
Heat 1 to 2 tablespoons olive oil in a large skillet and cook the onion until it is soft and translucent, about 3 to 5 minutes. (In summer you can add red or green bell pepper cored, seeded, and cut into julienne.) Remove half the onion and set aside to add to the ricotta filling later.
Add finely diced celery or finely sliced carrot rounds (or a combination of these) to the cooking onions along with a sprinkling of salt and pepper. Sauté over high heat for another couple of minutes, then cover and reduce the heat to a simmer and cook until the celery (or carrot) is tender and the flavors are combined.
Using a slotted spoon, remove the onions and celery and carrots from the skillet and set aside. Add another 1 tablespoon olive oil and reheat the pan and sauté mushrooms for a minute or two then add minced garlic, parsley, thyme or oregano and pinch or two of salt and pepper. Cook until the mushrooms are browned, about 3 minutes or so longer. Add the mushrooms to the onion/celery/carrot mixture, and check the seasoning. Set aside.
In the cool weather time of the year, remove and discard the center ribs from ½ to 1 pound of kale or spinach leaves then boil until soft or sauté in 1 teaspoon olive oil until just wilted, about 4 to 6 minutes, add 1 garlic clove peeled and chopped fine and cook 1 to 2 minutes more. Drain and let cool then squeeze as much water from the leaves as possible and chop fine then set aside. (Use the kale or spinach later as one of the vegetable layers.)
Also in the cool weather time of year, you can peel and cut 1 butternut squash into ½-inch cubes, toss with olive oil to coat, add thyme to season, and bake until soft, about 10 to 15 minutes at 375°F, then mash with a fork until smooth then set aside. (Use the squash later as one of the vegetable layers.)
In the warm weather time of the year, slice 1 eggplant into ¼-inch-thick rounds, sprinkle with salt and let drain in a colander for 1 hour. Then sprinkle the eggplant with flour and sauté the slices on both sides in a bit of olive oil over medium heat until lightly browned then set aside. (Use the eggplant later as one of the vegetable layers.)
Mix the ricotta with the reserved onion or kale or spinach or chard, and season with salt and pepper to taste then mix in 1 egg. Set aside. (In the summer, you can mix pesto into the ricotta cheese if you like.)
Prepare the white sauce (in cool weather) or an herbed tomato sauce (in warm weather).
Assemble the lasagna in a large baking dish (10- by 12-inches or 9- by 13-inches is about right and 3 inches deep). The assembly is essentially a process of layering: sauce, noodles, sauce, vegetables, cheese, noodles, sauce, vegetables, and cheese—until the dish is nearly full.
Begin by lightly coating the baking dish with 1 tablespoon olive oil (or butter).
Ladle ½ cup of white sauce or tomato sauce into the bottom of the baking dish.
Arrange one layer of noodles over the sauce; be sure to trim the noodles to fit the dish. Coat the layer of noodles with a few spoonful's of sauce.
Add half of the prepared vegetables you have chosen (celery and carrots, mushrooms, kale or spinach or squash or eggplant or Swiss chard) across the noodles and top with ricotta filling and/or grated cheese, spread evenly.
16. Now add the second layer of noodles (run this layer of noodles in the opposite direction of the first layer). Again coat the noodles with a few spoonful's of sauce. Add another layer of vegetables and top with ricotta filling and/or grated cheese.
Arrange the final layer of noodles on top (again running the opposite direction of the noodles below), and pour ¾ of the remaining sauce over the noodles; be sure the last layer of noodles is well moistened.
Cover the dish with foil and bake for 25 to 30 minutes. Then uncover and continue baking for another 10 minutes—making sure the noodles are still moist. If you like, sprinkle the top with more grated cheese, then bake about another 10 minutes until the dish is bubbling and golden brown.
Take the dish from the oven and allow the lasagna to rest for 5 to 10 minutes in a warm spot before slicing. Cut the lasagna into squares and serve with additional grated cheese and remaining sauce. Garnish with parsley if you like.
Notes
You can freeze lasagna for up to 1 month wrapped in plastic. Bake it frozen about 1¼ hours before serving.
If you have assembled the lasagna the day before and refrigerated, be sure to take it out of the refrigerator an hour before cooking.