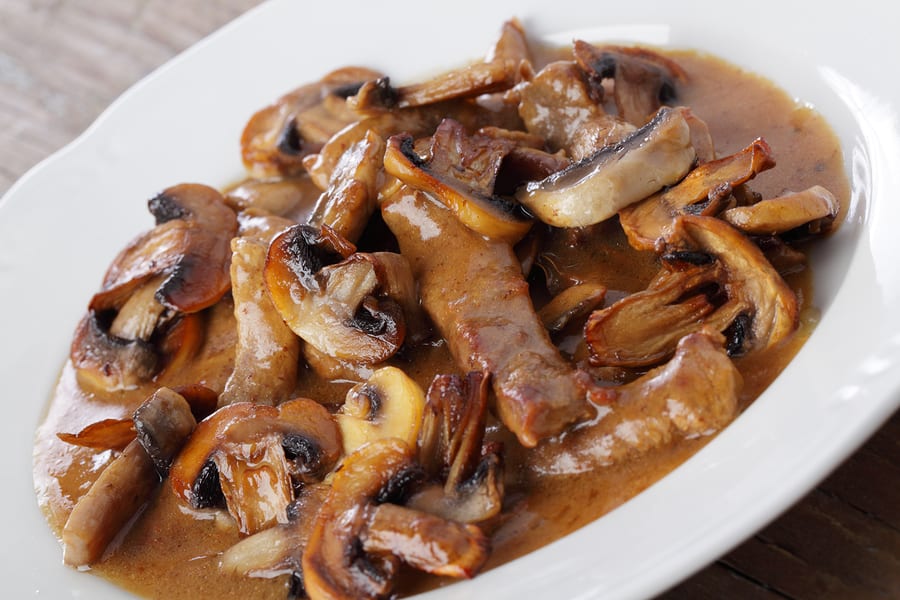 Beef Stroganoff is not really a stew—though you may tend to think so if you've had it with this or that cut of beef and this or that vegetable served over egg noodles.
True beef Stroganoff is simply beef sautéed with onions and mushrooms and sour cream. The best tasting beef stroganoff will be made from tenderloin sautéed quickly—which gives it a delicate flavor.
Tenderloin is the prized piece of beef also known as fillet. Beef fillet has no bone and very little fat and is always best sautéed in butter or oil and served with a sauce. I recommend you seek out grass-fed beef—it will be free of hormones, steroids, and antibiotic. If you can't grass-fed, ask for organic. (Beef is the best source of iron and vitamin B-12 which aids the metabolism of every cell in your body.)
For this recipe I use common cultivated mushrooms—look for white ones or the brown cremini. For freshness choose smaller mushrooms that have tightly closed cap. Just trim the stem ends and wipe the caps clean; you won't need to wash them.
As for the sour cream, keep in mind that when sour cream is cooked it must be heated slowly over low heat or it will scorch or separate. And be careful not to over stir sour cream as it will likely thin and curdle.
You can serve this beef Stroganoff over hot noodles, but really it will be warming and plenty filling without.
Fillet of Beef Stroganoff
Yield 6 servings
Ingredients
1½ pounds beef tenderloin trimmed and cut in thin strips 3 inches long, 1 inch wide, and ¼-inch or as you like thicker
3 tablespoons olive oil
3 tablespoons butter
Salt and freshly ground black pepper (not more than ½ teaspoon of salt, not more than ¼ teaspoon pepper)
1 small yellow onion chopped or ½ cup or so finely chopped shallots or scallions
½ pound fresh mushrooms (about 3 cups), sliced ¼-inch or as you like thicker
½ cup beef stock
¼ teaspoon Tabasco (optional)
½ teaspoon dried tarragon or 1 tablespoon fresh tarragon (optional)
1 tablespoon Worcestershire (optional)
1 to 1½ cups sour cream (use reduced fat if you like)
Instructions
Heat olive oil in a heavy non-stick skillet over high heat. Brown the fillet strips quickly on both sides, 1 to 2 minutes. Transfer to a hot platter, and season lightly with salt and pepper.
Melt the butter in the skillet over moderate heat. Add the onion or shallots or scallions and sauté for about 2 minutes or until tender. Next stir in the mushrooms, cover, and cook for 3 minutes. Uncover, salt and pepper again lightly and add the stock (also add the Tabasco, tarragon, and Worcestershire if using). Bring to a boil and stir thoroughly uncovered for 2 minutes.
Remove the skillet from the heat and carefully whisk in the sour cream until smooth. The sour cream should just heat through; do not let the sour cream boil or it will curdle.
Now, spoon the sauce over the beef sitting on the hot platter. If circumstances allowed the beef to cool, you can stir the beef and any juices that have collected on the platter into the sauce over low heat; stir constantly until the beef is just heated through and be sure not to let the sauce boil.
Notes
Garnish with a couple of tablespoons of chopped parsley. Serve with rounds of fried toast.
This dish originated in Russia and is named for the 19th -century Russian diplomat Count Paul Stroganoff.
Courses Main Course