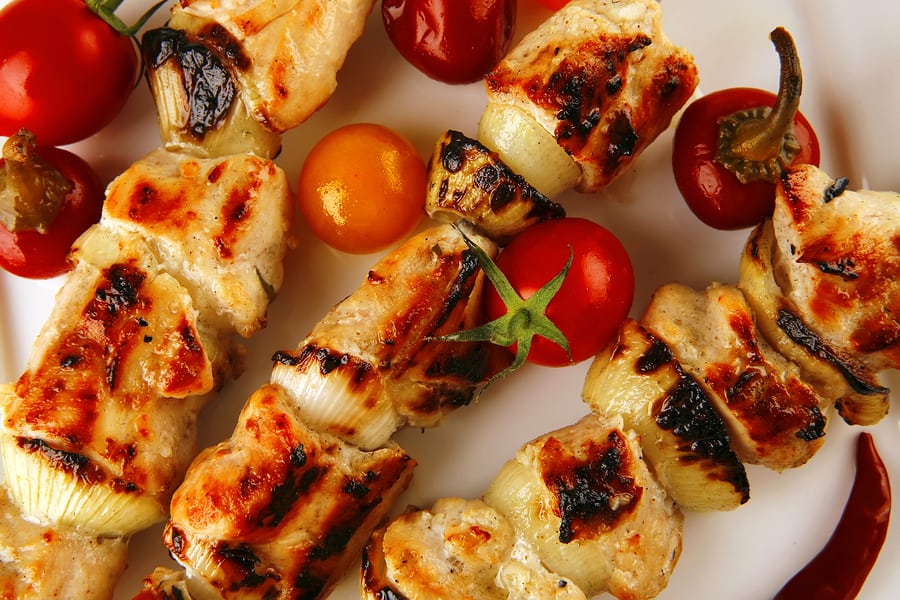 The kebab or shish kebab originated in the Mediterranean. The kebab is a marinated meat, poultry, shellfish, firm fish, and vegetables or fruits threaded on a skewer and grilled or broiled.
This recipe works with any medium-dark meat—chicken things, cubed turkey, pork, and even fish such as salmon or swordfish.
Grilled Chicken Kebabs
Yield 4 servings
Ingredients
1 to 1½ pounds boneless chicken thighs or skinned chicken breasts, rinsed and pat dry with paper towels
Minced zest and juice of 1 lime or 2 tablespoons fresh lime juice
1-2 tablespoons extra virgin olive or peanut oil or other oil or 1 tablespoon soy sauce
2 tablespoons minced garlic
2 teaspoons minced cilantro leaves, plus a bit more for garnish
¼ teaspoon cayenne, or to taste
2 tablespoons natural peanut butter or peanut sauce
Salt and lots of freshly ground black pepper to taste
Add-on Ingredients
15 to 20 cherry tomatoes
15 to 20 quarter slices fresh pineapple
4 or 5 small white onions, sliced
2 bunches green onions, root ends trimmed; grill separately.
1 pound of asparagus; grill separately.
6 to 10 small yellow or red peppers, habanero, sweet banana, Hungarian; grill separately.
Instructions
Cut the chicken or other meat into 1- to 1½-inch cubes. Mix the chicken with all other ingredients in a large bowl or a re-sealable plastic bag and marinate in the refrigerator for 1 to 24 hours. Soak wood skewers in cold water at least 30 minutes before using.
Start a charcoal or wood fie or preheat gas grill or broiler; the fire should be moderately hot (about 450°; you can hold your hand 5 inches above the cooking grate only 4 to 5 seconds).
Remove the chicken from the marinade and boil the marinade for 1 minute reducing it to a sauce.
Thread the meat and add-ons such as cherry tomatoes, onion slices, and pineapple slices onto skewers and lay the skewers on the grill (cover if using gas). Grill or broil about 4 inches from the heat source. Cook until meat is browned and cooked through, basting with the sauce, and turning every 2 or 3 minutes. Grill a piece or two of meat separately; cut in half to see if meat is cooked through. Grilling time about 8 to 12 minutes.
Transfer to a platter, garnish, and serve hot.