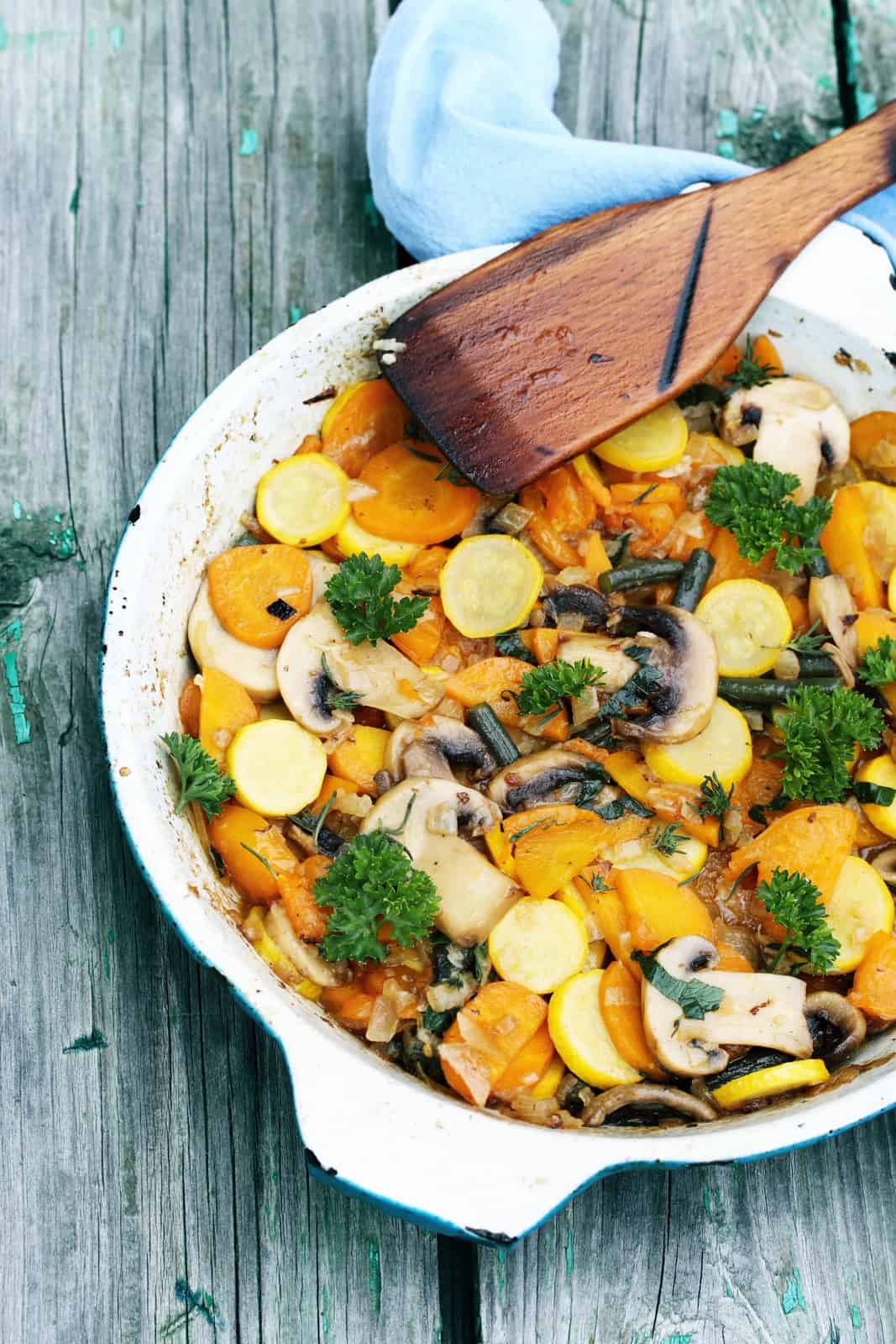 Here is an easy to make vegetable stew that you can cook up any time of the year. The combination of vegetables in this stew can vary with the season and harvest.
Choose two or three vegetables from the longer-cooking list and two or three from the shorter cooking list. If you want to add greens, add them in the last five minutes.
Vegetable Stew
Ingredients
Longer-cooking: carrots, potatoes or sweet potatoes, winter squash, white radish, turnips, onions, eggplants.
Shorter-cooking: cabbage, cauliflower, broccoli, celery, summer squash, red or green pepper, tomato, zucchini, scallions or green onions, mushrooms.
Instructions
Wash the vegetables.
Cut them into large chunks or sections—quarters or sixths; mushrooms can be sliced, halved, or left whole.
Make enough pieces so that everybody will get some of everything.
Place the longer cooking vegetables into the bottom of a lightly oiled baking dish.
Add heated water or stock to the vegetables so that they are about half covered.
Sprinkle lightly with salt and pepper.
Bake the longer-cooking vegetables covered at 350°F (177°C) for about 30 minutes then add the shorter cooking vegetables and cook another 15 to 30 minutes or until all of the vegetables are fork tender.
Baste several times during baking. (If the dish is uncovered baste often).
If you are adding beet greens or spinach to the stew, add them for the last five minutes of cooking.
At the end of cooking, the water or stock can be drained off and made into gravy using it for the liquid in a brown sauce.
Check seasoning–add parsley or thyme if you like–and serve.
Notes
If the dish is cooked on the top of the stove, it will take 5 to 10 minutes less cooking time and more water may be needed.
An alternative to the start of this process is to sauté the vegetables for 2 to 3 minutes before putting them into the baking dish—this will evenly coat the pieces with oil.
Courses Main Course