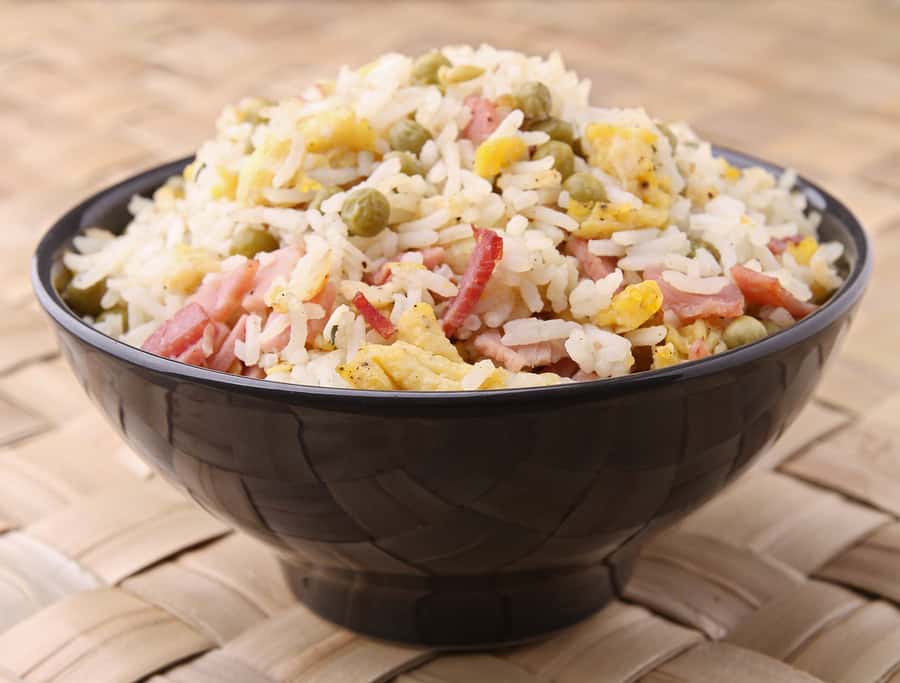 Fried rice with ham and eggs is filling. Eat it for lunch or dinner or supper.
There are many variations on fried rice—the length of the grains of rice and the vegetables or meat or seafood you add are starters.
My recipe for fried rice isn't fried but steamed. That is I steam the rice before adding it to the wok or skillet I'm cooking my "fried" rice in. Cook the rice in advance however you like—boil, simmer, or steam. Before cooking, I rinse the rice well to remove starch. I then steam it nice and fluffy—for the fluffiest rice use long-grain rice (but you can use medium- or short-grain as well).
I use white rice because that's the favored rice in China where brown or unmilled rice is looked down upon, but again, you use the rice you like best—brown and unmilled will have a nuttier flavor and firmer texture.
You can make several variations of fried rice using this recipe; instead of ham you can use pork roast bits or chicken or shrimp. Instead of peas, you can add carrots or Chinese cabbage. And you don't have to add the eggs.
Steamed Fried Rice with Ham and Eggs
Yield 4-6 servings
Ingredients
1 to 2 tablespoons sesame or olive oil (or peanut or canola oil)
1 yellow onion diced, or 1 large leek (white and pale green part)
2 stalks of celery, diced or ¼ cup chopped mushrooms (optional)
1 carrot, diced (optional)
1 to 4 cloves garlic, minced
1 to 2 tablespoons fresh ginger, grated
About 3 cups cooked white or brown rice or other grain (goats, millet, or cracked wheat); cook rice by any method you choose, even use leftover rice
¾ cup diced baked ham or Black Forest ham (or 8 ounces small shrimp, shelled, deveined, and cooked)
1 cup cooked peas, fresh or frozen (but you can use Chinese cabbage, coarsely chopped instead—if you leave out the ham use ½ medium head of Chinese cabbage)
¼ cup soy sauce
Salt
Black or red pepper (use cayenne pepper or Tabasco sauce if you like)
1 or 2 eggs, lightly beaten before adding
3 to 5 scallions or green onions, thinly sliced (optional garnish added before serving)
Instructions
Place the oil in a wok or large skillet and heat over medium-low heat. Slice the onion or leeks and sauté in the hot for a minute or two, stir constantly.
Add celery and carrot slices (or other leftover vegetables) if you like, raise the heat to medium and continue to sauté, stirring, for another 1 to 3 minutes. When the celery and carrots begin to soften add garlic and ginger and cook for another minute. If the vegetables start to stick to the pot, add a bit of water to loosen them.
Add the pre-cooked rice crumbling it with your fingers to eliminate lumps, and stir to combine. Add 2 to 4 tablespoons of water, cover, and heat over low heat for about 3 more minutes. Be sure the rice heats through.
Next stir in diced ham (or pork bits or shelled and deveined shrimp or cabbage if you want to go vegetarian) and peas (fresh or frozen); season the mix to taste adding the soy sauce, salt, and pepper (use cayenne pepper, or Tabasco, or chili powder, if you like).
Make a hole in the center of the rice mixture; pour the eggs in the hole; stir off the heat with a fork until the eggs set, folding or scrambling the eggs into the rice. Cook briefly before serving, about 1 minute.
Notes
Serve immediately on a heated dish. Garnish with green onions if you like.
Courses Main Course