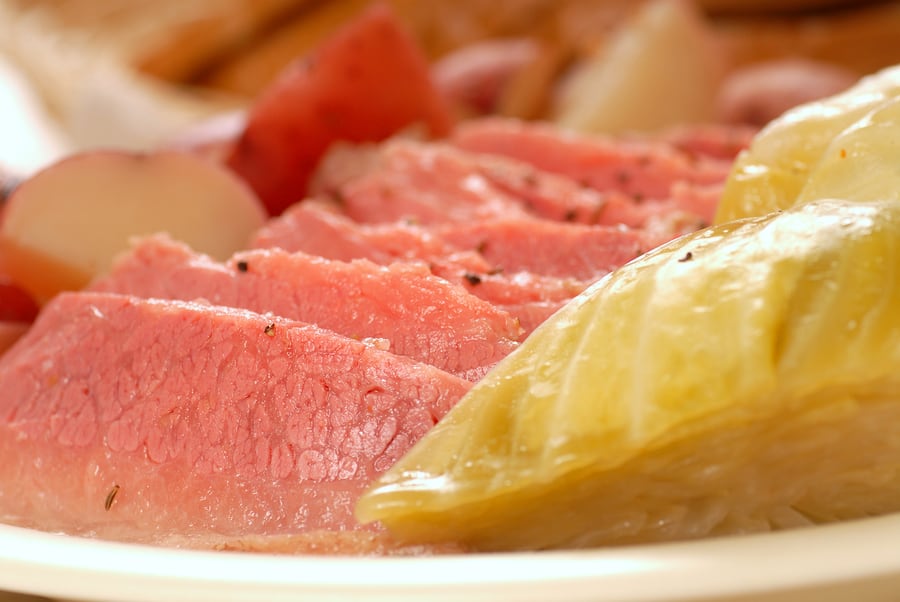 Here is a one-dish, slow cooker meal that you can get started on a chilly Saturday or Sunday morning to have on the table for supper. It's a hearty, basic dish that will serve 6 and you will more than likely have beef leftover for cold corned beef sandwiches or corned beef hash tomorrow.
Corned beef is salt-cured beef (corn refers not to the vegetable corn, but to coarse grains of salt used to cure the beef—corn was the Old English word for grains). Beef, pork, and sometimes lamb were for centuries pickled or preserved or corned with salt for winter use.
Corned beef brisket will have a coating of fat on either side of the cut (which you will trim away before cooking) and some marbling; the meat will be juicy, full of flavor, and easy to slice.
Since corned beef is a traditionally cool-weather meal, it's no surprise you will surround the beef with green cabbage and root vegetables. Green cabbage–in this case a late cabbage–is not only easy to grow and undemanding, it grows sweeter with cold weather and can actually sit under the snow awaiting harvest. As well, I give you several choices of root crops you can pluck out of the cool-weather garden for this recipe—baby turnips, new potatoes, carrots, baby beets, onions, and leeks. Add to these apple cider–another fall flavor–which can be substituted for a part of the vegetable broth to deepen the flavor.
This is a great one-pot, cool-weather meal.
Corn Beef and Cabbage Slow Cooked
Yield 6 servings
Ingredients
4 white baby turnips, unpeeled and quartered (or 4 to 6 small red new potatoes scrubbed and halved)
4 carrots, peeled and cut on the diagonal into 2½ inch lengths (or 4 baby beets, scrubbed and trimmed
1 yellow onion quartered, stick each quarter with a clove (or 6 small leeks, white part and 2 inches of green, well rinsed)
2 ribs celery, cut on diagonal
2 cups vegetable broth or water
1 to 2 cups of pure apple cider
One 3-pound fresh corned beef brisket, rinsed and fat trimmed
2 tablespoons hot mustard or Dijon mustard with seeds
½ teaspoon cracked black pepper
1 small head green cabbage (2 to 3 pounds) cored and cut into 6 or 8 equal wedges
Instructions
Combine the turnips, carrots, and onion in the bottom of a slow cooker. Pour the vegetable broth and cider over the vegetables so that they are covered. (The amount of liquid you will need will depend on the size of the slow cooker.)
Lay the brisket on top of the vegetables and coat with a layer of mustard. Sprinkle on the black pepper. Place the cabbage wedges on top of the brisket, cover and cook on low for 8 to 9 hours, until the meat is cooked through and tender.
Carve the corned beef and arrange on a warmed serving platter with the cooked vegetables. Ladle broth over the beef and vegetables. Garnish with chopped fresh Italian (flat-leaf) parsley and serve with prepared horseradish if you wish.