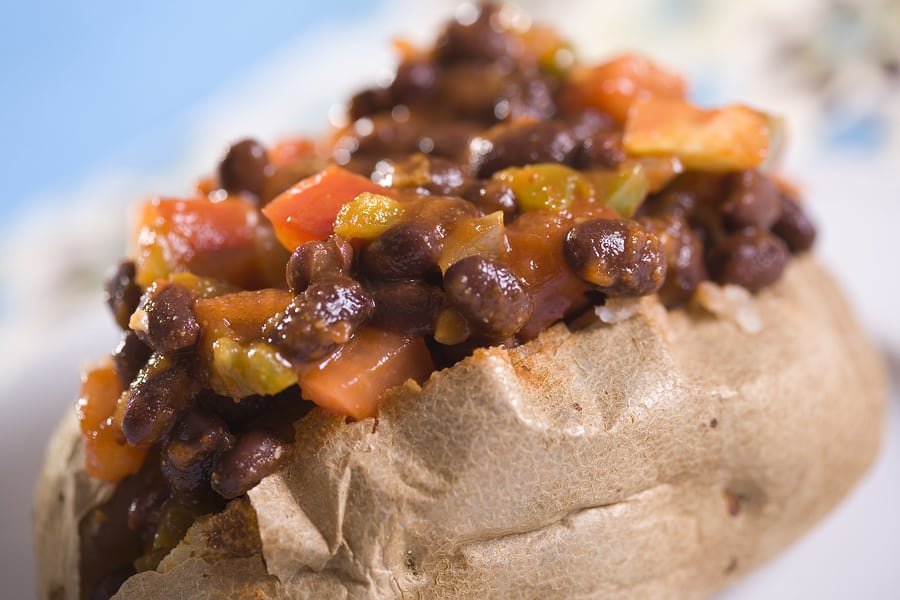 This all vegetable and black bean chili is warming and filling. I serve this chili over a hot baked (and buttered) potato. Chili and chunks of potato are perfect after a winter afternoon in the garden.
This recipe calls on dried black beans—but you could also use pinto beans, navy beans, kidney beans, cannellini beans, or red beans—or a combination.
As well, this recipe calls on canned or frozen plum tomatoes from last summer, as well as canned corn and peppers—or frozen peppers (I sliced and seeded the peppers, set them on cookie trays in the freezer overnight, then stored them in freezer bags—until now). You might prefer chili peppers—the Serrano or jalapeno, but the mild green poblano chili is heat enough for me.
One more thing, I added celery and kale to this chili–hard to spot. Kale is one of the superfoods, loaded with calcium, iron, and vitamins, A, C, and bone-building K in addition to phytochemicals that fight cancer. All that with the fiber of beans.
Vegetarian Black Bean Chili
Ingredients
1 cup dried black beans (dried pinto or kidney beans can be used as well)
1 tablespoon salt (or salt to taste)
2 tablespoon olive oil, divided
1 medium yellow onion, chopped
1 cup corn kernels (canned corn from last summer will work)
6 Roma or plum tomatoes chopped (frozen or canned tomatoes from last summer will work perfectly)
1 stalk of celery, finely sliced
1 cup of kale torn into bite-size pieces
1 or 2 Portobello mushrooms, stems removed, slice into bite-sized pieces
1 green poblano chili (mild) or red poblano (more heat), stemmed, seeded and coarsely chopped (for greater heat use 2 Serrano or jalapeno chili peppers, seeded and minced; for a sweet flavor sans heat use 1 large green or red bell peppers cored and cut into ¼-inch dice)
1 tablespoon chili powder (use fresh chili powder for best flavor)
1 tablespoon cumin
1 tablespoon dried oregano, use Mexican oregano
1 cup of tomato sauce
3 garlic cloves, peeled and finely chopped
Instructions
Sort beans and discard any damaged beans or debris. Rinse the beans well. Put in a medium saucepan, cover with 2 to inches water and let soak overnight (or quick-soak by bringing to a boil, then letting sit, covered 1 hour). Drain away the water then re-cover beans with fresh water. Bring to a boil, reduce heat, and simmer, covered, until tender, 45 minutes to 1 hour, adding 1 teaspoon salt (or salt to taste) about halfway through. Pour beans into bowl and along with about ½ cup liquid.
Place a large heavy saucepan over medium-low heat, warm 1 tablespoon olive oil. Add the onions, corn, celery, peppers, chili powder, cumin, and oregano and sauté stirring occasionally, until onions are softened, about 5 minutes. Add tomatoes and garlic and cook an additional 5 minutes. Stir into beans.
Place sauté pan over low heat, warm 1 tablespoon olive oil. Add mushroom and cook stirring occasionally until mushrooms are softened, about 5 minutes. Stir mushrooms into beans.
Notes
Spoon chili onto baked potato or ladle into warmed bowls and serve at once.
Great chili toppings include sour cream, shredded Cheddar or Monterey Jack cheese, chopped green onions, sliced black olives, and corn chips.
Courses Main Course