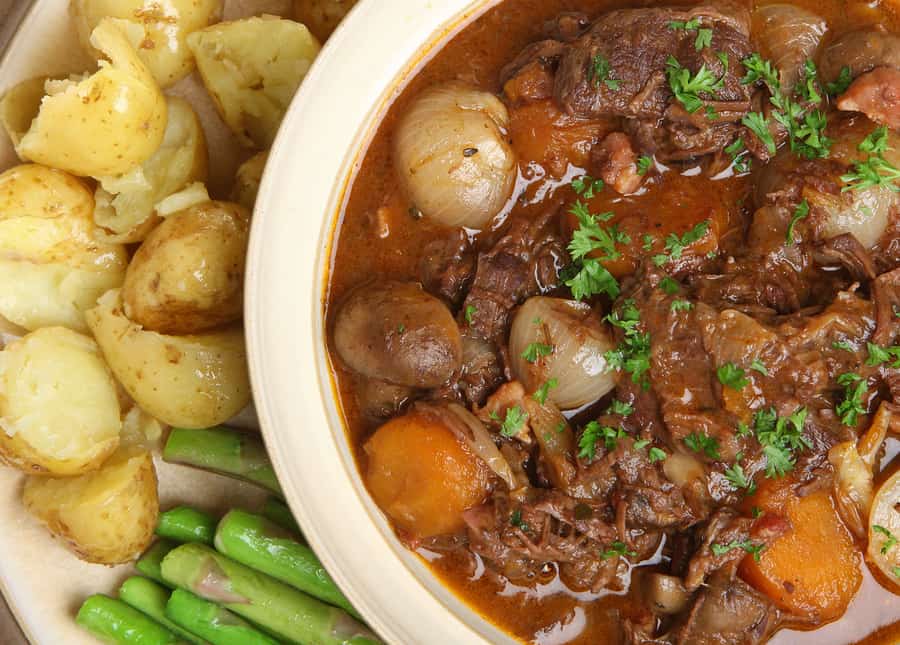 Here is a hearty and tasty winter vegetable-loaded beef stew for the slow cooker.
You can vary the root vegetables in this stew—choose from carrots, turnips, parsnips, new potatoes, onions, or leeks and add mushrooms or celery. The combinations are many.
As well, you can vary the stock—use all beef stock, or chicken stock, or a combination of beef stock, Burgundy wine, dark beer, or brown ale. (I'll give you some suggestions.)
Serve this stew straight out of the slow cooker or serve it over rice or noodles or alongside mashed potatoes. If you don't put the new potatoes in the slow cooker, serve them steamed alongside steamed asparagus on the side.
This recipe will take 6 to 8 hours in the slow cooker and will make 4 to 8 servings depending on the appetites that come to the table.
Beef and Winter Vegetable Stew Slow Cooked
Ingredients
1½ pounds stewing beef cut into 1 or 1½ inch cubes (use chuck roast or sirloin tip—try grass fed beef)
2-3 carrots peeled and cut into 2- or 3-inch lengths (or use baby carrots)
1 or 2 yellow sweet onions peeled and cut into quarters or coarse chopped (or use 4 or 5 small white onions or 4 or 5 medium leeks—white part plus 1 inch of green)
1 turnip cubed
2-3 parsnips, peeled and cut into 2- to 3-inch lengths
Optional vegetables, choose from: 2 ribs celery, sliced; 1 cup mushrooms, sliced, quartered or halved depending on size; 6-8 small new potatoes, unpeeled halved or whole depending on size; ½ cup sundried tomatoes (add the last 10 minutes of cooking)
Stock: 4 cups beef stock + ¼ cup Burgundy wine OR combine 1 cup beef stock + 1 cup water + 2 cups dark beer or brown ale
3 teaspoons mixed herbs (use three of these: oregano, marjoram, thyme, or dried basil—if you use sprigs tie stems with kitchen twine)
1 bay leaf
Optional: 3-4 cloves garlic, peeled and coarsely chopped
Salt and freshly ground pepper to taste
⅓ cup or so fresh Italian flat-leaf parsley chopped—as a garnish or add to slow cooker last 10 minutes of cooking and stir in
Instructions
In large slow cooker arrange prepared vegetables.
Place beef cubes atop vegetables (season beef a day ahead if you like; you can also brown beef in skillet over medium heat in a couple of teaspoons of oil before adding cubes to slow cooker, about 2 minutes to brown all sides).
In medium bowl, gently combine stock with herbs.
Pour stock evenly over meat and vegetables and add bay leaf.
Cook on high for 4 to 6 hours or on low for 8 to 10 hours; cook until vegetables are tender and meat is cooked through but not overdone.
Serve in warmed bowls or on warmed plate; serve over rice or noodles, alongside mashed potatoes, or with side of steamed new potatoes and asparagus.
Courses Main Course