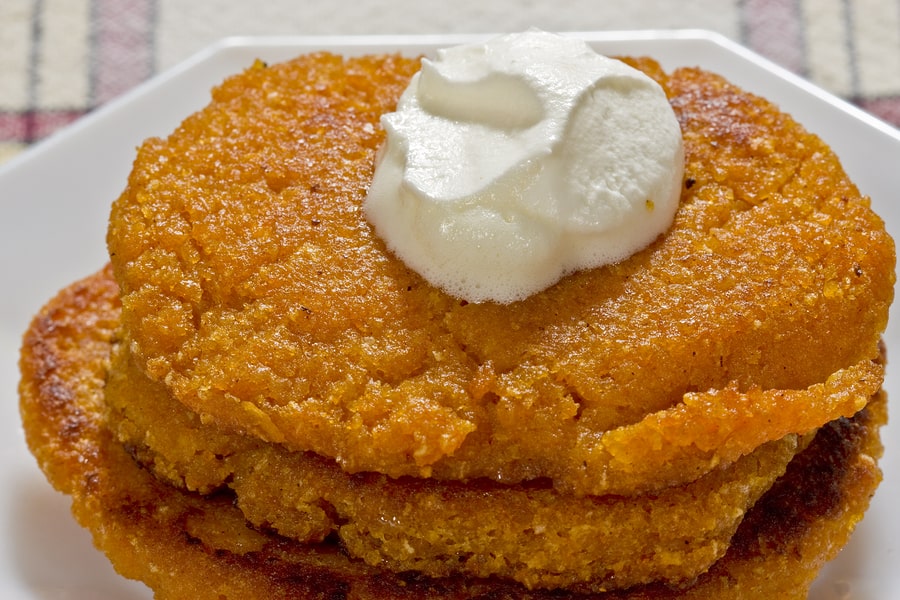 Serve sweet potato pancakes with bacon and eggs at breakfast or as a side dish with chicken or ham at supper time.
These pancakes aren't too far a cry from sweet potato pie but just enough. And they aren't the boiled and mashed sweet potatoes you serve alongside turkey and mashed potatoes.
Maple syrup or honey are great toppings for sweet potato pancakes; I like a dollop of whipped cream—not just on top but between each pancake. I've got a friend who won't eat these without sour cream.
Peak season for sweet potatoes is early winter. These tubers will keep for up to a month after harvest. Store them in a cool, dark, and well-ventilated cupboard; store them loose, not in a plastic bag. The refrigerator is a tad too cold for sweet potatoes and will likely harm the flavor. A root cellar is ideal.
Sweet Potato Pancakes
Ingredients
1cup whole-wheat pastry flour
1 cup unbleached all-purpose flour (here you can substitute a whole-grain flour such as cornmeal or buckwheat)
3½ teaspoons baking powder
2 tablespoons brown sugar
1 teaspoon cinnamon
½ teaspoon ground nutmeg
2 cups milk
4 teaspoons melted butter
2 large eggs lightly beaten
1 medium sweet potato, cooked until tender, peeled and mashed (about 1½ cups)
Instructions
In a medium saucepan of boiling water, cook sweet potato until tender but firm, about 15 minutes. Drain and quickly immerse in cold water to loosen the skin. Drain again, remove the skin, chop, and mash.
In a medium bowl, sift together flour, baking powder, salt, cinnamon, and nutmeg. In a second bowl, mix mashed sweet potatoes, eggs, milk, and butter. Blend sweet potato mixture into the flour mixture to form a batter. If the batter is too thick, add more milk (it should be thick but still pourable).
Place buttered skillet on medium-high heat or preheat a lightly greased griddle over medium-high heat. Spoon batter onto skillet or griddle and cook until surface of pancake is covered with bubbles, 2 to 3 minutes, then turn with a spatula and cook until dark golden brown, 1 to 2 minutes more. Cook a single pancake first to be sure skillet or griddle is the right temperature.
Notes
Serve, topped with flavored butter and a little maple syrup, honey, applesauce, bananas, or a dollop of whipped cream. Something different: serve sweet potato pancakes with sour cream.
Courses Breakfast