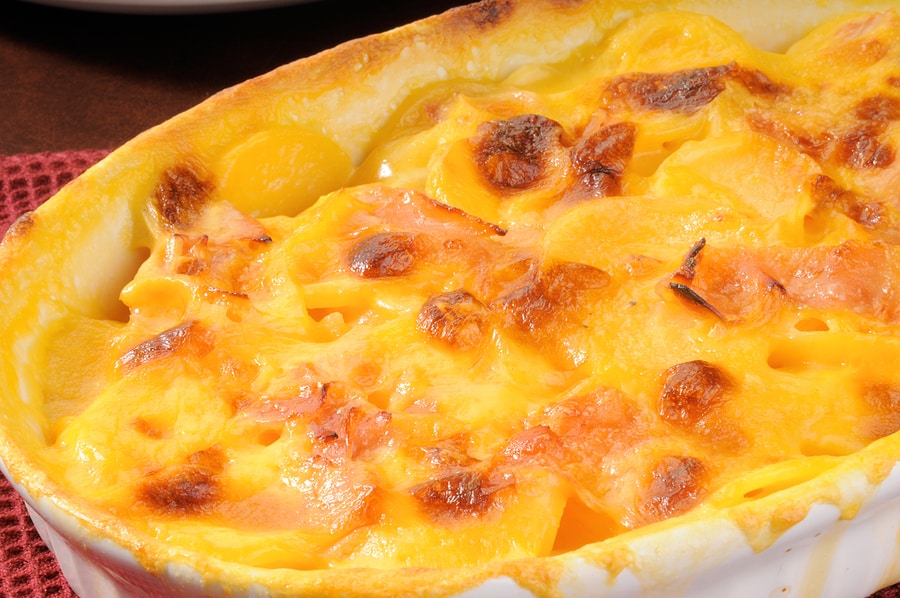 The ham and cheese and potato gratin is a flavorful and sustaining winter dish.
I usually call on this recipe a day or two after a big baked ham dinner by simply reserving 1 or 2 pounds of ¼-inch ham slices. But you can pick up a 1 to 2 pound ham steak at the butcher any day of the year to get this gratin made.
You'll also need 3 to 3½ pounds of baking potatoes, figure three medium potatoes to make a pound (8-10 small potatoes to a pound); good choices are round whites, Yukon Golds, Russet Burbanks, German Butterballs, or Bintjes.
As for the cheese, excellent cheese flavor matches for ham and potatoes are cheddar (slightly sharp in flavor), Gruyère (nutty and full-flavored), Jack (mild flavored), and Parmesan (sweet and nutty flavor). Use any one of these for this dish. You'll need a pound of the cheese you choose shredded.
Gratin is the French term for "crust"; this dish develops a crisp, golden crust as it is oven cooked in a shallow baking dish.This recipe will serve 6 to 8 people.
Ham, Potato, and Cheese Gratin
Yield 6-8 servings
Ingredients
2 cups water
1½ pounds ham steak, sliced ¼ inch thick
3½ pounds baking potatoes peeled and cut into thin slices—that's 9 or 10 bakers, peeled and cut cross wise in ⅛ inch rounds (Substitute slices of celery root, parsnip, or turnip for up to half of the potatoes, if you like.)
1 cup thin sliced or chopped aromatic vegetables: leeks, red onions, or scallions
3 cups milk
¼ cup unsalted butter
6 tablespoons all-purpose flour
1 pound cheese, shredded—use Gruyere, Parmesan, cheddar, or dry Jack
2 tablespoons Dijon mustard
⅛ teaspoon thyme or parsley or try chives or chervil
Salt and freshly ground black pepper
1 garlic clove
Instructions
In a saucepan over high heat, bring water to a boil. Add ¼-inch ham steaks or slices and simmer for 30 seconds. Remove from the heat, drain well, and set aside.
Slice the potatoes thin, ⅛ inch thick; use a mandoline to produce even slices quickly.
Simmer or parboil the potatoes until they are cooked half through; do this before layering them in the baking pan. (Simmering the potatoes will shorten the baking time.) Add seasonings to flavor both the potatoes and the liquid.
Peel and smash garlic clove; rub the clove over the inside of the gratin dish (a 9-by-12-inch baking dish) then coat the inside of the dish with butter.
Layer one-third of the potato slices evenly over the bottom of the buttered dish overlapping them slightly then season with salt, fresh ground pepper, and herbs. If you are substituting some of the potatoes with other thin sliced root vegetables such as parsnips or turnips—begin that now (but first parboil those vegetables as you did the potatoes).
Add herbs and aromatic vegetables such as minced red onions or thin rounds of shallots or leeks atop the potatoes to evenly distribute the flavor.
Next, layer half of the thinly sliced ham evenly over the potatoes. Again sprinkle herbs, salt and pepper, and add aromatic vegetables.
Layer the potatoes again then add a second layer of ham before adding a final layer of evenly overlapping potatoes—even layers ensure even cooking.
Preheat oven to 350°F.
Pour the milk into a small saucepan and warm it over medium heat until small bubbles appear at the edge of the pan. Remove from the heat.
In a medium saucepan melt the butter over medium heat. Stir in the flour and cook for 2 minutes stirring constantly; be careful not to brown the mix. Next, slowly stir in the hot milk and cook, stirring until the mixture thickens in about 4 to 5 minutes. Remove from the heat.
Stir in the shredded cheese and mustard; season to taste with salt and black pepper. Return the saucepan to low heat and stir until the cheese just melts, 1 to 2 minutes.
Pour the cheese sauce evenly over the layered potatoes and ham. Shake the pan gently to distribute the sauce evenly into the layers below. Bake uncovered until the potatoes are soft and easily pierced with a fork, the cheese is bubbling around the edges, and the top is golden brown, about 1 hour.
Remove the gratin from the oven and let rest for 10 minutes allowing it to firm up. Serve directly from the gratin dish onto warmed plates. Serve with a green or bean salad and crusty bread or rolls.
Notes
The gratin can also be cooled and left at room temperature for several hours, and reheated in a moderate oven.
Courses Casseroles