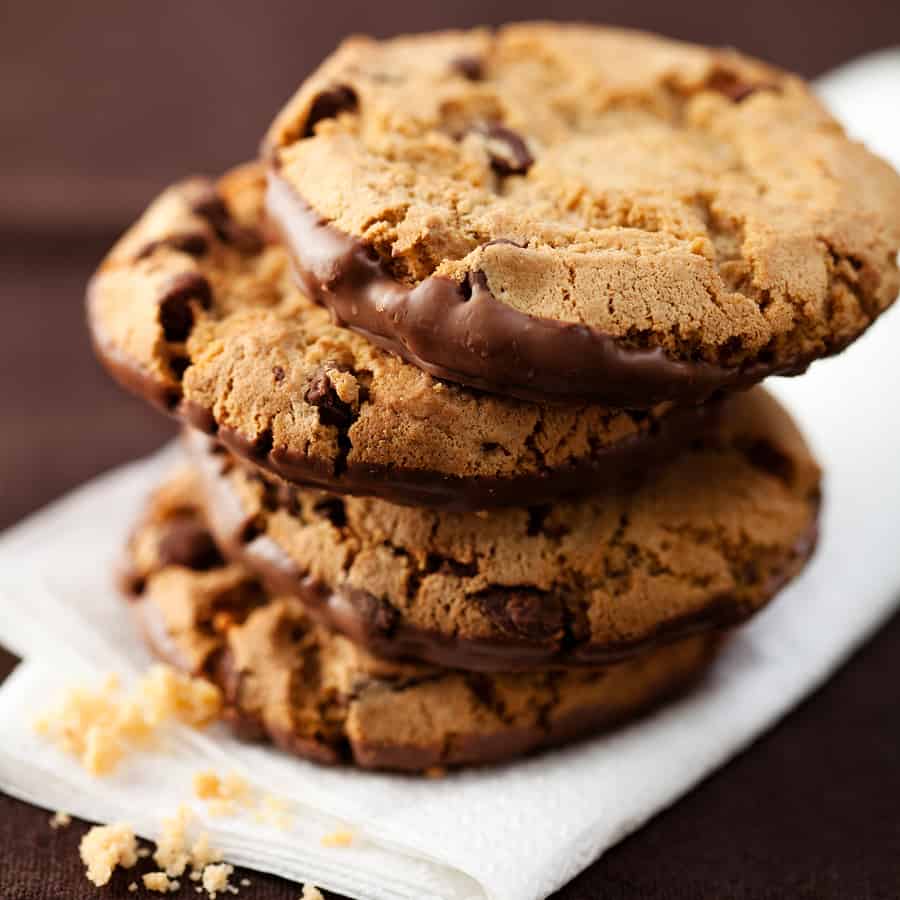 Family and friends will gobble up chocolate chip and dip applesauce cookies.
In this recipe, I substitute chocolate bits and chunks that I've chopped myself for standard chips—I just like the surprise of finding those just-a-bit-bigger bits and chunks along the way. Also in this recipe let solid shortening and applesauce take the place of butter to give the cookies an added mouthwatering softness. You don't have to dip these chocolate chips in chocolate once baked, but why wouldn't you?
The chocolate chip is a quintessential American cookie (first baked by Ruth Graves Winfield of Whitman, Massachusetts in 1939), but I think it eats well any place in the world.
Chocolate Chip and Dip Applesauce Cookies
Yield 24 cookies
Ingredients
1 cup plus 2 tablespoons unbleached all-purpose flour
½ teaspoon baking soda
pinch of salt
a big pinch of cinnamon and a pinch of nutmeg (optional)
¼ cup solid vegetable shortening (butter flavored shortening is good)
6 tablespoons light brown sugar
1 large egg
½ teaspoon vanilla extract
⅓ cup applesauce
1 bar (3 ounces) Tobler bittersweet chocolate, chop the chocolate yourself (or ⅓ cup semisweet chocolate chips)
¼ cup or a bit less coarsely chopped walnuts or pecans (optional)
For Dip: 1½ cups of grated or chopped semisweet chocolate
Instructions
Preheat the oven to 375°F and grease well 2 or 3 cookie sheets.
Sift the flour, baking soda, and salt into a small bowl (Add the cinnamon and nutmeg if you are using them and blend them in thoroughly.) Set aside.
Whip the shortening until light and fluffy. Sprinkle in gradually the sugar, beating continuously. Beat in the egg and vanilla.
Alternate blending in the dry ingredients and applesauce (do this by hand or with the mixer at low). Do not overbeat. Stir in the chopped chocolate bits and chunks (or chips) and chopped nuts.
Drop rounded teaspoons of batter and mix 3 inches apart onto the greased cookie sheets and bake for 10 to 12 minutes.
Allow cookies to set for 3 minutes then transfer to a cooking rack.
Notes
Serve warm or add a chocolate coating to the bottom of each cookie after the cookies have cooled.
Chocolate Dip1½ cups of grated or chopped semisweet chocolate should suffice to coat or glaze the bottoms of the cookies. Melt the chocolate in a heavy pan over low heat—add a dollop of butter to keep the chocolate from scorching. You can also melt the chocolate in the top of a double boiler over hot water or in a microwave on high power at 30 second intervals. Be sure to stir the melting chocolate so it does not stick or scorch. Place the melted chocolate in a small work bowl then skim the bottom of each cookie across the chocolate to coat then set each cookie upside down until the chocolate coating sets.
Courses Bakery