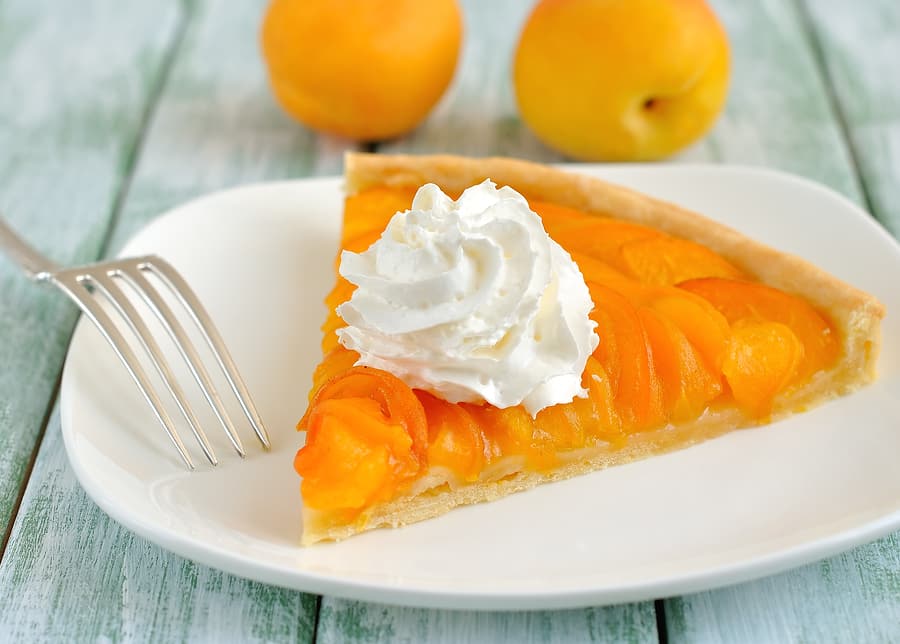 Apricots reach their full potential cooked. Compare the flavor of a raw apricot to one that has been heated up a bit in the oven—you will be convinced.
The most flavorful of all apricot varieties is the Blenheim. The Blenheim—also called the Royal and the Royal Blenheim—is a petite fruit often with lightly green shoulders. While the Blenheim is not as richly colored or meaty as other apricots, its flavor is sublime.
Fresh Apricot Tart Recipe
Yield 12 servings
This recipe puts the Blenheim into a tart, an open-faced pie with a rich, sweet crust.
Ingredients
¼ cup almond paste
2 tablespoons sugar firmly packed (or use light brown sugar), plus more for sprinkling
¼ cup sour cream
9-inch single-crust pie pastry, store bought, or Simple All-Purpose Pie Crust
15 or so apricots depending upon size (preferably Blenheim), peeled or unpeeled, halved, pitted, and thinly sliced
About 1 tablespoon whole milk
Instructions
Preheat oven to 375°.
Blend almond paste, sugar, and sour cream in a food processor, pulse once or twice.
Roll out pie crust to an 11 to 12-inch circle and drape it over a 9½-inch tart pan. Cut off excess dough by rubbing your thumb across the edge of the pan. Prick the bottom of the dough lightly with a fork. If you don't have a pan you can lay the crust on a baking sheet. Place the dough in the freezer for 10 minutes to chill before baking.
Evenly spread almond mixture over dough (leave a 2-inch border if you are working on a baking sheet). Arrange the sliced apricots evenly over the dough in a circular pattern in a single, slightly overlapping layer. You can fold the dough edge over apricots if you are working on a baking sheet—this will make a galette instead of a tart. Brush crust with milk and lightly sprinkle additional sugar on top.
Bake until crust is golden, about 35 minutes.
Courses Bakery