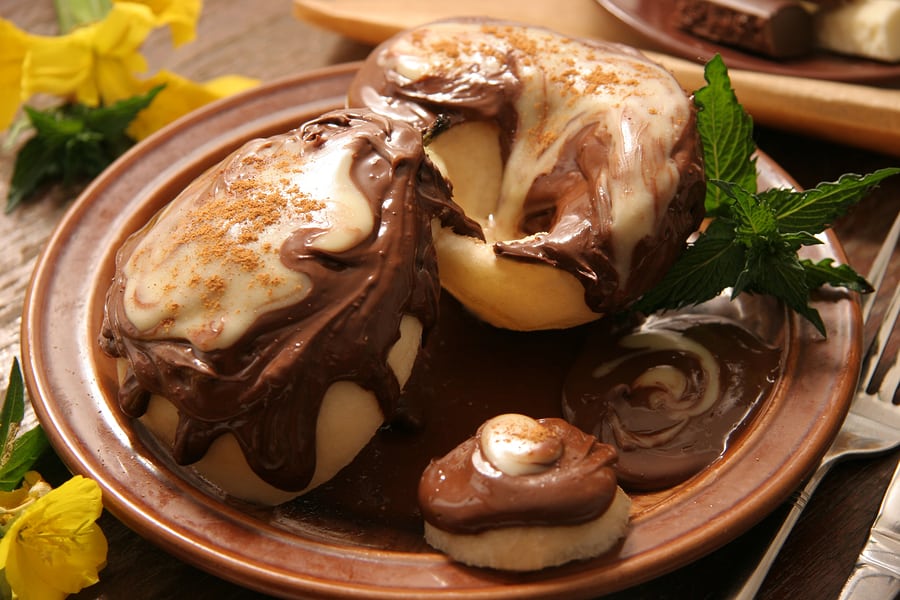 Poached pears and chocolate can be either a hot or cold dessert. For poaching, I like either the early-season Bartlett pear—a medium-large fruit with white, sweet, and tender flesh, or the late-season Bosc—a large, long-necked fruit with white, tender-juicy and sweet flesh.
I poach the pears whole then serve them halved with spoonfuls of dark or white chocolate sauce—or both–along with almond cookies dolloped with chocolate.
Serve poached pears and chocolate sauce warm, or let cool to room temperature, or refrigerate to serve later, chilled.
The classy alternative to halving the pears is to slightly pare the flower ends flat, set each whole pear upright in an individual serving dish then spoon the sauce over the stem ends to drape each pear in flavor.
Also of interest:
Poached Pears in Chocolate Sauce
Ingredients
6 firm Bartlett or Bosc pears, not-quite-ripe, peeled and stems intact
Grated zest and juice of ½ lemon
6 cups water (an adult alternative is 3 cups fruity white wine and 1½ cups water)
1½ cups granulated sugar
1 three-inch piece of vanilla bean, split in half lengthwise
1 three-inch cinnamon stick, broken into pieces
Chocolate sauce
12 ounces semisweet chocolate
2 ounces unsweetened chocolate
¼ cup heavy cream
And if you like: 3 tablespoons cognac or Grand Marnier
In top double boiler, melt the chocolate over hot water. Stir in heavy cream gradually, stirring constantly (then add the cognac or Grand Marnier, if using).
Instructions
Prepare the sauce, let sit at room temperature or chill until serving.
Peel the pears leaving the stems intact then set them immediately into a large bowl of cold water and add the lemon juice; this will keep the flesh from turning brown.
In a large casserole or nonreactive pot or saucepan which will just hold the pears in place, combine the water (or water and wine), sugar, vanilla bean, and cinnamon stick. Stir over medium heat until the sugar is dissolved, then add the pears. Place a piece of parchment atop the pears and a plate on top to keep the pears submerged. Bring the liquid to a boil, then reduce the heat to a slow simmer until the pears are tender to the center when tested with the tip of a sharp knife, anywhere from 20 to 45 minutes depending on ripeness. If the pears are of unequal ripeness you may need to test them several times.
When all the pears are done, transfer them to a bowl and pour the poaching liquid over them and allow them to cool to room temperature (again weigh the pears down with a plate so they are submerged in the poaching liquid). If serving later, refrigerate them.
Just before serving halve and remove the core of each pear and place one or more halves on individual serving dishes. Spoon some of the sauce over each pear and serve chilled but not cold or return the sauce to the heat to serve warmed.
Notes
Alternative Poached Pear Toppings:White chocolate or white chocolate paired with dark chocolate, caramel, vanilla ice cream, crème fraîche, custard, maple syrup, sliced strawberries, chopped almonds, walnuts, hazelnuts, or chestnuts—you can pair or combine several of these.