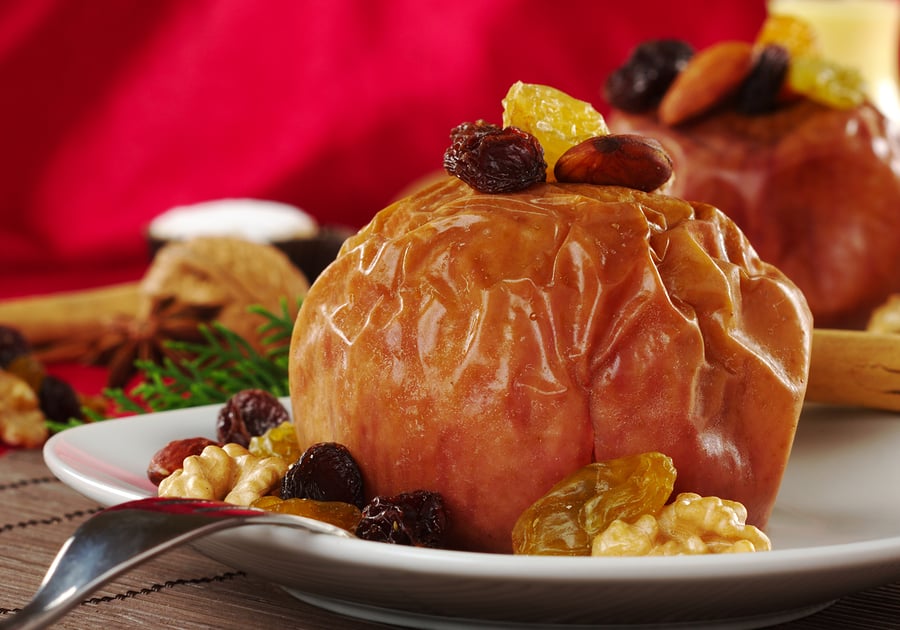 The baked stuffed apple is a delicious, traditional, and easy-to-make winter and holiday treat. I bake these apples on the oven shelf right under the baking ham.
Choose any one or two of these great baking apples for this tasty dessert: Honeycrisp is sweet, Braeburn is sweet-spicy, Jonagold and Rome Beauty are sweet-tart, and Granny Smith is tart and tangy.
As for stuffing the apples, there are so many tasty matches: almonds, raisins, walnuts, pecans, dates, and cranberries—you can pretty much mix and match any of these for the flavors you most love.
Baked Fruit and Nut Stuffed Apples
Yield 4-6 stuffed apples
Ingredients
6 medium or 4 large cooking apples
½ cup light brown sugar
6 tablespoons butter, softened
Grated zest and juice of ½ orange
¼ teaspoon ground cinnamon
2 tablespoons crushed almond-paste cookies or other dessert cookies
½ cup walnuts or pecans or almonds—or a mix, chopped
½ cup raisins or dates or cranberries—or a mix, or mixed glacé fruit, chopped
Instructions
Preheat oven to 350°F. Wash and dry the apples. Remove the apple cores with corer then enlarge each core cavity to twice its size by using the corer to shave away more flesh. Score each apple around the equator using a sharp knife. Stand the apples in a casserole or baking dish.
Mix well the brown sugar, butter, orange zest and juice, cinnamon and cookie crumbs then stir in the chopped nuts and fruit. Divide and fill the apples to overflowing with the nut and fruit stuffing. Place a pat of butter and small piece of foil over the filling in each apple. Bake for 45-60 minutes, until each apple is fork tender.
Notes
You can serve stuffed apples warm or cold.
Tasty Stuffed Apple Ad-Ons:
Bring 1 cup of apple cider to a boil and pour around the apples just before baking.
To glaze the apples, try this syrup: heat together ⅓ cup sugar, ½ cup water, a dash of salt, and a few strips of lemon peel; boil down the syrup fairly thick, let it cool, then spoon over the apples to glaze them. Spoon the syrup over the apples occasionally as they bake.
Serve dribbled with caramel or maple syrup.
Serve with cream, crème fraîche, chilled custard sauce, or vanilla ice cream (my favorite).
If you want them wine-flavored, pour 2 tablespoons port or sherry or Armagnac into each apple in its own serving dish.
Courses Dessert