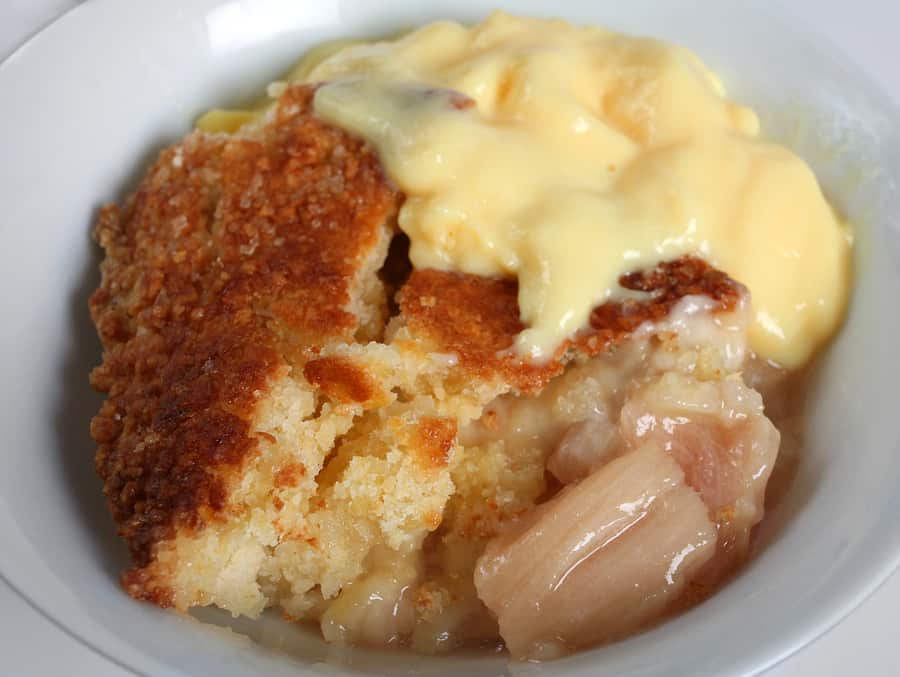 Rhubarb is among the first crops of the year–along with asparagus and radishes. Use rhubarb that is firm like celery, not limp. You may want to "string" the rhubarb stalks before cutting them. Just hold the end of a stalk between your thumb and a paring knife and pull the strings down the length of the stalk. Plain-stewed rhubarb is strong flavored. That's why this recipe begins by stewing the stalks with sugar.
Rhubarb Crumble
Yield 6 servings
This is a classic rhubarb crumble.
Ingredients
1½ pounds rhubarb stalks, leaves trimmed and discarded, stalks cut crosswise into 1-inch thick pieces (about 4 cups)
¼ cup water
1 teaspoon lemon juice (or orange juice)
Granulated sugar
1¼ cups all-purpose flower
½ cup unsalted butter or margarine
Half-and-half or vanilla ice cream or cold custard
Instructions
Preheat oven to 425°F. In 4-quart saucepan over medium heat, heat rhubarb, water, lemon juice and ½ cup sugar and bring to a boil.  Reduce heat to low; put a lid on the top and simmer until rhubarb has softened, about 10 minutes. Spoon the mixture into an ovenproof 8 inch by 8 inch baking dish or individual dishes and spread evenly across the bottom.
To make crumble topping, in medium bowl with fork, stir flour and ¼ cup sugar. Use your fingers to lightly rub flour-sugar mix and butter together until the mixture resembles fine bread crumbs (or you can use a pastry blender or 2 knives used scissor-fashion to cut butter into flour-sugar mixture).
Sprinkle crumble topping over rhubarb. Bake in oven 25 minutes or until crumbs are golden and a toothpick inserted in the center comes out almost clean.
Notes
Serve warm with half-and-half or vanilla ice cream or cold custard.
Courses Dessert