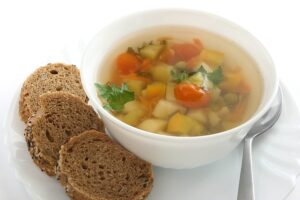 Yellow potatoes like 'Yukon Gold' and 'Yellow Finn' are ideal for boiling and using in salads and gratins or adding raw to stews. They are moist with a dense flesh and low in starch which means they will hold their shape cooked.
You can boil yellow potatoes whole and unpeeled or cut and unpeeled or peeled and cut. Place them in a saucepan and cover with cold water. Add a pinch or two of salt and bring to a boil, then simmer, uncovered, for 15-20 minutes until tender. Drain boiled potatoes as soon as they are cooked just tender so they don't become soggy and unappetizing.
Here's an easy and tasty Boiled Yellow Potato Side Dish with blue cheese and fresh parsley (or you can substitute fresh chopped chives): Boil the potatoes until they are just tender, drain and cool or refrigerate. When ready to serve, cut the potatoes into halves or quarters and mix with mayonnaise, adding fresh crumbled blue cheese and fresh chopped parsley or chives to taste and salt and pepper to taste.
Here is a Spring Potato-Scallion Soup you can also make with yellow potatoes:
Ingredients
2 potatoes
2 scallions or small onions
2-3 tablespoons butter
2 medium-sized carrots
4 cups water
½ cup kale, beet or turnip greens, or other fresh greens in season
¼ cup thin egg noodles
½ teaspoon salt
½ teaspoon basil (if available)
1 teaspoon chopped parsley
Directions
1. Cut potatoes into small cubes and thinly slice scallions or onions. Butter-steam both until golden brown.
2. Slice or grate carrots. Bring water to a boil, add all ingredients and simmer until potatoes are tender.
Serves 4