New potatoes make for sweet, moist eating. You can serve them steamed, sautéed, boiled, baked, roasted, or grilled. They can be served tossed in butter or olive oil or as a dip with butter or sour cream or horseradish or served as a side dish with chicken, lamb, steaks or burgers, or grilled fish.
New potatoes are potatoes harvested before they reach maturity—some are as small as a thumbnail; they are never larger than a ping-pong ball, never larger than three inches in diameter. They are firm and moist and their skins are paper thin—they don't require peeling before cooking and serving (but you can). Like corn and peas when harvested young, they are low in starch and full of natural sugars. (Starches don't begin to form until after harvest.)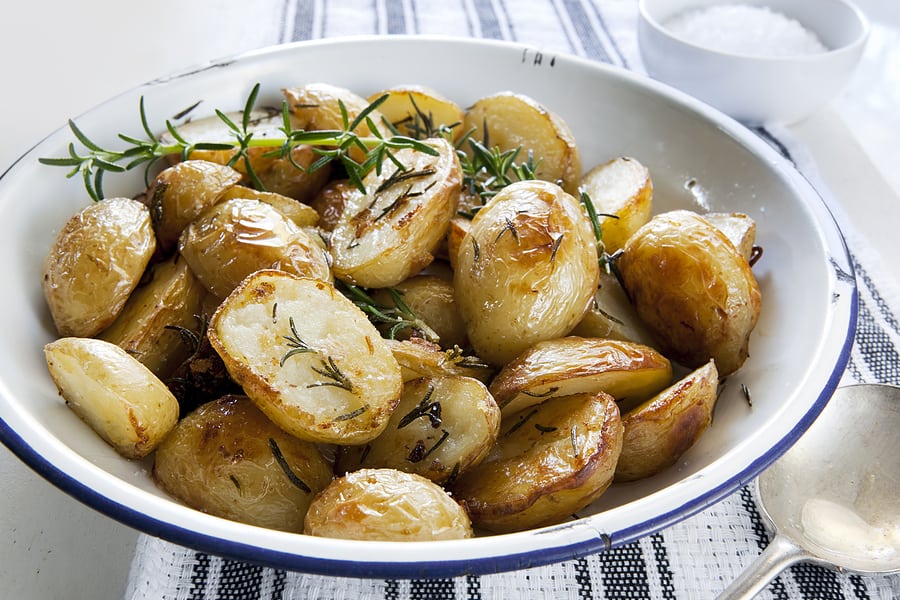 Any waxy potato round red, yellow, or white potato makes an ideal new potato: Yukon Gold is buttery sweet, Rose Gold is creamy delicious, Yellow Finn is buttery and sweet, Rose Finn Fingerling and Banana Fingerling both have fine flavor (fingerlings potatoes are shaped like thin fingers), Reddale is bright red and tasty as well, and Cranberry Red is red-skinned with a smooth textured red flesh.
Harvest: New potatoes are dug up in the spring—the year's first potato harvest, and stay through most of the summer. In warm winter climates, new potatoes can be harvested as early as late winter.
New potatoes are ready for harvest and eating soon as the potato plant begins to bloom. (Mature, full-grown potatoes are harvested when the potato plant begins to dry and die in late summer and autumn.) Because new potatoes are young, thin-skinned, and high in moisture, they should be cooked and eaten within two days of harvest.
Kitchen Helpers from Amazon:
Cooking new potatoes
New potatoes are easily cooked: steamed, sautéed, boiled, baked, roasted, and grilled.
Ratio: Eight to sixteen small new potatoes (depending upon the size of each) equal a pound or a pound and a half and will serve three people.
Steam new potatoes
Steam new potatoes in a steamer basket or an adjustable vegetable steamer set in a deep pan with just enough water to come almost to the bottom of the steamer—about a cup of water for 12 potatoes.
First, give the potatoes a good soak and a light scrub to remove any soil. There is no need to peel them, but you can use a paring knife to remove a little belly band of skin from around the center of each one to prevent bursting.
Arrange the whole potatoes in a single layer in the steamer. Bring the water to a boil then reduce the heat to a simmer, cover, and steam until tender when pierced with a knife or fork, about 15 to 35 minutes.
Drain the saucepan of water and return the pan and potatoes over low heat for 10 to 15 minutes to remove any remaining moisture; give them a little shake occasionally to keep them from sticking.
Steamed potatoes are tasty served warm tossed in just enough butter or cream to coat them lightly, or let them cool, then slice, and toss in vinaigrette (not mayonnaise), and serve with a sprinkling of fresh herbs (try chopped flat-leaf parsley or dill). Add a pinch of coarse salt and freshly ground black pepper to taste.
Baby carrots and sugar snap peas make can be matched with new potatoes for steaming. Steam the potatoes first, then the carrots—tops trimmed, and then the snap beans—ends trimmed. Steam each until just tender-crisp. Transfer each vegetable to an ice bath to stop cooking, then drain and dry on paper towels before combining in a serving dish and lightly tossing to just coat each vegetable in a vinaigrette or dressing.
Sauté new potatoes
New potatoes are easily sautéed. Soak or rinse and lightly scrub the potatoes clean. Dash the potatoes with salt or paprika and chopped chives or parsley. Add two or three tablespoons of olive oil, vegetable oil, or clarified butter to a large sauté pan, add the wet potatoes so they all touch the bottom of the pan, shake them lightly so they are coated with the oil or butter, cover, and cook slowly over low to medium heat until just tender—the skins will brown and wrinkle in 15 to 25 minutes–shaking the pan from time to time to prevent sticking.
When the potatoes are just tender when pierced, drain off the hot oil, and return the pan to the heat until their skins have just dried.
Remove the potatoes to a serving bowl and sprinkle with coarse salt or toss to coat with salt and olive oil. Serve sautéed new potatoes with horseradish sauce or a dash of lemon juice or shallots and garlic or green beans or summer greens dressed with a creamy vinaigrette.
Vegetable sautés: New potatoes can be added to any vegetable sauté. The key to a good vegetable sauté is gauging the cooking times of the vegetables you plan to use; always start with vegetables that require the longest cooking time. Baby onions are a good sauté match for new potatoes; they are aromatic and flavorful. To onions and new potatoes, choose one or two additional vegetables in season to add to the mix: artichoke bottoms or baby artichokes, mushrooms, eggplant, leeks, green or red peppers, small tomatoes, chayote, edible-podded peas or sugar snap peas, salsify, broccoli flowerets, kohlrabi, Brussels sprouts, or tiny radishes.
New potatoes and onions will be sautéed tender in 20 to 25 minutes (always test for tenderness). Tender green vegetables—spinach, fine-cut green beans, shelled green peas, asparagus tips—will cook tender in just 4 to 5 minutes.
Once cooked, stir in additional butter to taste, add salt and pepper and any herb you desire, and toss thoroughly.
Boil new potatoes
New potatoes can be boiled. Rinse and lightly scrub the potatoes and peel a narrow band of skin away around the center to prevent splitting. Place the potatoes in a medium saucepan and just cover them with salted water. Bring the water to a boil, cover, then lower the heat and simmer until the potatoes are tender when poked with a fork, about 20 to 30 minutes. Make sure the potatoes do not stick.
Drain the potatoes dry in a colander. Place them in a serving bowl, add some butter or olive oil, and a handful of chopped herbs like parsley and marjoram and chives or green onions, and shake it all around.
Equal parts of new potatoes and French beans can be boiled together in salted water; add the beans 5 minutes after the potatoes. Fresh green peas are a good match to boiled new potatoes. Boil the green peas—half again as many as the potatoes–separately in water or chicken broth and then toss them with the potatoes in sweet butter and season with fresh herbs and salt to taste. Braised white or red baby onions are another great match.
Boiled new potatoes can be served immediately or covered with a clean damp towel and hold for an hour or two before serving.
To liven up the dish, use a mix of new potatoes: red and white, round red and fingerling, or round white.
Mustard dressing: Try this mustard dressing with boiled potatoes: in a small bowl—whisk 1 teaspoon Dijon mustard, ½ tablespoon fresh lemon juice, 1 tablespoon white wine, and salt until the salt dissolves, then whisk in a few drops of olive oil– 4 tablespoons in all; add a few drops then a slow steady stream until it begins to emulsify and thicken. Fold in the potatoes and accompanying vegetables allowing the dressing to disperse fully; taste for seasoning, and let marinate for up to 2 hours at room temperature.
Serve boiled new potatoes with grilled chicken or sautéed or grilled salmon steak. Add an herb-infused vinaigrette over garden greens. Garnish the potatoes with chopped parsley, mint, or chives.
Quick-bake new potatoes
New potatoes can be quickly baked in 20 to 30 minutes. Preheat the oven to 425°F while bringing a large pot of lightly salted water to boil over high heat. Make a thin slit around the center of each potato with a sharp knife (to prevent bursting), add the potatoes to the boiling water, and par-boil them until barely tender, about 10 minutes. Drain and dry the potatoes then place them in a single layer in a baking pan. Drizzle olive oil evenly over the potatoes so they are just coated. Place them in the oven and bake until golden brown, about 20 to 30 minutes. Serve baked potatoes with butter and salt and pepper to taste or with a small side bowl of sour cream (regular or low-fat) and chopped chives or crisp, crumbled bacon with salt and pepper to taste.
Roast new potatoes
Roast new potatoes whole or halved. First, scrub and pat them dry then slice in half or quarter or leave whole. Coat the potatoes lightly with butter or olive oil or pan drippings from roasted meats then sprinkle them with chopped fresh herbs (thyme, rosemary, marjoram, oregano, or sage) and salt and freshly ground pepper to taste.
Place the potatoes in a shallow baking or roasting dish or pan alone or with chicken, beef, or other meat and cook in a preheated 375°F to 400°F oven until well browned and tender. Taste the potatoes to be sure they are tender. If they are not quite done in 40 to 60 minutes or so raise the heat to 425°F and roast until crisp and brown on the outside and fork-tender on the inside. Turn them often—every 15 minutes or so—so that they cook evenly crisp and brown. Serve roasted new potatoes hot. Leftovers can go into a potato salad.
Grill new potatoes
New potatoes can be grilled whole or cut in half lengthwise. Coat the potatoes with olive oil and sprinkle them with salt, freshly ground pepper, and chopped herbs—dill is a good choice. Arrange the potatoes on one-half of three or four layered sheets of heavy-duty foil, either whole or cut side down. Fold over the foil and crimp the edges. Place the packet on the grill over direct medium heat 350° to 450°F (place your hand 6 inches over the heat—you'll be able to count to 5 or 6). Cook until the potato skins or cut sides are just brown and are tender when pierced with a fork—about 20 minutes (be sure to rotate the packet halfway through the cooking).
Season new potatoes
Garnish or season new potatoes with a sprinkle of minced herbs or a seasoning that suits your taste—taste until you find the flavor combination you like: basil, caraway seed (toasted), cardamom, cayenne, cheese (try Cheddar, Monterey Jack, Parmesan, Swiss, feta or blue), chives, cilantro, dill, fennel, garlic, mint, mustard, nutmeg, olive oil, onion, oregano, parsley, rosemary, tarragon, thyme, or vinegar.
Serve new potatoes
Serve new potatoes hot, warm, or cold in their skins with sweet butter or coarse salt and pepper and a glass of milk or some white wine and fruit. You can substitute a few tablespoons of butter with very good olive oil or just before serving toss new potatoes with minced zest and the juice of one lemon.
Also of interest:
How to Plant, Grow, and Harvest Potatoes
Garden Planning Books at Amazon: