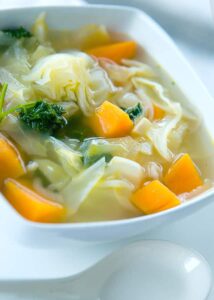 Cabbage soup is earthy with a subtle sweetness. With a few aromatic vegetables or some meat or lentils added, it makes an inexpensive yet flavorful and filling one-dish meal. Common green cabbage from the spring, fall, or winter garden is ideal for cabbage soup.
Ratio. The ratio of liquid to solids can vary from 1:1 to 1½:1 for cabbage soup. For example 1:1, use 10 cups of water, vegetable stock, or beef stock and 10 cups of sliced green cabbage (equal to 1 large head of cabbage) to make 8 to 10 servings. A small head of cabbage weighs about 1 pound and equals about 5 cups sliced; a medium-sized head of cabbage equals about 8 cups sliced.
Aromatic vegetables for flavor. Enhance the flavor of cabbage soup by adding aromatic vegetables during cooking. Aromatic vegetables include carrots, celery, onions, leeks, and garlic. When cooked these vegetables infuse their flavor in the soup. Add aromatic vegetables proportionately to your soup; for example, if you are cooking 1 medium-size head of cabbage, use 1 medium-size carrot, 1 stalk of celery, 1 medium bulb onion, 1 leek (the white part sliced), 2 cloves of garlic minced; you can use all of these or a combination of these.
Meat for flavor. Beef or pork can be added to cabbage soup for hearty flavor. If you are cooking a large cabbage, add 1 pound of beef—beef shin bones or smoked shoulder are good choices—or 1 pound of meaty salt pork.
Here are the steps to make cabbage soup:
Step 1: Prepare the cabbage. Core and coarsely shred the cabbage.
Step 2: Prepare aromatic vegetables. Sauté the aromatic vegetables in advance of cooking the soup. Place olive oil or butter in a large, deep, heavy-bottomed saucepan and turn heat to medium low. Add chopped onions, chopped carrots, chopped celery, and thin sliced leeks (just the white part) to the pot and sauté until the vegetables are tender, translucent, and fragrant—about 5 to 10 minutes.
Just as the vegetables sauté tender and become fragrant, add additional flavorings: choose from chopped or minced garlic cloves, chopped scallions, coarsely chopped fresh rosemary and sage, chopped fresh chili peppers, or red pepper flakes. Choose the seasonings according to your taste and cook them on until they too become fragrant, about 2 or 3 minutes more.
If you like, you can also raise the heat to medium at this point and add ½ to ¾ cup white wine and bring to simmer.
Fresh vegetable and herb flavorings will vary with the season.
Step 3 (Optional): Prepare meat or beans or lentils. For a hearty cabbage soup, add meat or beans, or lentils to the soup.
Meat: Lightly brown bacon, smoked pork shoulder, Italian sausage, or beef stew meat before adding to the cabbage and liquid (Step 4). Cut beef, bacon, or pork into 1 inch pieces or cubes, or slip sausage meat from its casing and crumble into a pot for browning. (For about 10 servings, you will need ½ pound of meat.) Add just enough oil to lightly coat the meat if the fat is not enough for browning. Cook the meat on medium until it is lightly browned and tender, about 10 to 15 minutes. Be careful not to scorch the meat. Use a slotted spoon to transfer the cooked meat to a strainer and shake to remove grease before adding it to the soup liquid.
Beans or lentils: For a vegetarian soup, you can add dry lentils or pre-soaked beans to the soup. (For 10 servings, you will need about 1 pound of dried beans or lentils.) Beans must be pre-soaked until they are just tender; to pre-soak, cover the beans with 2 inches of water in a separate pot; bring the water to a simmer for two minutes; remove the pot from direct heat and cover; let the beans steep for 1 hour before adding them to the soup. (Red kidney or pinto or cannellini or Great Northern beans are good matches to cabbage.) Lentils do not need to be pre-soaked before cooking in soup liquid; you will cook the lentils to just tender in the soup.
Step 4: Adding cabbage, stock, or water. Once the aromatic vegetables, meat, or beans are prepared, you are ready to combine these with the cabbage and stock or water to cook.
Add the washed and sliced cabbage to the liquid—vegetable stock, beef stock, chicken stock, or water–raw and uncooked. Make sure all of the solids that go into the soup pot are covered with liquid by an inch or two throughout cooking. Bring the liquid to a boil then reduce the heat and simmer the contents—the pot partially covered with a lid–and stirring occasionally until the cabbage is just tender, about 20 to 30 minutes or perhaps a bit longer depending upon the volume. Ideally, the cabbage will nearly melt into the soup.
Adding tomatoes or potatoes or sweet potatoes (optional). Additionally when you add the cabbage to the liquid you can also add tomatoes or potatoes or sweet potatoes to the soup depending upon the season. Cut fresh Italian tomatoes (Roma or San Marzano are good choices) into chunks and add them to the mix or add stewed tomatoes and juice.
Cubed and peeled waxy potatoes—such as red potatoes–or sweet potatoes also can be added at this time. You will need 2 medium-size potatoes or one sweet potato to match with 1 medium-size head of cabbage; be sure to use a waxy potato that will keep its shape after cooking. Add these to cook along with the cabbage so that they become just tender at the end of cooking.
Another tasty addition to cabbage and potatoes is sauerkraut.
Additions to cabbage soup can be fresh from the garden or farm market; use what sounds tasty for the occasion.
Seasoning. Taste and correct the seasoning as you cook. Add salt and a fresh grind of pepper to taste, or you may want to add allspice or raisins or brown sugar or maple syrup or a combination of these to sweeten the flavor. A dash of vinegar and its hint of acidity also will focus the flavors.
Thin if necessary. Add additional stock or water to the pot in last 20 minutes if you want a thinner soup
Step 5: Serve: Serve cabbage soup hot or cover and refrigerate it for up to two days then reheat before serving. You can garnish cabbage soup with chopped scallions or a sprig or minced parsley. Add a dash of lemon juice or extra virgin olive oil for flavor and aroma.
Serve cabbage soup with toasted crusty garlic bread or with slices of black bread and a bowl of sweet butter. If you like, place a slice of the bread in the bottom of a wide, shallow soup dish and ladle in the soup and serve.