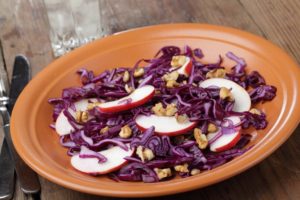 Red cabbage is particularly well matched to apples, red wine, and vinegar. The red cabbage leaf lacks the delicate flavor of the savoy cabbage. Rather it has a hearty, full flavor that stands up well to equally full-flavored foods.
The red cabbage is ready for harvest when its head is firm and unyielding. It is equally ready for harvest at grapefruit size as at full size.
If you are not going to use the cabbage right away, wrap the head in plastic and put it in the refrigerator. It will keep for 2 to 3 weeks if need be. When you are ready to serve, wash and trim away the tough outer leaves and trim the stem even with the bottom of the head. Cut the head in half or quarters, lay the flat section down on a cutting board, and slice into quarter-inch thin strips.
A medium head of cabbage will give you 7 or 8 cups of shredded cabbage.
Now, try this savory-sweet red cabbage and apple side dish.
Red Cabbage and Apples
Serve this cabbage and apple dish with roast duck or pork loin.
Ingredients
1 large red cabbage, shredded
2 tablespoons butter
1 medium onion, chopped
2 tart cooking apples, cored, diced
1 tablespoon vinegar
1 tablespoon brown sugar
¼ teaspoon freshly ground pepper
¼ teaspoon ground nutmeg
¾ cup red wine
¾ cup water
Directions
In a 3-quart saucepan, bring salted water to a boil.
Add cabbage to boiling water and cook over medium heat until tender-crisp (about 10 minutes). Drain well.
Melt butter in a large skillet over medium heat. Add onion. Cook and stir until glazed, 2 to 3 minutes.
Add cooked cabbage, apples, vinegar, sugar, pepper, nutmeg, wine and water. Cover and reduce heat.
Simmer 30 minutes or until tender. Serve.
Makes 6 to 8 servings.