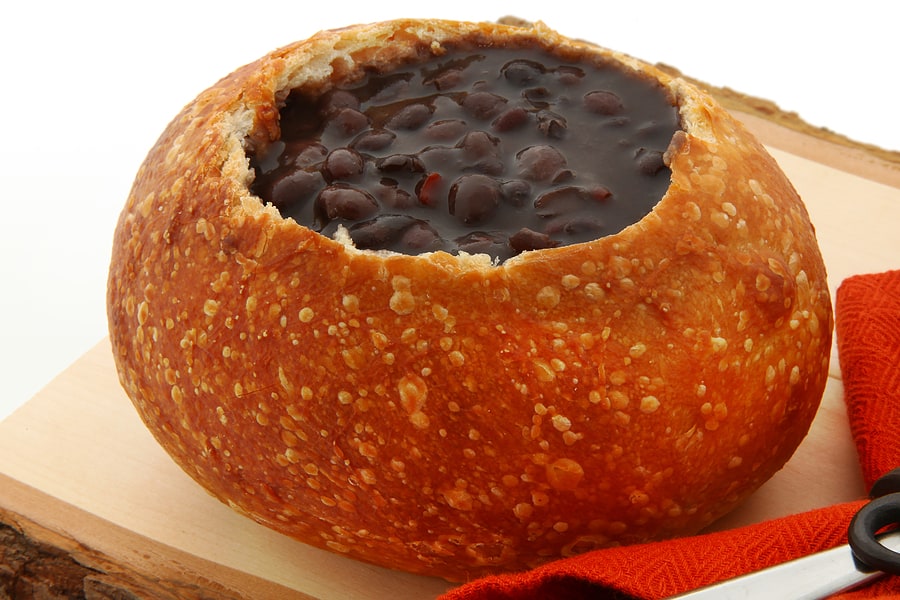 The black bean – Phaseolus vulgaris – is kidney shaped and just short of blocky looking with a cream-colored flesh, and, of course, a matt to shiny black skin.
Why is the black bean found in so many cuisines? Two reasons: it holds its shape when cooked, and its floury texture absorbs the flavors of other foods making it an easy match and complement to so many other dishes: vegetables, beef, pork, chicken, and fish.
The flavor of the black bean has been described as both sweet and earthy, like a mushroom; you decide. The turtle bean's distinctive color definitely adds drama to soups, salads, and casseroles.
Besides black bean and turtle bean, you may find this bean called Mexican black bean, Spanish black bean, and turtle soup bean.
You will never be at a loss for a black bean soup recipe. There are many, and they are all variations on a theme. Some recipes include fresh tomatoes or celery: ideal for summer when those add-in vegetables are in season. In the winter, substitute a root vegetable.
Black Bean Soup
Here's a black bean soup recipe that includes celeriac. Serve this soup with a mixed green salad, marinated vegetables, or an omelet. You can garnish this soup with thin lemon slices or a sliced boiled egg, or both.
Ingredients
1 tablespoon canola oil
1 onion, chopped
1 cup sliced and chopped celeriac (celery root)
4 garlic cloves, minced
2 cups dried black beans, sorted, washed, and soaked overnight (6-8 hours)
6 cups vegetable stock or water
Salt or sea salt to taste
Juice of 1 large lemon
3 to 4 tablespoons dry sherry, to taste
Fresh ground pepper to taste
Instructions
Heat the oil over medium heat in a heavy-bottomed soup pot and add the onion, celeriac, and half of the garlic. Cook and stir until tender (about 5 minutes).
Drain the soaked beans and add them to the pot with the vegetable stock or water and bring to a boil.
Reduce the heat, cover, and simmer for 1 hour.
Add the remaining garlic and add salt to taste and simmer another hour, until the beans are just tender.
Remove half the beans from the pot and purée them in a blender with enough soup liquid to cover.
Return the purée to the pot and reheat and stir until the soup begins to thicken.
Stir in lemon juice and sherry and add ground pepper, salt, and garlic to taste.
Courses Soup