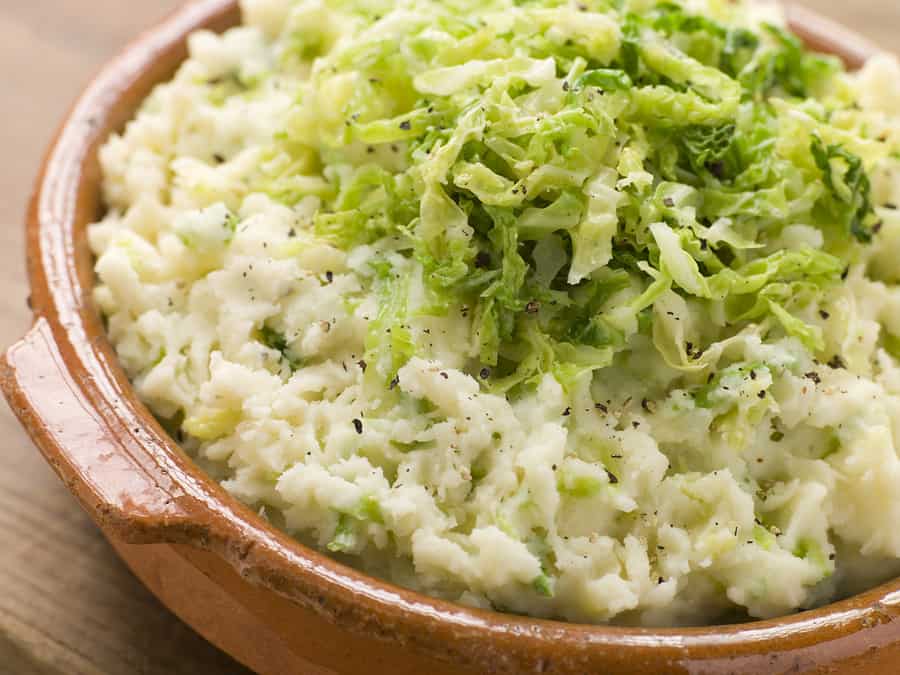 Cabbage colcannon is a traditional Irish dish of mashed potatoes with milk, butter, and cooked finely chopped onions and cabbage. Easily you can substitute leeks for the onions and kale for the cabbage.
Colcannon is a warming and hearty dish commonly served alongside corned beef, boiled pork, or bacon.
The Irish often serve colcannon on Halloween, if you do, you can substitute out a third of the cabbage with shredded carrots.
Be careful not to overcook the cabbage; it leaves the kitchen smelling like rotten eggs. Kale is a great substitute for cabbage in this recipe; it's loaded with calcium, iron, and vitamins A, C, and K. Use Tuscan, also called dinosaur kale—the variety called Lacianto.
Cabbage Colcannon
Yield 4-6 servings
Ingredients
1½ – 2 pounds Yukon Gold potatoes, unpeeled, cut into large, evenly sliced chunks (you can use russet potatoes but peel them before cutting into pieces)
½ head green cabbage, remove tough ribs and coarse or medium-fine chop leaves (you can use Tuscan kale if you like)
2 medium leeks (white part and 1 inch of green), trimmed and sliced, or 1 large onion, halved and thinly sliced
⅓ – ½ cup whole milk or cream, warmed
5 tablespoons unsalted butter, divided, plus more for serving
¾ teaspoon fine sea
Freshly ground black pepper to taste
Instructions
Melt 2 tablespoons butter over medium heat in a large skillet. Add the cabbage (or kale) and leeks and sauté until very tender and sweet, about 30 minutes, stirring frequently. (If you prefer, you can steam the cabbage: pour ½ inch water into a saucepan, set a steamer basket in the bottom, bring water to a boil, add the cabbage, reduce the heat, and simmer covered, turning the cabbage occasionally with tongs until tender, about 20 minutes.)
Put potatoes in a small or medium saucepan, cover with about 1 inch cold salted water, and bring to a boil over high heat. Reduce the heat and simmer, covered, until potatoes are fork tender, 15 to 25 minutes.
Drain potatoes well, return them to pan, and add milk, and remaining 3 tablespoons butter, and salt. Mash with a potato masher, keeping potatoes slightly chunky (if you want them creamy potatoes press the potatoes through a ricer or whip them with a standing mixer until they are light textured). Fold half to two-thirds of the cabbage into the  potatoes and stir to combine. Stir in a little more milk if mixture seems too thick. Dress the remainder of the cabbage atop the mashed potatoes. Add additional salt and pepper to taste. Transfer to serving dish and serve hot.
Notes
Serve colcannon with more butter if you like. This dish is ideal served with corned beef.
Courses Side Dish