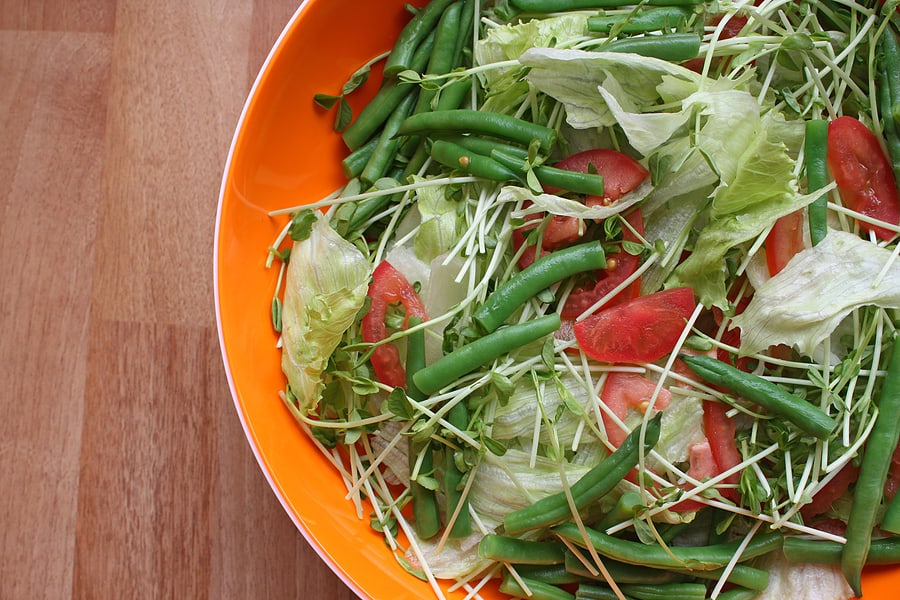 Every vegetable in this salad should be available fresh and local from mid to late summer. This salad would be tasty alongside fresh trout, striped bass or salmon or tuna or swordfish (choose the body of water closest to where you live). The tarragon in this light dressing is a perfect match for both the fresh summer vegetables and any fish or seafood.
Summer Garden Salad with Tarragon Dressing
Ingredients
¼ pound yellow wax beans or green beans, cut into 1-inch pieces (1 cup)
3 tablespoons olive oil or salad oil
3 tablespoons white wine vinegar
1 tablespoon snipped fresh tarragon or ½ teaspoon dried tarragon crushed
1 tablespoon water
1 tablespoon Dijon-style mustard
1 clove garlic, minced
4 cups mixed greens torn
1 cup fresh alfalfa sprouts
1 medium tomato cut into wedges
Instructions
Cook the beans covered in a small amount of boiling salted water for 20 to 25 minutes or until tender. Drain. Cover and chill for at least 1 hour.
Combine olive oil or salad oil, white wine vinegar, tarragon, water, mustard, and garlic in a screw top container. Cover and shake well.
In a large salad bowl combine mixed greens, tomato wedges, cooked beans, and alfalfa sprouts.
Shake dressing well; pour about half of the dressing over the salad. Toss lightly to coat. Cover and store the remaining dressing in the refrigerator for up to 2 weeks.
Courses Salad