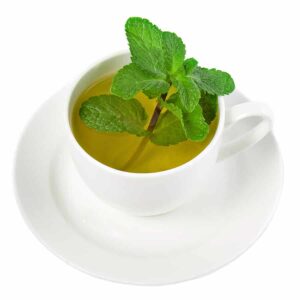 Tisane is a tea like drink made by steeping a single herb or a mixture of several herbs in boiling water. Flowers and spices can be added.
Tisane is the French term for a restorative herbal tea.
Popular tisanes include chamomile, scented geranium, linden, jasmine, lemon verbena, hibiscus, and rose hip.
The peppermint you use for seasoning can be stirred into boiling water and served as an herb tea or tisane.
Try this peppermint tisane, or use another mint whose flavor you like.
Ingredients
Makes 6 cups
6 cups boiling water
1/3 cup peppermint leaves, dried and crushed
Honey (optional)
Milk (optional)
Lemon wedges (optional)
Directions
1. Bring 6 cups of water to a rolling boil in a pot or teakettle. Heat a ceramic or glass teapot by filling with hot tap water and letting sit for 2 or 3 minutes. (This will keep the tea pot from cooling too quickly.)
2. Empty teapot of the tap water. Place peppermint in bottom of teapot. Carefully pour in boiling water. Stir once to combine. Let steep for 4 to 8 minutes. (The length of steeping brings out the full flavor.) Pour tisane (herb tea) through strainer into individual cups. You might want to have an extra pot of hot water on the table in case the tisane needs to be diluted. Serve with honey, milk, or lemon wedges if desired.