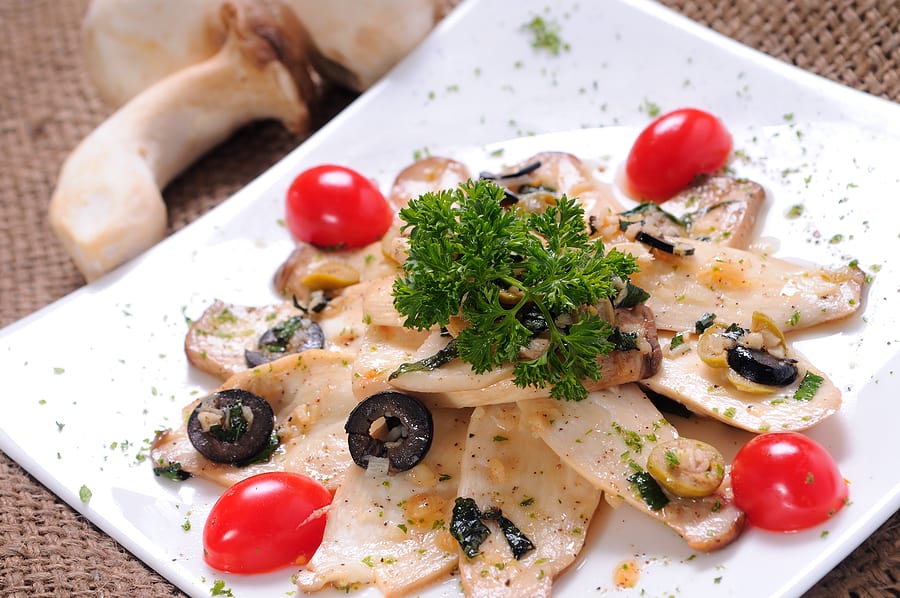 The oyster mushroom gets its name from its cap which, some say, resembles an oyster. The stem of the oyster mushrooms is perhaps more distinct; it unfurls something like one of those old-time paper lady's fans.
The oyster mushroom has been cultivated in Asia for centuries. Today it is very popular in Japanese and Chinese cooking; it is usually stuffed or stir-fried.
The flavor of the oyster mushroom is somewhere between anise and oyster. The flavor mellows with cooking. Young oyster mushrooms, say 1½ inches in diameter or less, are considered the best eating.
Oyster Mushroom Sautéed in Garlic
Here is a delicious preparation for sautéed oyster mushrooms that takes less than 5 minutes including preparation time. You will find this a mild but flavorful meal or side dish. If you can't find oyster mushrooms, choose another medium cap mushroom.
Ingredients
2 cups oyster mushrooms
3 tablespoons butter
4 teaspoons chopped shallots
1 teaspoon finely sliced garlic
5 or 6 sliced black olives
4 teaspoons chopped parsley or parsley garnish
Salt and pepper to taste
2 tablespoons white wine
Instructions
Remove mushroom stems and slice the caps coarsley.
In a skillet, melt butter. Sauté oyster mushrooms for 2 minutes.
Add shallots, olives, garlic, and parsley, then season with salt and pepper. Cook 1 minute longer stirring. Add white wine, heat for 30 seconds and serve.
Courses Side Dish