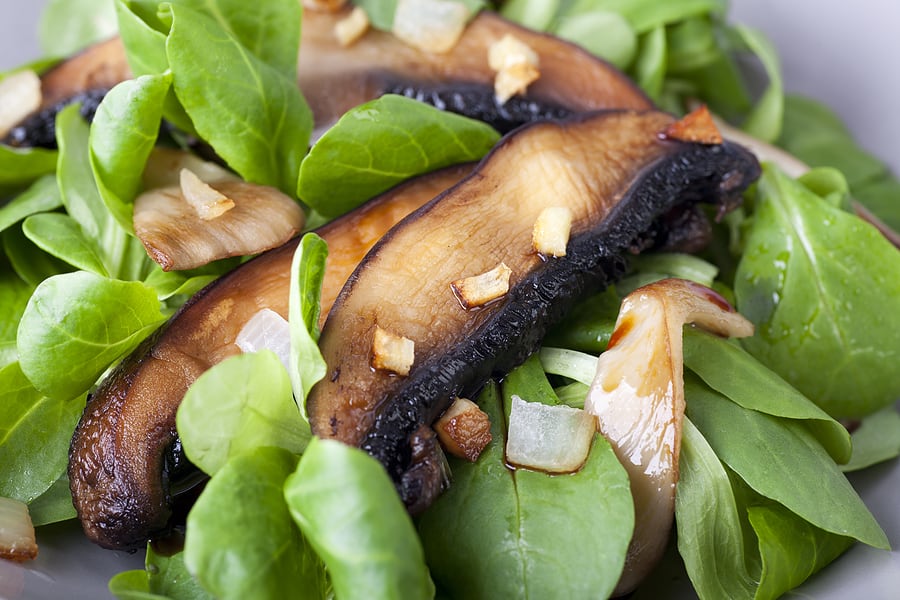 Autumn into early winter is a great time to find fresh savory salad greens.
Arugula is still in the market now and mustard, mizuna, and cress are easily found from late autumn to early spring.
Cultivated mushrooms, such as the portobello, are easy to find year round, but their peak natural season is fall and winter.
So here is a very seasonal portobello and savory green salad. This salad matches grilled portobellos with winter greens, your favorite vinaigrette dressing and a light sprinkling of goat cheese.
This is a great recipe to keep in reserve should you find yourself a bit long on grilled portobellos one day.
Grilled Portobello Salad
Yield 6 servings
Ingredients
12 portobello mushroom caps
½ cup olive oil
½ teaspoon salt
Savory greens, such as arugula, mustard, cress, mizuna
Aged goat cheese, such as Crottin
Instructions
Wash mushroom caps and drain well.
Pour oil into a baking pan and heat it in a very hot preheated oven (450ºF).
Add mushrooms and stir to coat them thoroughly with oil. Sprinkle with salt.
Return the pan to the oven and cook 10 minutes or until the mushrooms are done.
Remove mushrooms from the oven and slice them ¼ inch thick and pour vinaigrette over them. Toss gently and set aside for an hour. (Or store in the refrigerator for up to 2 days.)
Serve the mushrooms on the greens, drizzle a bit more vinaigrette and top with sliced or crumbled cheese.
Courses Salad