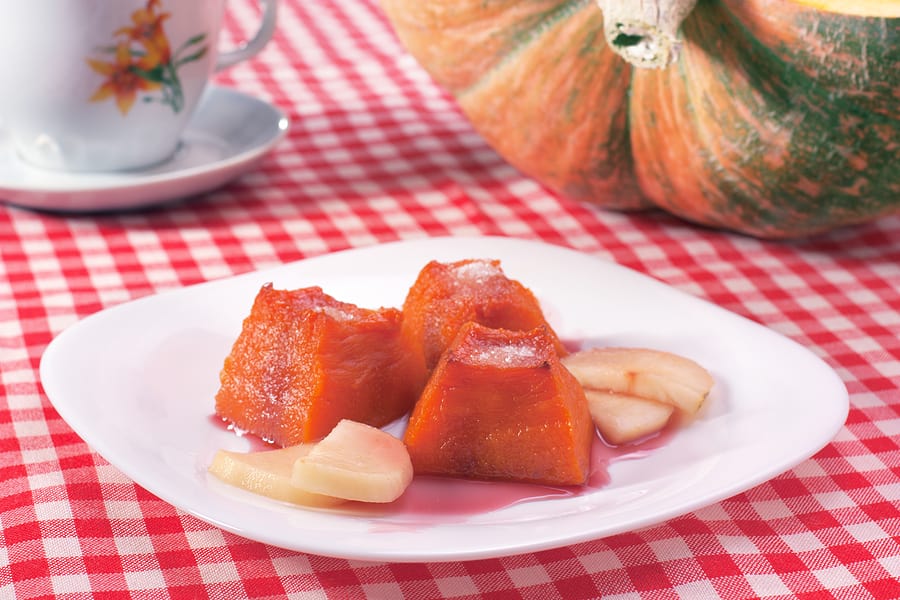 Calabaza en Jarabe is pumpkin in syrup. This is a tasty old-fashioned Mexican dessert that you can serve for Halloween.
Piloncillo is the traditional cone shape of unrefined sugar commonly used in Mexican cooking. Piloncillo (which means little pylon) is made when sugar cane is crushed, the juice is collected and boiled then poured into pylon-shaped molds.
Piloncillo is hard. It requires grating, chiseling or pounding, but the flavor is intense.
Try this calabaza en jarabe, pumpkin in piloncillo syrup, with apple slices or cream or both.
Piloncillo and Pumpkin
Yield 6-8 servings
Ingredients
1 two-pound pumpkin
1 pound piloncillo (or ½ pound each light and dark brown sugar)
1 orange
1 cinnamon stick
1 bay leaf
1 cup water
Pinch salt
Instructions
Cut pumpkin into wedges. Remove seeds and strings. Cut wedges into 1½ to 2-inch pieces; peel.
Place piloncillo inside a double plastic bag and pound—you might need a hammer–to break up (or substitute the light and dark brown sugar).
Cut off ends of orange, then cut into thin slices.
In a 3-quart saucepan, layer peeled pumpkin pieces, broken up piloncillo or brown sugars and orange slices. Add cinnamon stick, bay leaf, water and salt. Bring to a boil; reduce heat. Cover and simmer gently 2 hours. Boil gently uncovered 30 to 40 minutes longer to reduce syrup. Do not stir.
Courses Dessert