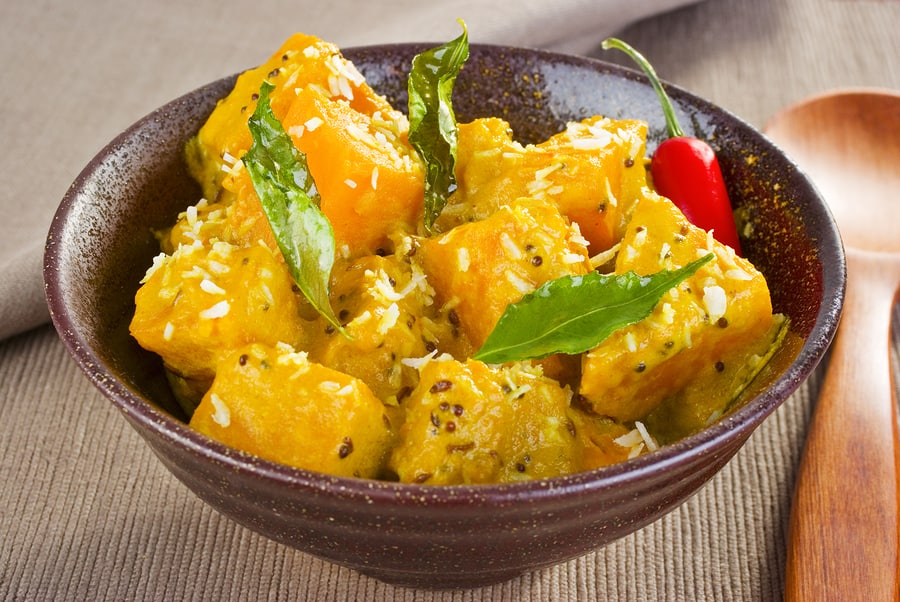 Pumpkin with curry combines the sweetness of the winter squash with the savory-spiced flavor of curry. It is a warming match appropriate for the crisp days when pumpkins and other winter squashes come to harvest.
Pumpkin and other yellow-fleshed winter squashes such a kabocha or butternut squash are best cooked until they are just tender but not mushy. Baking and braising (or sautéed until lightly browned) are the best ways to cook pumpkin and other winter squashes.
Curry is a word from Southern India which means sauce and in English has come to denote a savory and spiced sauce. There are many Indian dishes made with curry (usually curry powder). Traditional South Indian curry does not have a fixed set of ingredients, but the typical mixture incudes curry leaf, coriander, cumin and mustard seeds, red and black pepper, fenugreek, turmeric and sometimes cinnamon, cloves, or cardamom—these are roasted and ground to powder.
Pumpkin with Coconut Curry
Yield 4 servings
Ingredients
1 pumpkin or other orange-fleshed squash (about 3 pounds), peeled and cut into 1½ inch chunks
1 teaspoon kosher salt, divided, plus more to taste
3 tablespoons vegetable oil, divided
1 small onion chopped
1 or 2 red or green serrano chiles, minced
1 cinnamon stock (2½ inches long)
20 fresh curry leaves (or you can substitute 6 bay leaves)
1 teaspoon each cumin seeds and mustard seeds
1 can (14.5 ounces) coconut milk
Optional: 1 cup salted roasted cashews
1 tablespoon fresh lemon juice
Steamed basmati rice (this is the long-grained rice traditionally used in India and Pakistan; you can use texmati or kasmati rice)
Half cup chopped coconut
Instructions
Split the pumpkin in half with a large knife or cleaver and cut into wedges. Scoop out the seeds and strings and discard. Use a paring knife to peel the pumpkin; it's ok to remove a fair amount of flesh with the skin. Cut the pumpkin into 1½ inch chunks and sprinkle with ½ teaspoon of salt.
Heat 1 tablespoon oil in a large nonstick frying pan over medium-high heat. Divide the pumpkin chunks in half. Lightly brown (braising or sautéing) half the pumpkin in oil, turning, about 6 to 8 minutes; reduce heat if pumpkin flesh turns dark brown. Transfer to a bowl and repeat with another 1 tablespoon oil and remaining pumpkin.
Meanwhile, in a second large frying pan over medium heat, heat remaining 1 tablespoon oil. Add onion and cook, stirring occasionally, until just golden, 12 to 15 minutes. Transfer to the nonstick frying pan.
Add chiles, cinnamon, and curry leaves to onion in pan. Cook, stirring often, until curry leaves are very fragrant, about 2 minutes. Add cumin seeds, mustard seeds, and remaining ½ teaspoon salt and cook, stirring, until spices are fragrant about 1 minute.
Return pumpkin to nonstick frying pan with onion and spices and add coconut milk. Bring to a boil over high heat, then cover, reduce heat, and simmer until pumpkin is tender. Stir in cashews if you like and lemon juice, and add salt to taste.
Spoon or ladle pumpkin and curry over rice and sprinkle with chopped coconut.
Courses Side Dish