Radicchio is a sharp-tasting cool-weather salad green that can be simply dressed with vinaigrette. It also can add a spicy note to mixed green salads dominated by milder salad greens.
Radicchio is a type of leaf chicory that resembles a small redhead of lettuce or cabbage. Radicchios can range in size from a large radish to a large grapefruit. The leaves range in color from bronzy green to wine red or magenta and are veined in white. Some varieties start out green-leafed but turn deep reddish colored when the temperature drop.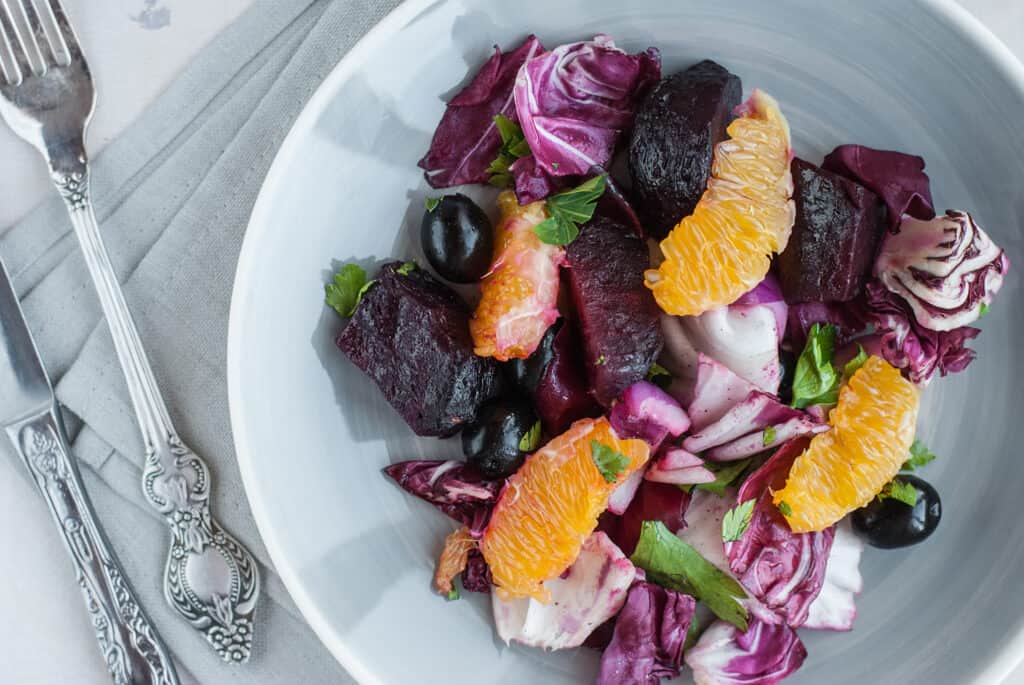 The peak season for radicchio is midwinter to early spring, but in cool summer regions, it can be grown year-round. The slightly bitter taste of radicchio sweetens with cooler day temperatures.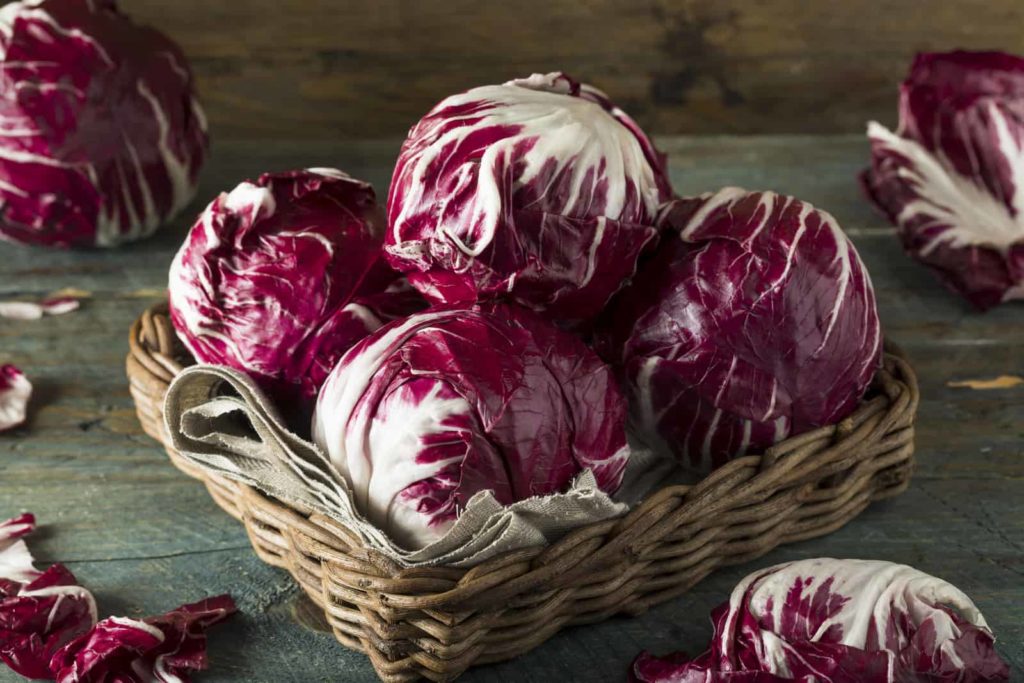 How to choose radicchio
Select firm heads that are crisp, fresh, and full-colored.
Avoid heads with brown or wilted leaves or heads with damaged bases.
Kitchen Helpers from Amazon:
How to store radicchio
Radicchio will keep wrapped in a paper towel in a plastic bag in the refrigerator crisper for 2 to 3 days. Store radicchio unwashed.
If wilted soak leaves in a bowl of cold water to revive.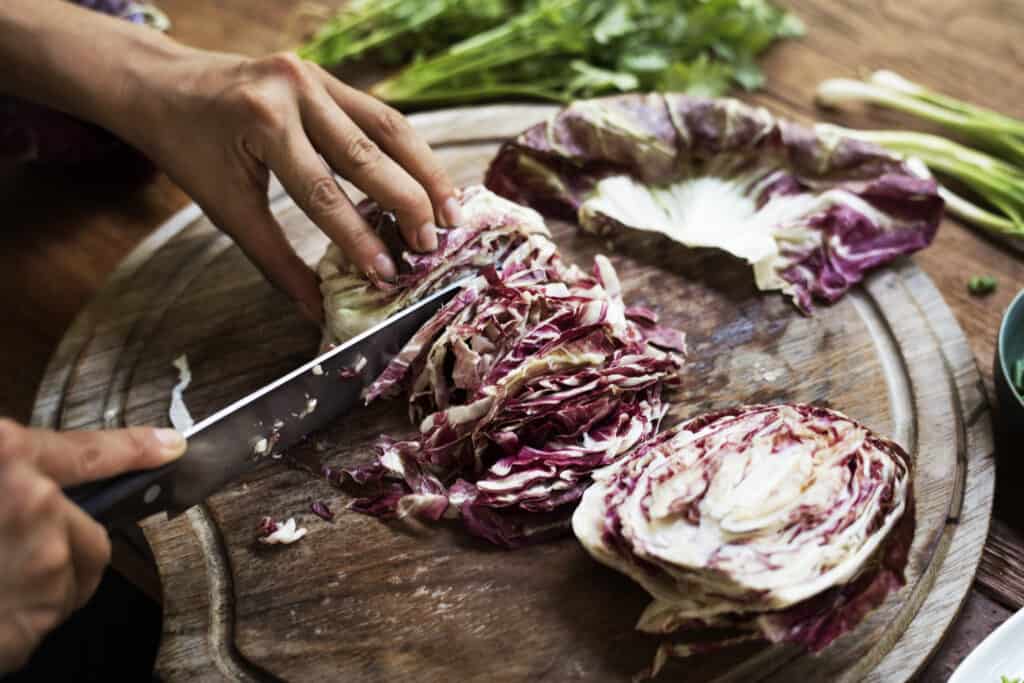 How to prep radicchio
Prepare radicchio as you would lettuce: cut out the core in a cone.
Halve, quarter, or shred the leaves for cooking.
Radicchio serving suggestions
Eat radicchio raw or cooked.
You can use radicchio in place of chicory and escarole in most recipes.
Temper radicchio's bitter flavor by mixing it with other salad greens. Dress radicchio with vinaigrette.
Use radicchio as a shell to hold chicken, tuna, or seafood salad. You can also use radicchio "cups" to contain crudités, olives, cheese, potato salad, rice salad, and fruit salad.
Cut the radicchio into wedges and toss with olive oil, top with cheese, and broil until the red leaves turn reddish-brown.
Add radicchio to cooked soups, rice, legumes, pasta, omelets, and tofu.
Grill radicchio leaves or grill a whole head on a spit.
Radicchio cooking suggestions
Radicchio can be sautéed or baked.
Cooked radicchio will add color and its distinctive flavor to soups, rice, legumes, pasta, omelets, and tofu.
Grill radicchio–coat the head or leaves with olive oil and grill until crisp-tender to accompany meats.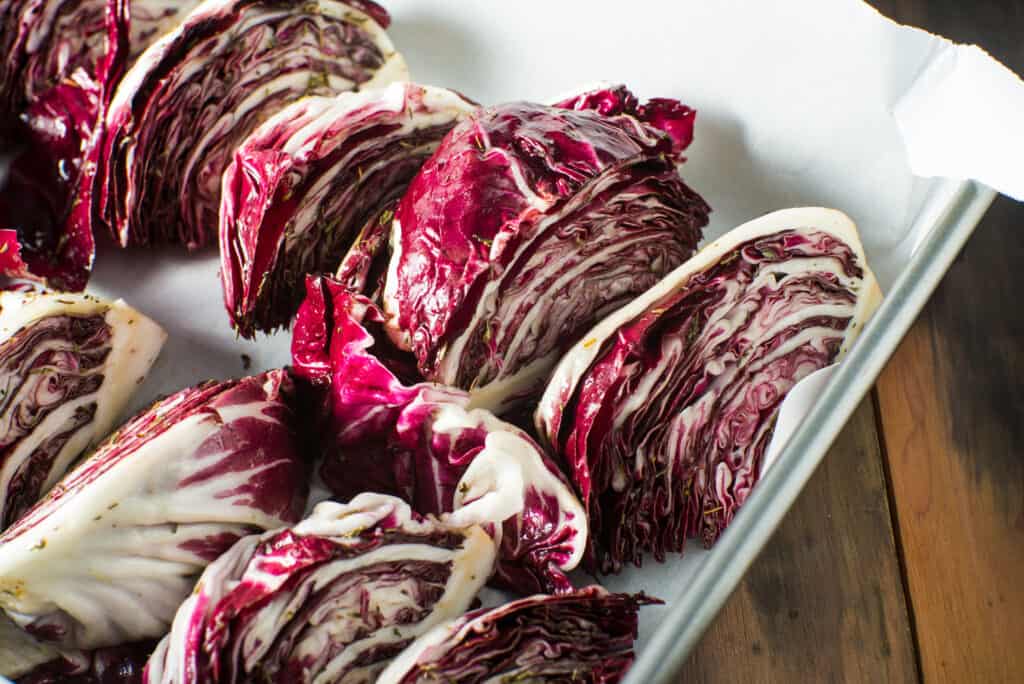 How to roast or bake radicchio
Preheat oven to 425 degrees F.
Cut radicchio head into halves or wedges.
Place on a large-rimmed baking sheet, toss with oil and season with salt and pepper.
Bake until radicchio is golden and tender, about 20 to 30 minutes depending on size.
How to sauté radicchio
Wash well.
Coarsely chop the leaves.
Heat a skillet or wok over high heat.
Add a few tablespoons of olive or peanut oil.
Add the radicchio and a bit of minced garlic and cook over high heat stirring constantly until the radicchio wilts, about 3 to 6 minutes depending on the heat.
Season with salt and pepper and add lemon juice or vinegar to taste.
Serve hot.
How to stir-fry radicchio
Shred radicchio leaves.
Heat 2 tablespoons of vegetable oil in a wok.
Add the cabbage and 2 sliced garlic cloves.
Stir-fry until the radicchio starts to wilt then add a quarter cup or slightly more vegetable stock.
Cover and cook for 3 minutes or until just tender.
How to braise radicchio
Shred or coarsely cut a head of radicchio.
Coat a large skillet with unsalted butter or olive oil.
Add the radicchio and stir over medium heat until the radicchio wilts and turns light brown around the edges.
Add salt, pepper lightly, and 1 cup of stock or white wine.
Cover the skillet tightly and simmer until the radicchio is just tender about 15 to 20 minutes.
Radicchio flavor partners
Radicchio has a flavor affinity for butter, fresh shell beans, Italian cheeses, lemon, olive oil, prosciutto, red onions, salami, and vinegar.
Radicchio nutrition
Radicchio contains folic acid, potassium, copper, and vitamin C.
Five notable radicchio varieties
Chioggia (Rosa di Chioggia): the most common radicchio resembles a compact head of cabbage with dark wine-colored leaves and white ribs with a bittersweet to bitter taste.
Verona Red or Rossa di Verona: another favorite radicchio produces a bright, redhead with prominent midribs and veins. Verona resembles elongated butterhead lettuce with tender but firm leaves that are slightly bitter.
Treviso or Rossa di Treviso: green and bitter during hot weather, its second growth produces bright red, cone-shaped head with pure-white central ribbing and leaf veins. This was the first red chicory developed during the sixteenth century.
Early Treviso: resembles small reddish-purple romaine lettuce with a slender and tapered head of reddish-purple leaves and white ribs.
Castelfranco: crinkled lettuce-like leaves, egg-shell colored blotched with wine-red speckles; mild flavor and tender texture; probably a cross between radicchio and escarole.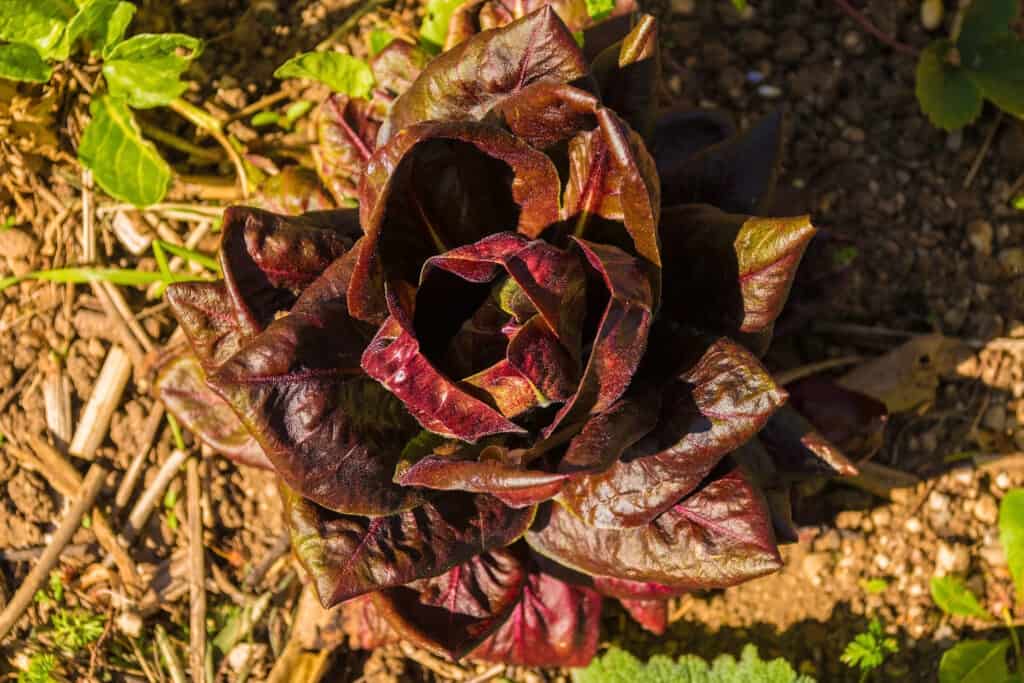 Get to know radicchio
Radicchio is the generic Italian name for chicory. Other common names for radicchio are Italian chicory, heading chicory, rosette chicory, spring chicory, leaf chicory, and Italian dandelion.
Radicchio is native to the Mediterranean region. Its modern cultivation has centered in the Vento region of northern Italy.
The cultivation of radicchio began in earnest in Italy during the sixteenth century. The development of modern cultivars began in the 1860s.
The botanical name for radicchio is Cichorium intybus.
Also of interest:
How to Harvest and Store Radicchio
Articles of interest:
Best Herbs for Container Growing
Garden Planning Books at Amazon:
More kitchen tips:
Bring your harvest to the table. Kitchen prep tips and easy recipes for the vegetables you grow. Click below for vegetable prep and recipes you can use now.