Radicchio–also called red chicory–is a cool-weather crop. Radicchio is grown for its rosette of broad red leaves used in salads; its leaves are similar to the leaves of sugarloaf chicory but with a more biting flavor.
Radicchio is a form of chicory that is a perennial, but radicchio is commonly grown as an annual. Radicchio has loose-leaved heads early in the season; the heads become tighter (and redder) later in the season as the weather cools. Heads can be 3 to 5 inches (7-12 cm) across. Improved cultivars form heads earlier than older varieties.
Related articles:
Here is your complete guide to growing radicchio.
Radicchio quick growing tips
Sow radicchio seed in the garden as early as 2 to 3 weeks before the average date of the last frost in spring.
Grow radicchio in temperatures ranging from 45° to 65°F (7-18°C).
Plant radicchio so that it comes to harvest in cool weather.
Radicchio requires between 60 and 100 cool days to reach harvest depending on the variety you grow; if you grow radicchio in spring make sure there are enough cool days before warm weather comes.
See also: How to Grow Chicory, Belgian Endive, and Radicchio
Where to plant radicchio
Grow radicchio in full sun; it will tolerate partial shade.
Plant radicchio in soil rich in organic matter; add aged garden compost to planting beds before growing.
Radicchio prefers a soil pH of 5.0 to 6.8.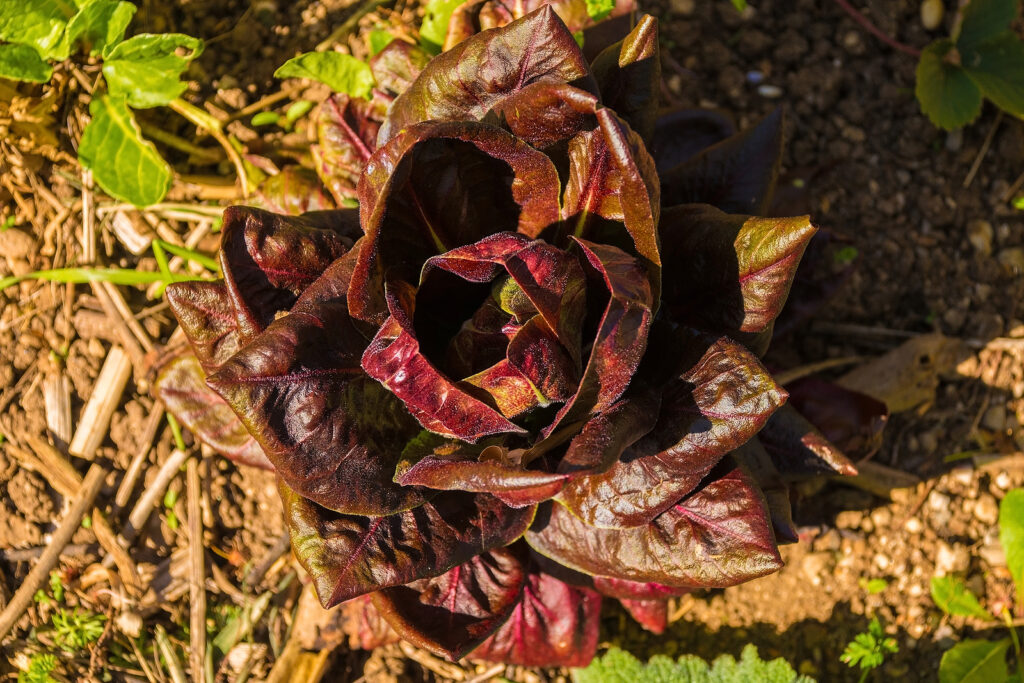 When to plant radicchio
Radicchio is a hardy, cool-season perennial commonly grown as an annual.
Radicchio is best grown best in spring and early summer in cold winter regions and in fall and winter in warm-winter regions.
Sow radicchio seeds in the garden 2 to 3 weeks before the average date of the last frost in spring.
Grow radicchio in temperatures ranging from 45° to 65°F.
Radicchio requires 60 to 100 days to come to harvest depending upon the variety.
More planting tips at Radicchio Seed Starting Tips.
Planting and spacing radicchio
Sow radicchio seed ¼ inch (6mm) deep and 1 to 2 inches (2.5-5 cm) apart.
Thin plants from 8 to 10 inches (20-25 cm) apart when the seedlings are 4 inches tall. You can eat the thinnings.
Space rows 10 to 12 inches (25-30 cm) apart.
Radicchio yield: grow 5 to 6 radicchio plants per household member.
Watering and feeding radicchio
Keep radicchio evenly moist.
Add aged compost to planting beds before planting and again at midseason.
Radicchio companion plants
Grow radicchio with greens such as lettuce. Not peas or beans.
Container growing radicchio
Radicchio can be grown in a container. Choose a pot at least 12 inches (30 cm) wide and deep.
Choose from heading and semi-heading varieties. Radicchio is best planted for fall harvest; sow seeds in the garden 85 days before the first frost in fall; radicchio requires a long, cool season. Place a plastic mulch or plastic sheeting around the radicchio plants–white, black, or clear. Growing radicchio on plastic, not the soil, will increase the heading percentage significantly.
Radicchio pests and diseases
Radicchio can be attacked by aphids, armyworms, flea beetles, leafhoppers, slugs, and snails.
Downy mildew can attack radicchio.
How to harvest radicchio
Radicchio is ready for harvest when leaves are 3 to 5 inches tall when a head has formed or leaves can be harvested loose.
Cut full heads as soon as they are firm. Harvest before a heavy frost.
More tips at How to Harvest and Store Radicchio.
Storing and preserving radicchio
Radicchio will keep in the refrigerator for about 2 to 3 days wrapped in a moist paper towel.
Radicchio varieties to grow
Carmen (75 days); Castle Franco (85 days); Chioggia (80 days); Early Treviso (80 days); Giulio (60-100 days); Milan (90 days); Prima Rossa; Red Treviso (85 days); Red Verona; Rossa di Verona (85 days); Rossana Radicchio (90 days); Rouge de Verone (85 days). Giulio is a good choice for spring. Augusto is a good choice for fall and winter crops.
About radicchio
Common name. Radicchio, Italian chicory, heading chicory, rosette chicory, spring chicory
Botanical name. Cichorium intybus
Origin. Northern Italy
More how to grow articles:
Learn how to plant, grow, and harvest your favorite vegetables. Click below for all you need to know.
Related articles on radicchio:
How to Harvest and Store Radicchio
Radicchio Serving Raw and Cooking
Garden Planning Books at Amazon: