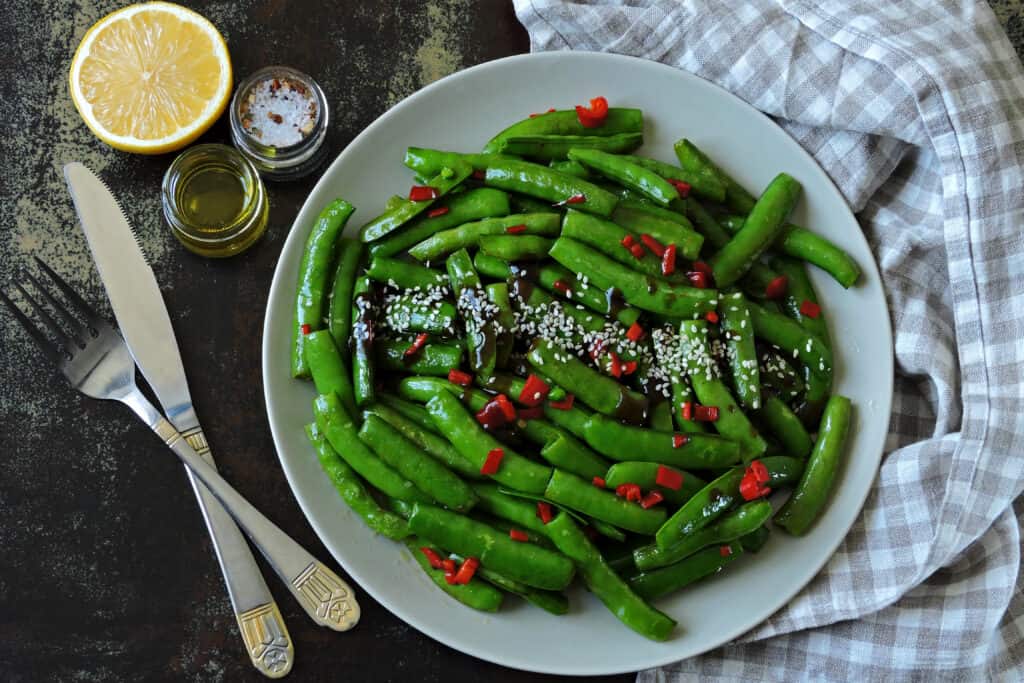 Snap peas are sweet and tender. Sugar snaps are most flavorful cooked briefly, but they also can be eaten raw. Snap peas are also called sugar peas.
How to Choose Snap Peas
Select snap peas that have plump, crisp pods that are medium to dark green.
Pods should be glossy, bulging, and have a distinct snap when broken in two.
Avoid sugar snaps that are limp or damp looking or that are dry along the seam.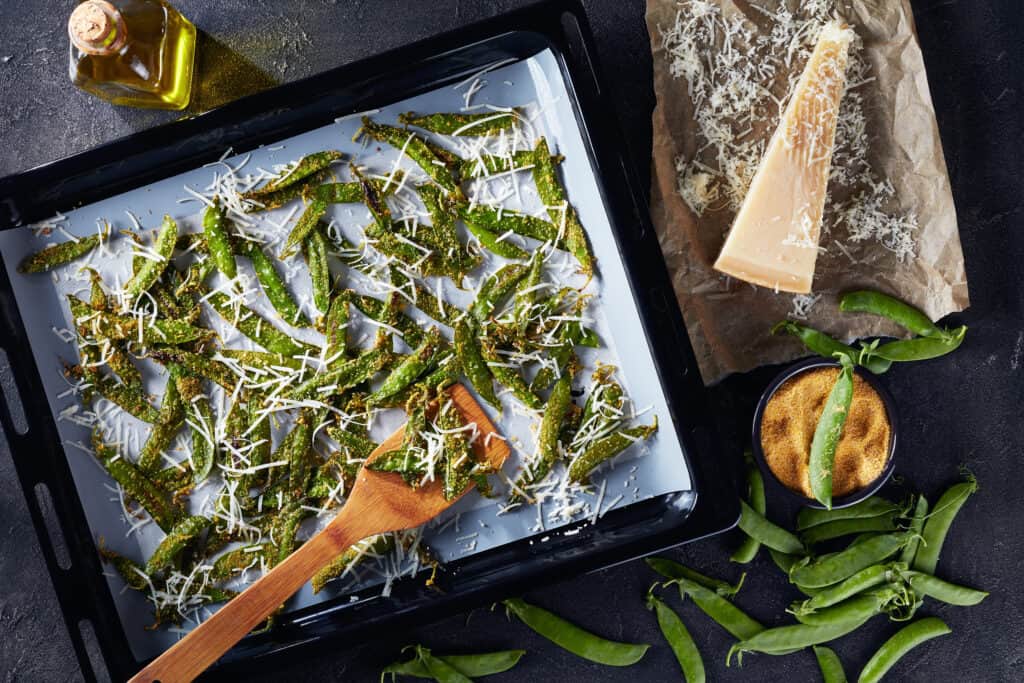 How to Prep Snap Peas
Most snap peas varieties are stringless. To check, snap off the stem end. If there is a string, pull it along the interior or curved side.
If you are going to serve the peas cool, string them after they have cooked and cooled.
Kitchen Helpers from Amazon:
How to Store Snap Peas
Snap peas can be refrigerated in a plastic bag for up to 3 days.
Do not wash peas before you refrigerate them.
The longer you keep sugar snap peas, the less crisp and sweet they will be.
Snap Pea Serving Suggestions
Sugar snaps can be served raw or only briefly cooked in order to retain their crisp, crunchy texture.
Blanch sugar snaps in boiling water for 30 seconds before stir-frying or using in salads.
Quickly boil sugar snap then toss with butter or herbs or herb butter.
Serve sautéed sugar snaps as a side dish for fish, poultry, pork, beef, veal, or in salads.
Stir-dry snap peas with shrimp and serve hot with rice.
Toss snap peas with shrimp, rice, and vinaigrette and serve chilled.
Add snap peas to stews just before serving.
Batter-fry snap peas as tempura.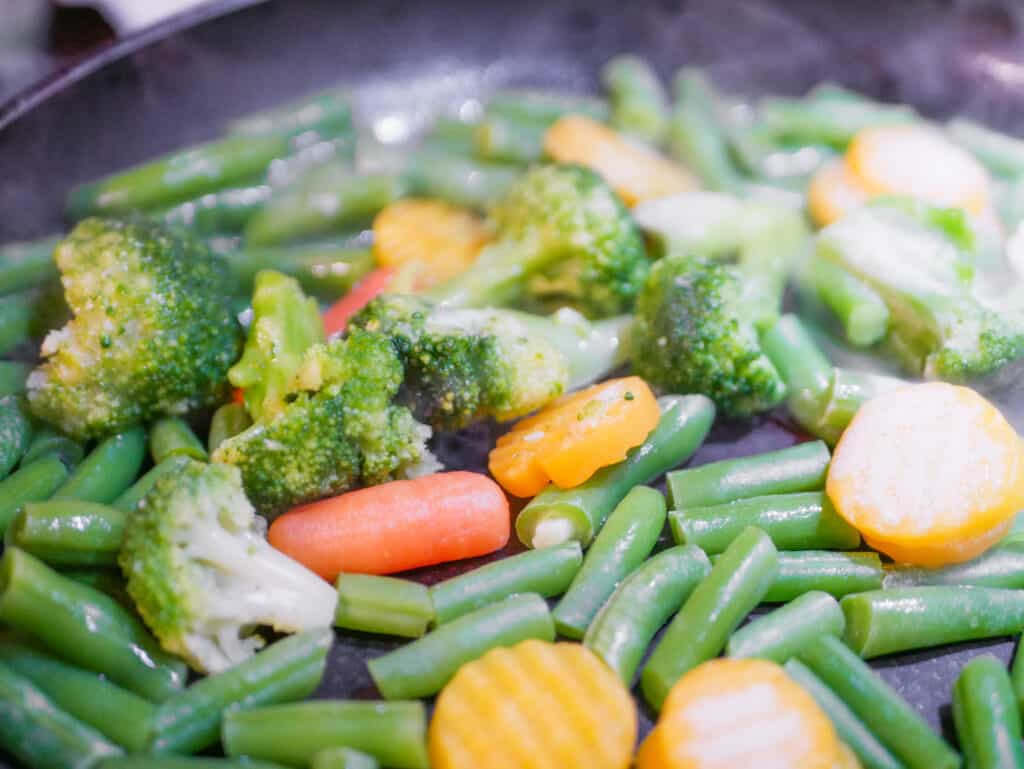 Snap Pea Cooking Tips
Steam snap peas for about 4 minutes.
Simmer snap peas for 2 to 3 minutes.
Boil snap peas for 2 minutes.
Stir-fry for 2 to 3 minutes.
Oven steam sliced sugar snaps in foil or parchment for 6 to 7 minutes, whole 9 minutes.
See also: How to Cook and Serve Garden Peas
Snap Pea Flavor Partners
Serve sugar snap peas with artichokes, chervil, chives, crabmeat, lettuce, mint, salmon, scallions, scallops, shad, shrimp, sorrel, and tarragon.
Snap Pea Nutrition
Peas are a good source of folic acid, potassium, thiamine, and magnesium and contain vitamins C and B.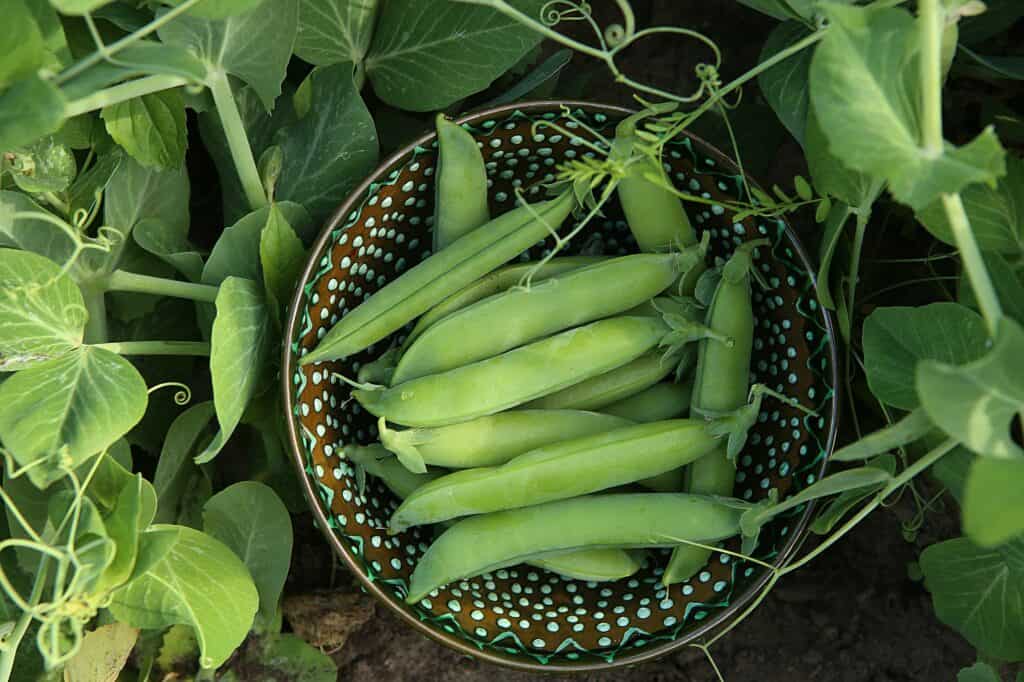 About Snap Peas
The snap pea is a medium to dark green pea and is best harvested when the pod is 2½ to 3 inches (6.4-7.5 cm) long.
The snap pea is a cool-weather vegetable. It is most flavorful when planted and harvested either in the spring or the fall.
The snap pea is a cross between a garden or English pea and the snow pea. It resembles the English pea, but its pod is smaller and curved.
Snap peas are wholly edible like snow peas, but the flavor is sweeter.
Snap peas, unlike snow peas, have the best flavor when the peas have formed inside the pod.
The snap pea is a relatively new pea. Although sugar peas have been around since the seventeenth century, the sugar snap—many varieties are stringless!–was perfected in the late 1970s.
The botanical name of sugar snap peas is Pisum sativum var. macrocarpon.
Also of interest:
How to Cook and Serve Snow Peas
How to Plant, Grow, and Harvest Peas
Garden Planning Books at Amazon: