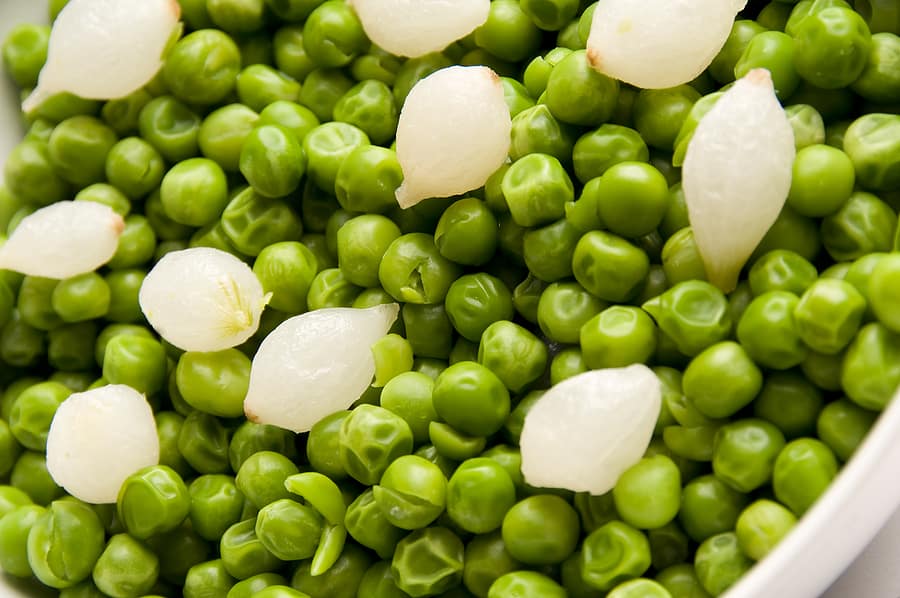 Just cooked English peas, sautéd spring onions and roasted, salted almonds are a delicious combination of tender sweet, sweet pungent, and crunchy just salty. You can set this side dish next to grilled fish or chicken or mashed potatoes and a roast. It's not too filling yet will holds its own.
English peas and spring onions are easy picking in spring. You'll find them plentiful at the farm market if you don't have them in your own garden. Both are sweetest and most tender early in the season.
English peas are the best eating when the pods turn bright green and just begin to bulge. To harvest the pes just split the pod open with your thumb and roll the peas out. Spring onions have just formed small bulbs. They're sweeter than mature onion but more pungent than a green onion. Spring onions don't require much cooking to be ready for the plate.
English Peas, Spring Onions and Roasted Almonds
Here a is a recipe that you can have on the table in minutes. The almonds will roast in ten minutes. The English peas can be steamed until just tender in less than five minutes or you can sauté them in a vegetable broth in about three minutes. You can sauté the spring onions while the peas are steaming.
Ingredients
¼ cup slivered almonds
peanut oil
1 cup small white onions
1 tablespoon butter
4 cups shelled, fresh peas
½ teaspoon ground dillweed
1 tablespoon butter
salt to taste
Instructions
Coat slivered almonds with peanut oil and sea salt and roast at 375ºF for 5-10 minutes shaking or stirring every few minutes to make sure the almonds don't stick or burn. Set them aside to cool.
Steam or sauté the peas until just tender.
Sauté the onions in butter until tender but not brown.
Combine the peas and sautéed onions. Add dillweed, butter, and salt. Heat over very low heat until hot. Just before serving sprinkle the combined peas and onions with roasted almonds.
Courses Side Dish